Features
Photograph by Seth de Roulet
Nic von Rupp finds his big-wave footing.
View Feature ›
Illustration by Sally Deng
What broke open exposed an emptiness of little direction and no sense of purpose. But one thing was clear: I liked being in the ocean. Something clicked. Each day, the water made me feel better.
After a year of riding waves every day, one surfer decided to keep going.
View Feature ›
Photograph by Dick Graham
No doubt entire industries in fashion, film, and music have sprung from the California myth of feckless surfer boys and bikini-clad go-go girls. Yet it also may be that the Beach Party films mark, in a most unpretentious way, the vernacular language of a subculture at the very cusp of its breakout moment.
Sweet Pleasures by the Bonfire
The lost world of the Beach Party films.
View Feature ›
Illustration by Elzo Durt
An interview with Robert "Wingnut" Weaver.
View Feature ›
Frame grab by Igor Bellindo
Two surfers visit a remote village in Senegal for unique indulgences.
View Feature ›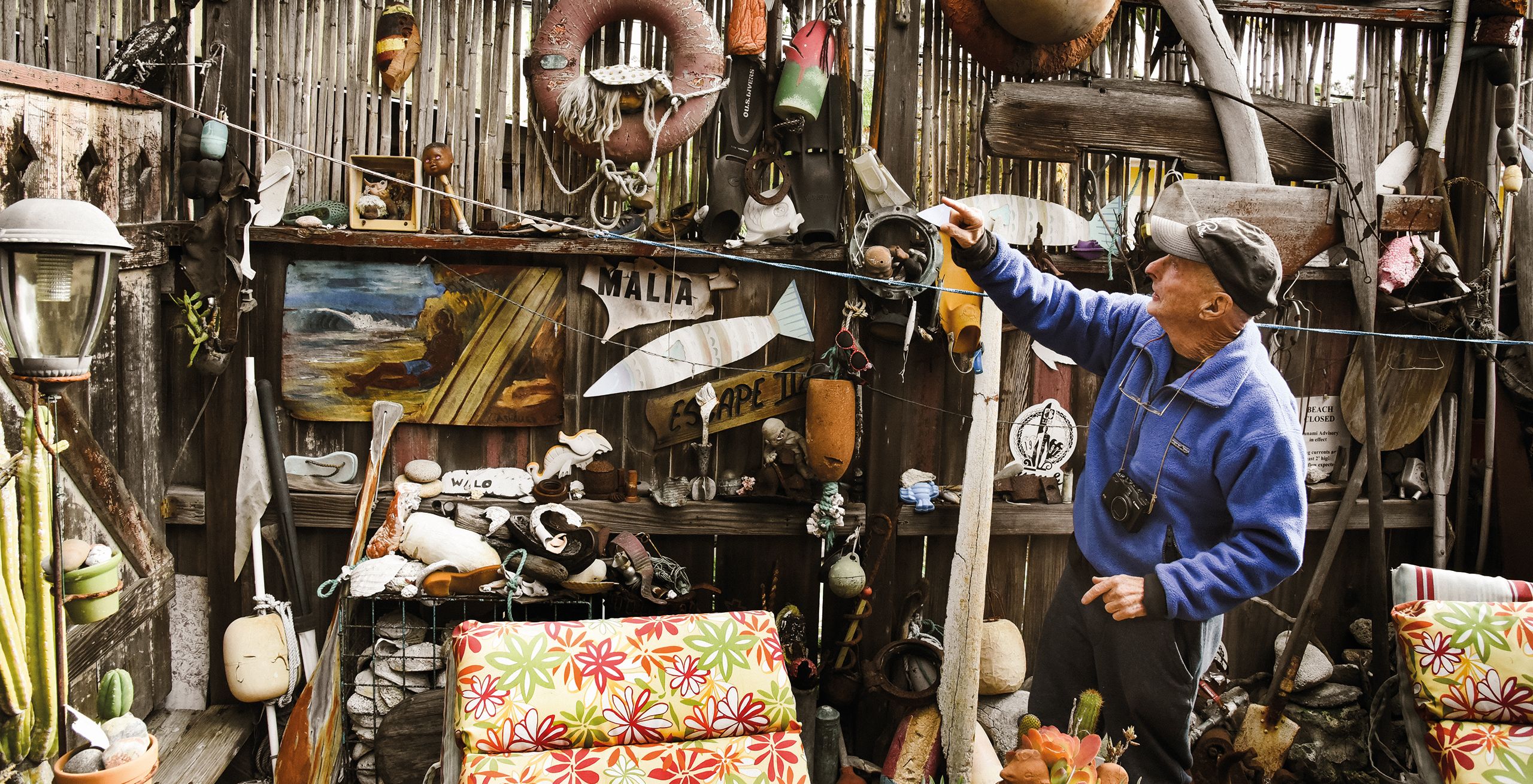 Photograph by Leo Hetzel
I'll save the other stuff for another day. I'm having way too much fun just going out and riding a few waves that other people aren't getting.
Dropping in with Mickey Muñoz
At home with The Mongoose.
View Feature ›
Illustration by AJ Dungo
Interwoven with the story of Dungo and Kristen is the trajectory of Duke Kahanamoku and Tom Blake, which is its own sort of love story, and which works as a ballast as things get heavy for Kristen. It's as if Dungo's mining the myths that will hold him together once he's left alone.
Accomplished illustrator AJ Dungo fuses the personal with tradition. Resonant results ensue.
View Feature ›
Photograph by Kevin Roche
Sanders, the power forwards of surfboard production, use grit to find the grain.
View Feature ›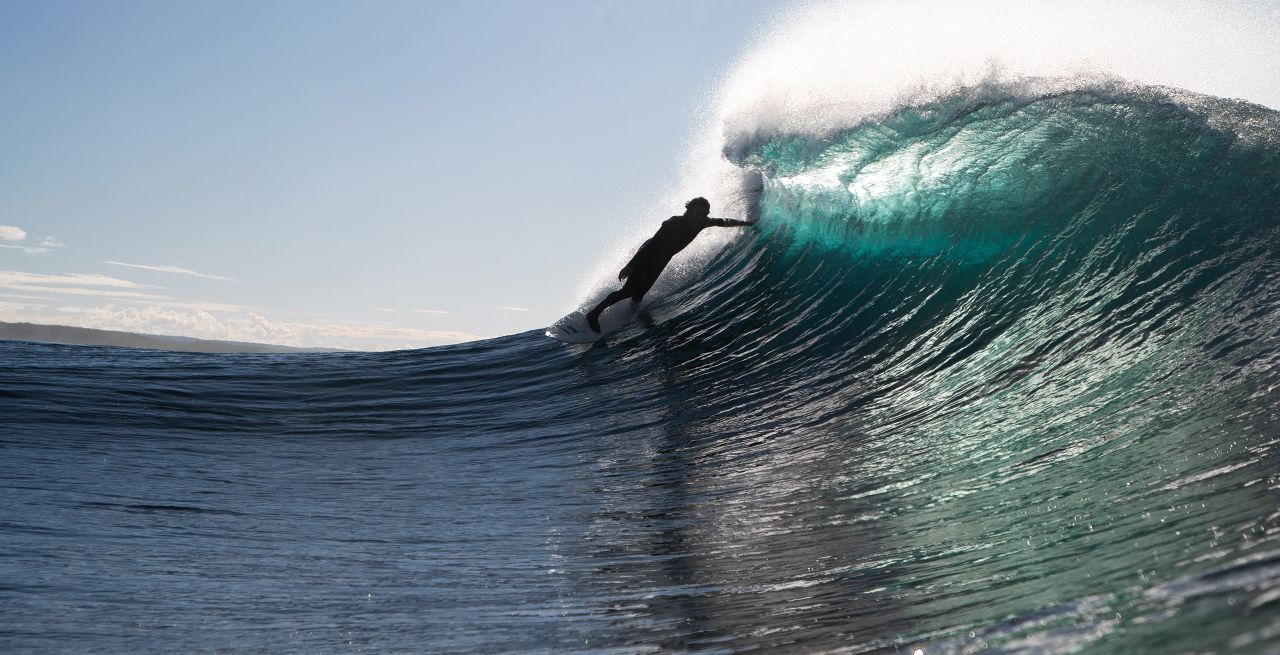 Photograph by Nick Green
Dion Agius and Craig Anderson bring noise to the Australian countryside.
View Feature ›
Photograph by Mark McInnis
I almost died in the middle of the night. We were all woken up by a massive tree branch that fell and nearly leveled my tent. Greg and I immediately moved the tent and, in the process, my hatchet cut a 5-inch hole in its bottom. So much for a dry home for the next few days.
What rewards come from butting one's head against the Pacific Northwest? Hank Gaskell, Greg Urata, and a dog named Moku hike into the woods to find out.
View Feature ›
Art by Evan Hecox
The waves would be all Jim's again, but he had become if not indifferent, then used to them. The thrill wasn't gone, but it no longer thrilled as much. We knew, at least guessed, he wasn't long for the place. Sometimes even the fruit of paradise becomes overripe.
The Warmest Sands of Wishing
In 1977, two travelers found a surfing Eden. Then reality set in.
View Feature ›
Photograph by Laserwolf
How Floridian Brandon Campbell, also known as Laserwolf, was reborn and named anew on the North Shore of Oahu.
View Feature ›
Photograph by Andrew Shield
Our department's section begins an all-too-rare left on the Gold Coast of Queensland. Lovers Rock at Duranbah traces its provenance to the mid-20th century, when honeymooners painted their names at this overlook. A mere 150 yards south of Snapper Rocks, this seasonal sandbank offers screwfoots the chance to pet the cat's fur backward.
Photograph by Al Mackinnon
I try to imagine what is beneath me. Fish, big and small, that spend their days smeared in the mirk of the North Sea. Drifting blindly, occasionally bumping into other fish doing the same. I wonder how much of our own lives are spent blindly bumping into each other in the dark?
Foreign Affairs: La Nostalgie de la Boue
Finding unexpected common ground in the North Sea.
View Feature ›
Photograph by Tony Heff
Field Report: Farming for Fuel
Inside Monyca and Ola Eleogram's organic fruit farm on Maui.
View Feature ›
Photograph by Artur Pastor
Twelve points of interest—reviews, talk story, and historical artifacts—served up at an easily digestible size, including shaper Lance Collins' Jet Board, a hardbound book of illustrations featuring post-humans surfing the cosmos, and a look at the Portugese fishermen who have hunted dinner out at Nazaré for generations.
Photograph by Craig Peterson
In recent years, I've noticed that everyone pretty much does it in the same pattern, using the same logic to solve the problem. The sameness weighs on me. While observing a lineup of, say, 40-plus surfers, it is very rare that anything new strikes me.
Surfing Around: Vantage Point
Observations on a modern lineup and its players.
View Feature ›