Features
Photograph by Tom Pearsall
Twenty frames of contemporary action, lineups, and personas.
View Feature ›
Photograph by Mike Riley
"I have lots of scars where I should've had stitches. But the docs were just too far away, so I never went. Luckily, it was never anything major. Dad always made sure we had enough confidence and skill to be able to handle ourselves in whatever size it was, and then he just left us to it. You've got to be able to handle yourself growing up here."
Whether running full pelt through the bowl or leveraging natural aesthetics, Imogen Caldwell is desert born.
View Feature ›
Photograph by Leo Hetzel
While the origins of the maneuver that had overtaken its parent are somewhat disputed—one theory is that Rabbit Kekai pioneered nose work on the hot curl board at Waikiki in the 1940s; another contends that Dale Velzy first hung five toes, then ten, then heels, at Manhattan Beach in the early 1950s—a couple of decades later, it had come to mean everything, at least in California. And no one did it better—perhaps hasn't since—at that time than young David Nuuhiwa.
The dark and graceful swagger of David Nuuhiwa.
View Feature ›
Photograph by Andrew Shield
Yes, in some ways, it's a paradise. In others, it's a brooding isle of nostalgia and bitterness haunted by the ghosts of vagrant spirits.
Lord Howe Island is all kinds of appealing. It starts with no cell service.
View Feature ›
Art by Geoff McFetridge
For artist and designer Geoff McFetridge, clean presentation is the result of deep rigor.
View Feature ›
Photograph by Mike Moir
The pier is where the eses still cruise in donked-out icecream classics—rims spinning while the switches get hit for the bump and dip, blasting music on a Sunday with "Suavecito" playing… It's a soul hanging on for dear life—crying for help where there is none—and a body expelled below it upon the shore weeks later, when the pier is finally ready to let go… When you surf the pier, you wear these environmental appropriations. The weight of its history and meaning push against your chest.
Whether world-renowned or mere beachside tourist attractions, these simple landings breed virulent surf cultures.
View Feature ›
Illustration by Olga Prader
Little things started to hurt. Your pop-ups weren't so snappy. You checked San Onofre on the cams. You asked your shaper about a gentleman's thruster. Within some temporal twitch of an eye, an Advil-aided co-consciousness reared up, one that raised more substantial questions.
Youth is short. Surfing is long. Finesse is required.
View Feature ›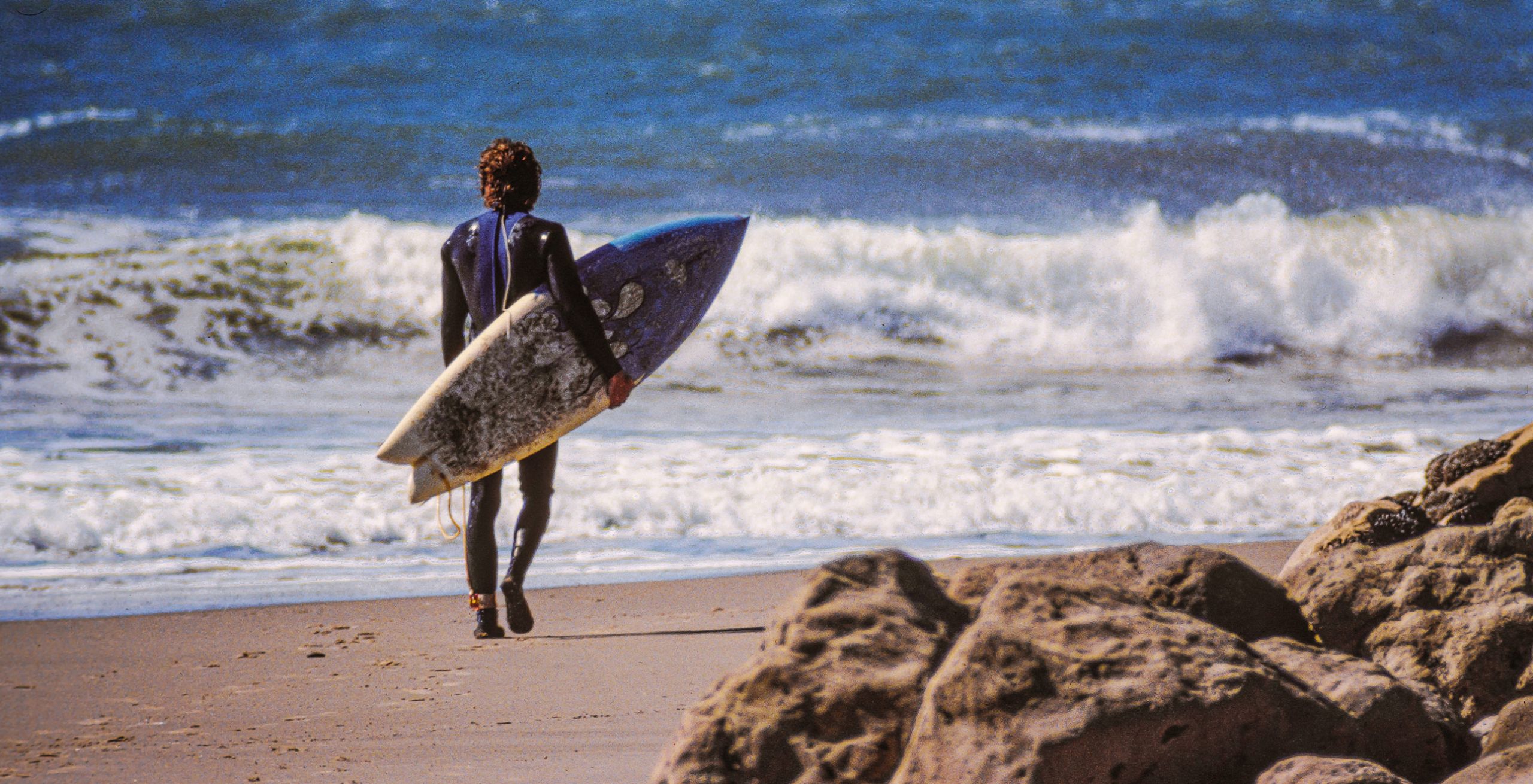 Photograph by Alfred Maldonado
Circus rat to Rocket Fish. Epoxy to Hanjin container loads. Clyde Beatty defies easy criticism.
View Feature ›
Illustration by Sören Kunz
So you're put through a mill that I think would keep anybody pretty grounded. If you could make movies for $1, I think a lot of psychopaths would flourish.
An interview with Stephen Gaghan.
View Feature ›
Photograph by Ryan Craig
And the pitch…Alessandro Slebir, headed for a mussel-laden strike zone at Santa Cruz Harbor.
Photograph by Mark McInnis
The fishing has been good lately, the river mouths densely populated with seagulls, pelicans, osprey, people with rods, and the obvious others I'd rather not see. It's that last group that leaves me feeling ominously cold every time I enter the water here.
Sessions Measured in Millimeters: Bodysurfing alone in the Pacific Northwest.
View Feature ›
Photograph by Jeff Divine
We marveled at the significance of this small patch of sand. In that vast ocean, it served as a source of freshwater and a place of rest for fishermen who ranged thousands of miles in small, open craft with hardly any creature comforts.
Real Recognizes Real: Flippy Hoffman shows his colors offshore of a remote island in the Indian Ocean.
View Feature ›