Features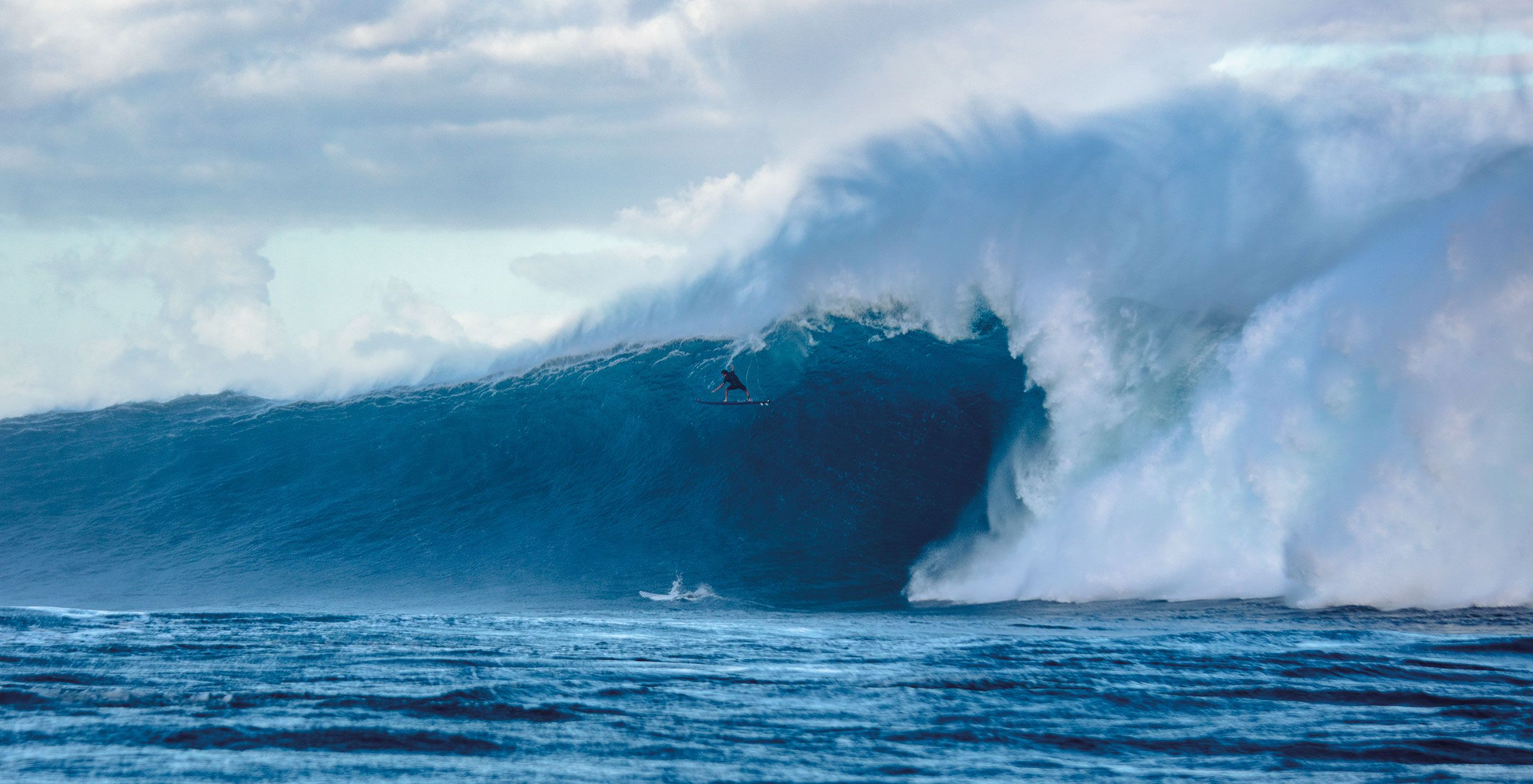 Photograph by Fred Pompermayer
Lenny switched from his 10-foot gun to a smaller tow-board, grabbed the handle of the rope, and nodded to his driver to whip him into whatever was deemed "unrideable." With that, he proceeded to ride over a dozen waves with superhuman endurance—slinging into behemoths, streaking across the rippled faces, dancing beneath falling guillotine peaks, air-dropping two stories down, capping waves off with corked backflips.
Kai Lenny will enjoy the ocean as he pleases.
View Feature ›
Photograph by Arnold Newman/Getty Images
How American master Milton Avery leveraged the surf to help change the course of art history.
View Feature ›
Photograph by Luke Alcorn
On a wild road trip through the Americas, a pair of adventurous surfers cast their fate to the
wind…and three wheels.
View Feature ›
Photograph by Matty Hannon
A few days before, Ben and I had witnessed the international company's methodical and unflinching strategy to destroy the land for private gain. Yet here we celebrate the wild, organic, and ritualistic grace of the village economy—cutting down a single tree for communal benefit.
Plunder and pleasure in Papua New Guinea.
View Feature ›
Illustration by Egle Plytnikaite
Might this be what some positive spirits term "aquatic mindfulness meditation?" Concentration? Serenity? Bliss? Nope. No dry-land therapies, please. No counting of breaths, no training of the mind. In the ocean, one mostly gives in—consents to surrender.
Essay: Swimming to Molokai
An ex-surfer and award-winning writer remains focused on the deep.
View Feature ›
Photograph by Dave Frankel
As that first autumn of ours deepened, the crowds of summer surfers and tourists disappeared. The parking lot was mostly empty. Then winter came. It revealed the social workings of the hardcore, year-round surfing subculture.
Every Sandbar Tells a Story
A La Jolla Shores memoir.
View Feature ›
Photograph by Matt Cherubino
At home in the high desert with Mike and Forrest Minchinton.
View Feature ›
Photograph by Cody Keepa
For high-risk spots, I have the option of deploying a sniper's ghillie suit. It obscures the human shape, and I become a shaggy blob that's invisible from only a few meters if I stay still.
Covert operations in New Zealand.
View Feature ›
Illustration by Elyse Pignolet
One last ride in the old world.
View Feature ›
Photograph by Will Adler
Something Out of Nothing.
View Feature ›
Photograph Jocko Willink/Echelon Front
Photograph by Gary McCall
This issue's back of the book starts with a check in from the lapwing's eye: In the Northern Hemisphere winter, storms freight across the Atlantic drawing a bead on the coast of Ireland. Mullaghmore Head, December 2019, copping some forerunner's on a 20-foot "paddle day."
Photograph by Ted Grambeau
Hikes on land required a guide armed with a large-caliber gun due to the constant threat of polar bears. This danger was very real, and once I even found myself confronted by a polar bear while shooting a small pointbreak from land.
Field Report: Hunting the World's Northernmost surfer.
A redbelt surf shooter's most memorable surf trip was also his coldest.
View Feature ›
Photograph by Paul Kemnitzer
Library: The Western Gate
Classically sourced takes on the well studied, from California to Western Australia and back again.
View Feature ›
Photograph courtesy of Dana Fisher
Quick hitting reads and visuals, including a playlist selected from the original hype genre, the absolute worst place to store a surfboard in your car, and the ocean as performance art, among other finds and pulls from around the surf and non-surf horn.
Image courtesy of the Australian National Maritime Museum
Though the early origins of wave riding are most frequently thought of as Polynesian, or perhaps spawned in Peru, evidence indicates that it was and is a natural thing for man or child to be drawn to wherever conditions are suitable.
Surfing Around: Playing the Same Game
Tracking the overlooked roots of our origins.
View Feature ›