Sitting in a Sydney café up on Hall Street, a toss away from Bondi Beach, Greg Nagel is explaining the trouble he caused with one of his best-selling photographs, his hands waving like a conductor reaching the crescendo of a symphony, raw enthusiasm seeping from every sentence. His delivery, like his photography, is never dull.
The provocative image in question, cheekily titled Love Hurts, features a naked woman shot from the waist down and clasping a large sea urchin that barely obscures her mons pubis. When the Olsen Gallery in Sydney displayed a large print of the photograph in its street-side window, it created a stir. "It was literally causing traffic jams as people drove by," Nagel says, obviously delighted by the idea of morning commuters slamming their brakes and spilling their coffee.
The 50-year-old, whose career behind the lens began long before the proliferation of the iPhone and the reign of Instagram, has a clear view of what's required to make an impact in modern photography. "Everyone's a photographer today," he says. "You've got to do something different."
There's no doubt his most recent infatuation has an arresting quality: Nagel has been working with Simon De Marchi, a Sydney-based taxidermist who is sought out by universities and animal experts around the world to photograph meticulously articulated shark skulls and skeletons. It's a genre that seems to fuse art with osteology and draws inspiration from the acclaimed twentieth-century portrait and fashion photographer Irving Penn, who in the later stages of his career developed a thing for animal skulls. Penn explained the rationale for his 1989 Cranium Architecture exhibition by describing each of his subjects as "an exquisite edifice of living machine. Hard chambers of bone to guard soft organs, protected conduits and channels."
Like Penn's celebrated images of the skulls of deer, bears, and other land-based animals, Nagel's work with sharks—all sought by stringent, legal means—strives to reveal something fundamental about the mythologized sea creatures by literally peeling back the skin. The end result is a collection of riveting photos that invite the viewer to stare at the anatomy of their primal fears.
As we chat about this aspect of his work, Nagel begins to outline the distinctive differences between the skeletal structures of bull sharks and great whites. But he can't help but weave in his other creative "obsession," to which he owes much of his artistic output and success: Tahiti.
*
Nagel grew up roaming Sydney's coastline—31 well-populated miles divided into more than 20 coves and beaches by rough-strewn sandstone and claystone headlands—during the 1980s and '90s. It was a halcyon era for surfing in the region. Think Tom Carroll and Cheyne Horan, Pauline Menczer and Layne Beachley. It was simultaneously a boom period for both fashion and magazine publishing in Australia, which, with its love of the newsstand, sold more magazines per capita than any country in the world.
So as Nagel honed his cutback, he simultaneously developed an interest in photography. By the early '90s, he'd gravitated toward Sydney's fashion scene; the budgets were big, the jobs elaborate in scale. For a while, it all had a glamorous allure.
By early 2005, however, Nagel had become jaded. He'd seen enough pretty people in studio lighting to last a lifetime. "I wasn't over fashion, but I was over the politics," he says frankly. But he still yearned to do something with his photography. He knew nothing about Tahiti, but, like many surfers, had fallen under its spell from afar in the aftershock of Laird Hamilton's millennium wave.
Seeking a photographic panacea for his fashion-world disinterest—and filled with visions of crystalline water, enchanting mountain backdrops, and perfect waves—Nagel booked a ticket, boarded the plane, and landed in Papeete with $100 in his pocket. "It rained for 12 days straight," he remembers. "I didn't know that Teahupoo had the highest rainfall in all of French Polynesia."
The conditions were generally bad news for a photographer seeking the kind of ethereal light that will make his images pop, but Nagel soon noticed there were surfers strutting around with fresh tans. "I eventually figured out you could go 10 or 20 minutes up the road and it's sunny," he says. He also discovered that a hundred bucks doesn't go far in those quarters of French Polynesia, designed as a playground for the rich and famous.
Despite the inauspicious beginnings, he continued to return, extending the length of his stays each year, determined to document all aspects of Tahiti and its culture: "I knew it had the ingredients. It has the most photogenic, beautiful wave on the planet. It has history—its tattoo culture, the Marquesas Islands, the fish and the sharks and the sensual dance. It just had all the bits."
While more-eclectic subjects occupied his periphery, Nagel couldn't resist Teahupoo's dangerous allure, surfing it on smaller days and shooting it when the swell kicked in. By then, almost every worthy session at the End of the Road played host to a gaggle of lensmen, all scrambling to capture the rider in the kind of moment that might trump Hamilton's efforts.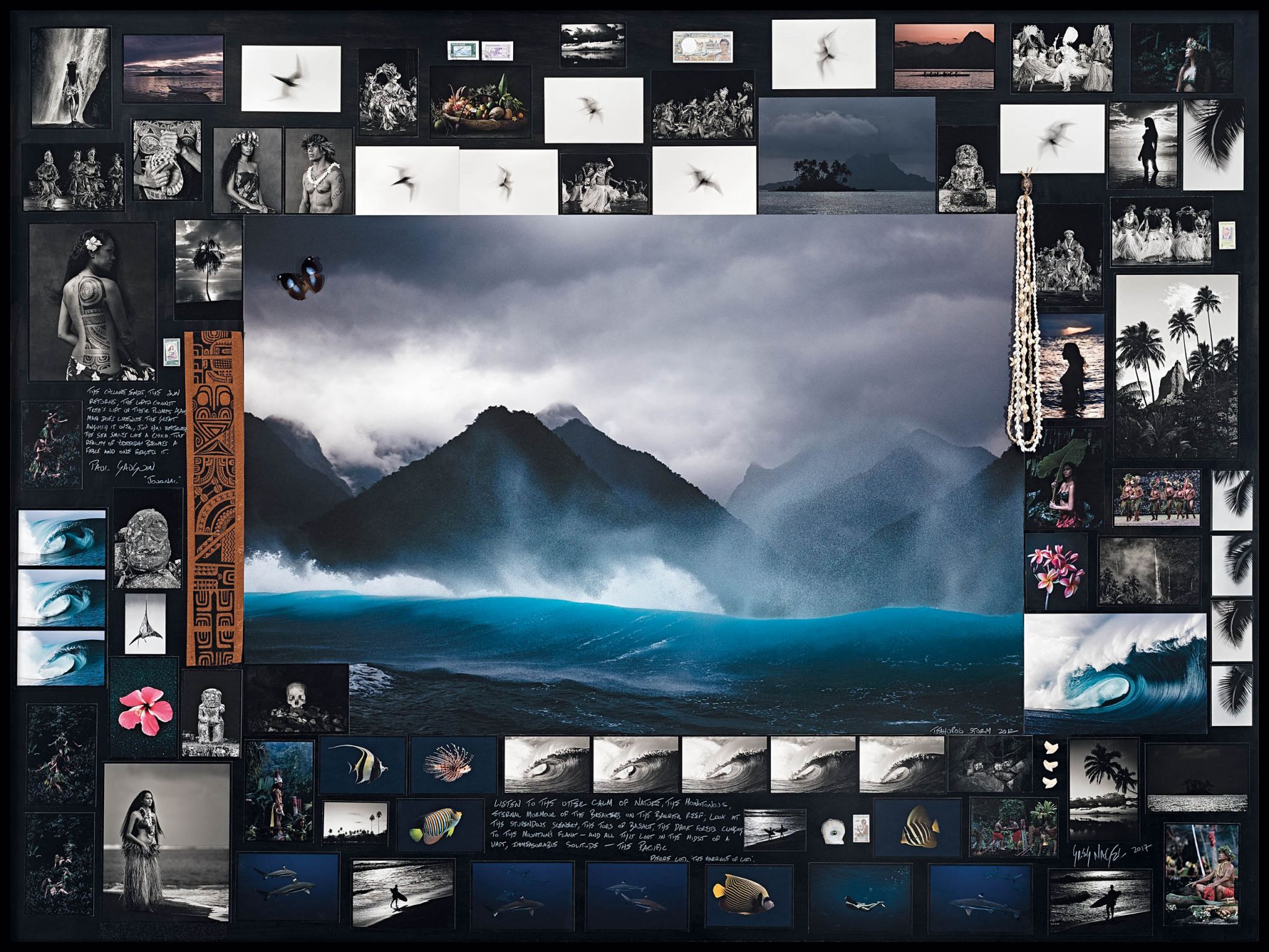 Aware that he wanted a different perspective, Nagel wagered everything on capturing empty Teahupoo, an aesthetic that celebrates the mystique of the wave instead of the triumph of its rider. The other photographers thought he was mad, but his obsession eventually paid off when a print of riderless Teahupoo caught the eye of a high-profile buyer.
"It meant I could fly home and get more equipment," he says.
*
Nagel likens his photographic process to a grand-scale treasure hunt across French Polynesia. Quizzed on whether there is a thematic throughline or an artistic agenda for his work in Tahiti, he suggests his process is more about being beholden to creative impulse.
"He's skilled, but he's got the ethic that most good artists have—the fanaticism," says Warren Macris, a lecturer in photography and one of Australia's most sought-after photographic and fine-art printers. Macris has seen all kinds of work come through his Sydney studio and believes Nagel possesses the most essential trait for finding an audience in an often capricious genre: "Most people I see succeed are incredibly focused on one aspect or another. Greg's got incredibly strict standards and doesn't compromise. He'll do whatever it takes to create his vision."
For a photographer who was perennially hell-bent on giving his work a point of difference, a local context, and an element of mortal danger, it seemed natural that ancient human skulls emerged as one of Nagel's interests. The skulls of French Polynesia have a murky history, but research indicates they were originally preserved as a symbol of the soul and essence of lost relatives and chiefs—and kept as trophies by victorious warriors. Later, under European settlement, a market emerged for them, causing many to be poached from their resting places.
They first caught Nagel's eye as a potential subject when he saw Tim Bonython's film Blackwater, which alluded to a wall of skulls that was part of Teahupoo's folklore. While that particular set has never been discovered, Nagel finally received word about a different collection of crania, which he eventually photographed after years of searching and asking questions.
In this particular aspect of his work, Nagel is aware that he's dealing with sensitive and sacred material. He emphasizes that gaining access to the skulls was the result of his longtime immersion in French Polynesia and his regard for the local culture. "One of my friends, who's a respected elder, showed me where someone had stored them in a cave, where they were getting wet and ruined. So, with his permission, I was allowed to clean them and photograph them."
In the printed images, the skulls are garnished with striking pink flowers and sometimes framed among a collage of portraits and lifestyle photos, creating a contrast between thriving life and inescapable death. And while the skulls carry an echo of the ancient, Nagel insists that much of the Tahitian culture he chronicles is very much alive.
He also believes that his photos play an important part in celebrating traditions that should be preserved and documented in order to reaffirm a sense of identity and a culture that was suppressed by Western interlopers in the past. He points specifically to traditional Tahitian tattoos, themselves a form of storytelling, the intricate lines providing details about everything from a person's family and tribal origins to their favorite hobby. The practice was dismissed as a pagan ritual and outlawed after English missionaries arrived in 1797. However, in recent times the deftly applied body art has helped restore pride and dignity to Tahitians.
Nagel donates his photos of the practice from across the islands to museums for the sake of preservation. Although he's happy to shoot the intricate designs as a form of documentation, he says he's uninterested in going through the long and painful application process himself. "I wouldn't disrespect that," he says. "There's nothing worse than seeing a white guy rocking tribal tattoos. You don't touch that."
*
For the creatively driven, the challenge is always to produce something with originality, distinctive artistic merit, and commercial viability. Moving beyond subject, it's apparent in much of his work that Nagel places faith in his collages, which combine large prints with shells, shark teeth, butterflies, smaller images, quotes from the likes of Herman Melville, painting, and high-quality frames. In this sense, he takes inspiration from celebrated photographer Peter Beard, who spent half his life in Africa curating works that often combined photos with paint and blood. And while Nagel is careful not to misrepresent local cultures, his aim to produce an image that demands one's attention remains.
Murray Fredericks, a colleague and fellow fine-art photographer, understands how difficult it is to produce something unique, having crossed the Greenland ice sheet twice (while being stalked by a polar bear on one trip) and camped for weeks in Australia's Central Desert Region to capture the spectral wonders of Kati Thanda–Lake Eyre. "A traditional photographer has to shoot within a certain format," Fredericks says, distinguishing between the work of a high-art photographer and a commercial shooter. "While they're both creative and push the boundaries, the boundaries are much tighter in [a commercial] format. So if Greg chooses to work as an artist, he has to push the boundaries or he's not going to be successful. You can see all the elements of someone who's spent their life in the water. But you see the elements of someone who's lived in a different culture for extended periods of time, and had that wash over them and influence their work to the point where he's started using artifacts, setups, still lifes, and models from that culture. I find him a very honest artist in that regard."
According to Nagel, his interest in sharks is both an extension of this process and a reflection of a new focus in his creative drive. When the pandemic forced him to return to Australia, he stumbled across an image of a shark skull that had been stripped and cleaned by De Marchi. Instantly curious, he got in contact with the taxidermist and soon learned that De Marchi had spent three decades in the tedious task of revealing the tooth-stacked jaws and intricate cartilage skeletons that lay beneath the coarse, sandpapery skin of sharks.
"People have got preconceived notions of these animals," says De Marchi, "so consequently they sort of demonize them. I'm peeling back the layers to show that they are very prehistoric. They haven't changed in millions of years."
De Marchi is a member of a host of shark education and conservation organizations, and is often tapped to examine a creature's bite marks if a human gets attacked. His primary interest is in better understanding the fish upon which we so readily bestow the status of "monster." He doesn't play any part in the death of the species he works on. In fact, he's so revered by scientists, university professors, and shark experts from around the world that they often send him specimens caught in nets or on drum lines, or found dead by natural causes.
"No one on the planet has access to what he has," says Nagel as he shows me carefully photographed skeletal examples of white sharks, makos, bull sharks, tiger sharks, and several other rare species of finned creatures.
"Greg showed an interest in portraying them in a way that was totally different to the way they had been portrayed before," says De Marchi, explaining that he recognized how the photographer could provide more than a clinical approach to make an impression with the broader public. "Rather than having the dry scientific approach, he photographed them in a way that highlights their artistic beauty."
The duo are hopeful that De Marchi's meticulous and obscure methodology combined with Nagel's creative eye and pin-sharp imagery might reveal a different way of appreciating and understanding the perfectly engineered predators of the deep. Nagel has plans for a major exhibition that displays the shark skeletons alongside his other photography. "We can turn it into a good thing that leads to the preservation of sharks and gets the conversation going from a different point of view," he says. "It's about bridging the gap between the myth and the reality."
Of course, the educational prerogative doesn't rule out having some fun with concepts that have a little more bite, so to speak: One of Nagel's images shows an 8-year-old boy named Henry framed behind a set of great-white jaws that are wide enough to swallow him whole. Then there's the sequel to Love Hurts, titled Love Bite. As the name implies, it's a set of shark jaws that obscure the naughty bits. As does all of Nagel's work, it demands attention.
*
Back in the Bondi café, flanked on both sides by art deco apartment blocks that tumble down to the Pacific, Nagel contents himself by sipping on daintily prepared espressos in a decidedly cosmopolitan beachside setting. There's a certain aesthetic charm in the way the concrete jungle collides with the golden Bondi sands and the breaking waves beyond, but Nagel admits he would still rather be back in Tahiti, beneath swaying palms and plotting his photographic assignment for the day.
He'll be back soon, he says. Besides, it's not a bad double life, and it gives him ample time to muse over new projects. But other agendas in his kaleidoscopic existence are currently pressing. A couple of major production houses have recently expressed an interest in a documentary series that involves following him on his photographic adventures. There's talk of a book. There's the high-end art world in New York and London, which Nagel describes as a nuanced process. He'll go so far as to say he has some high-profile buyers, but sees name-dropping as gauche—artistic suicide.
Despite the heady ambitions, surfing is still very much in the frame. Nagel says that he wants to be ready to ride a wave of genuine consequence at Teahupoo himself. "Those guys in the boats can take a photo of me," he says and chuckles.
As the quintessential eternally dissatisfied artist, he insists there is still much left to do from behind the lens. The sharks are a theme Nagel will continue to hunt in and out of the water, as is a full portrait series featuring a posse of young Tahitian chargers who have watched the foreign surfers come and go and are claiming the Teahupoo stage as their own. And on.
"I'm not content," he says. "There's a million shots in my head. I'll never stop. Never."
[Feature image: BLUE LAGOON, 2011, archival pigment print on cotton rag paper]