It's spring on the Central Coast of California. On a bluff-top meadow, poppies and purple lupine dance in a light southeast breeze that sweeps the bowl of a right-hander some 200 yards offshore. Proper etiquette demands the spot not be named or located more specifically other than to reveal it's somewhere between Morro Bay and Monterey.
I follow Chad Kaimanu Jackson and photographer Russell Holliday down a game trail to a black-sand beach and then walk about a quarter mile to the wave. There, we find Tyson Armstrong, a longtime local boy, already suiting up. A set washes through, most of it capping outside the shallow boil. But a couple of waves go square right over the reef, eliciting gleeful yelps from those assembled.
Kaimanu, who goes by his middle name among those who know him, has brought a bladed-out thruster he shaped himself, the conditions calling for the three-fin over a little twin-fin agave disk he has in reserve in the car. The rails are tour-worthy thin, the outline a classic needle-nose meant for high-performance shredding.
Once we reach the lineup, it's clear his equipment works, at least for a surfer of his caliber. The 42-year-old has spent the last two decades as a professional surfer, developing a full repertoire that spans airs to slabs to XXL waves and gaining the respect of both the international big-wave elite and the hometown heavies who are mostly disapproving of any exposure. It's evident in the way he paddles—putting himself behind the peak and under the hook, his body and arms moving with a sidewinder's lithe and deadly power. Then he's to his feet in an instant as the bottom falls out and the lip pitches overhead.
"He's a master," Armstrong says before swinging on the next one, popping to his feet mid-face under a pitching roof just like Kaimanu before him—locals showing off just how it's done as I, their guest, explore low-earth orbit during mistimed attempts.
Between the icy, upwelling-infused water and a windswell bump running crosswise through the lineup, we give it about an hour and a half before heading in.
Walking back along the beach, Kaimanu points out how he's witnessed the cliff line recede more than 20 feet in some places. It seems a remarkable loss in such a relatively short span. He then explains the toll of relentless damming and heavy-handed watershed-management practices that have stamped out steelhead runs and reduced sediment flows to a fraction of their historic levels. He'd gone deep into the topic in his earth science studies at Cal Poly San Luis Obispo, and, as we continue along, he notes how natural river-system sediment deposits help to absorb relentless wave action and soften the impact on this coast—and, as a happy byproduct, feed the formation of its sandbars.
Place—more importantly, this place—is important to Kaimanu, both professionally and personally. Beyond his surfing exploits, he works for California State Parks as a full-time archaeologist and a tribal liaison between the parks system and local Salinan and Chumash peoples, ensuring tribal members' access to village and harvest sites for traditional materials used in their cultural practices.
He says he's always been fascinated by math and science, but he's just as interested in stories—mythology and archetype—that enliven Indigenous narratives. And here on the Central Coast, the Morros volcanic formations, deep canyons, ranchlands, and forests stretching north through Big Sur evoke primordial worlds. Another layer exists too, of course: that of the people who have lived here for 10,000 years or more and who live here still—not as vague historical figures, but as vital community members whose traditions hold potential for a new relationship with the land.
Kaimanu lives a life that is largely of his own design, built on equal parts intellect and effort. Viewed in retrospect, the moves he's made—as well as the ones he didn't—reveal the trajectory toward the unique position he currently occupies.
•
Kaimanu's father, surfer-shaper Bruce Jackson, was originally from Long Beach, California. Kaimanu's mother, Kalani, a Native Hawaiian–Chinese woman, grew up in Kaimuki on the island of Oahu. Together, they moved to Cayucos in 1972, where Bruce shaped boards for a shop called Good Clean Fun until construction work, car racing, and woodworking projects like guitar and ukulele building took him away from surfboard making.
As often happens, Kaimanu took to bodyboarding first. The bodyboard company Toobs was started in Cayucos, with the founders bringing a hard-charging ethos to the nearby slabs. Kaimanu, like other kids in his hometown, adopted that approach at the running closeout barrels at the beaches, the prevailing offshore winds providing plenty of crystal-green thumpers for him to get comfortable in.
It wasn't until the age of 13 that he began standup surfing, motivated by keeping up with his friends, including notable Cayucos mainstays Ryan Blackburn, Cody Craig, Ryan Logan, and Shaun O'Shea. It was at this junction, spurred by his son's interest, that Bruce picked up the planer again. Kaimanu explains that some of his fondest memories are of being in his dad's shop at their Cayucos home as a teenager, the smell of resin in the air and the coolness of acetone on his skin. His father showed him everything—taught him to shape, glass, and sand, start to finish.
As with most pursuits that Kaimanu puts his mind to, his surfing flourished through his teenage years. His home region holds spectacular surf. Localized, remote, consequential—it isn't possible to have a place in the surfing community there without total commitment. Naturally, honing one's chops in cold, powerful waves makes arriving at more textbook-perfect locations a welcome and almost easy transition. Mainland Mexico, Hawaii, and Indonesia became seasonal rotations. His connections from the road were woven into the fabric of his surfing life, and he seemed to morph seamlessly into sponsorship by the ever-gritty …Lost Surfboards label.
Then there was Mouse Rock, right at home. A mutant slab that begins to stir with about 10 to 12 feet of swell, the left was considered barely rideable by generations of Cayucos surfers, the right a total impossibility. In 2001, perhaps with vestiges of the bodyboarder's tube-hunting mentality from his youth, Kaimanu and Christian Enns broke new ground at the wave by paddling the right. A small number of tow-in teams were by then surfing the left on big days, and soon began whipping Kaimanu and Enns in the opposite direction.
Photographer Chris Burkard, who got his start in surf photography shooting Kaimanu around the Central Coast, recalls that working with Kaimanu gave him a much-needed morale boost after being met "with a lot of negativity" from core locals who seemed to prefer that cameras and magazines had never come to be. "It's wild that his job is protecting the true locals' places," Burkard says by way of contrasting Kaimanu's attitude against others' perhaps less-enlightened perspectives about showcasing their home region.
As tow-in surfing broke ground through the early aughts, it reoriented surfers' understanding of how waves might be ridden and, somewhat counterintuitively, provided insights that helped usher in a new era of big-wave paddle surfing. Kaimanu was right there, notably swapping waves with Ken "Skindog" Collins and Danilo Couto during the swell of the decade at Puerto Escondido in the summer of 2006. Photos and video clips from the session made their way into mags and onto surf sites, helping to solidify Kaimanu's growing heavy-water reputation, as did his continuous commitment to Mouse Rock.
That same fall, Kaimanu and fellow Central Coast surfer Van Curaza drove north to compete in a tow-in event at Nelscott Reef in Oregon. Kaimanu came in fourth. In following seasons at big-wave spots around the world, he partnered with Grant "Twiggy" Baker. Then it was Jamie Mitchell, whom Kaimanu met while staying at Terry Ahue's house during visits to the North Shore. Kaimanu recalls one of these sessions, at an event at Nelscott, when he "backdoored a 30-footer and got blown out—got a 10. That was probably my competitive highlight." He also placed second to Ross Clarke-Jones at a paddle-in contest at the same spot in 2008.
These competitions placed Kaimanu on the early Big Wave Tour. But big-wave surfing is a small community, and perhaps more important than the results were the connections made with both underground and high-profile XXLers. Within this circle was Kealii Mamala. As his partner, during extended stays on Oahu and after a full-time move to Kauai in 2009, Kaimanu continued to break big-wave ground at name-brand and quieter spots.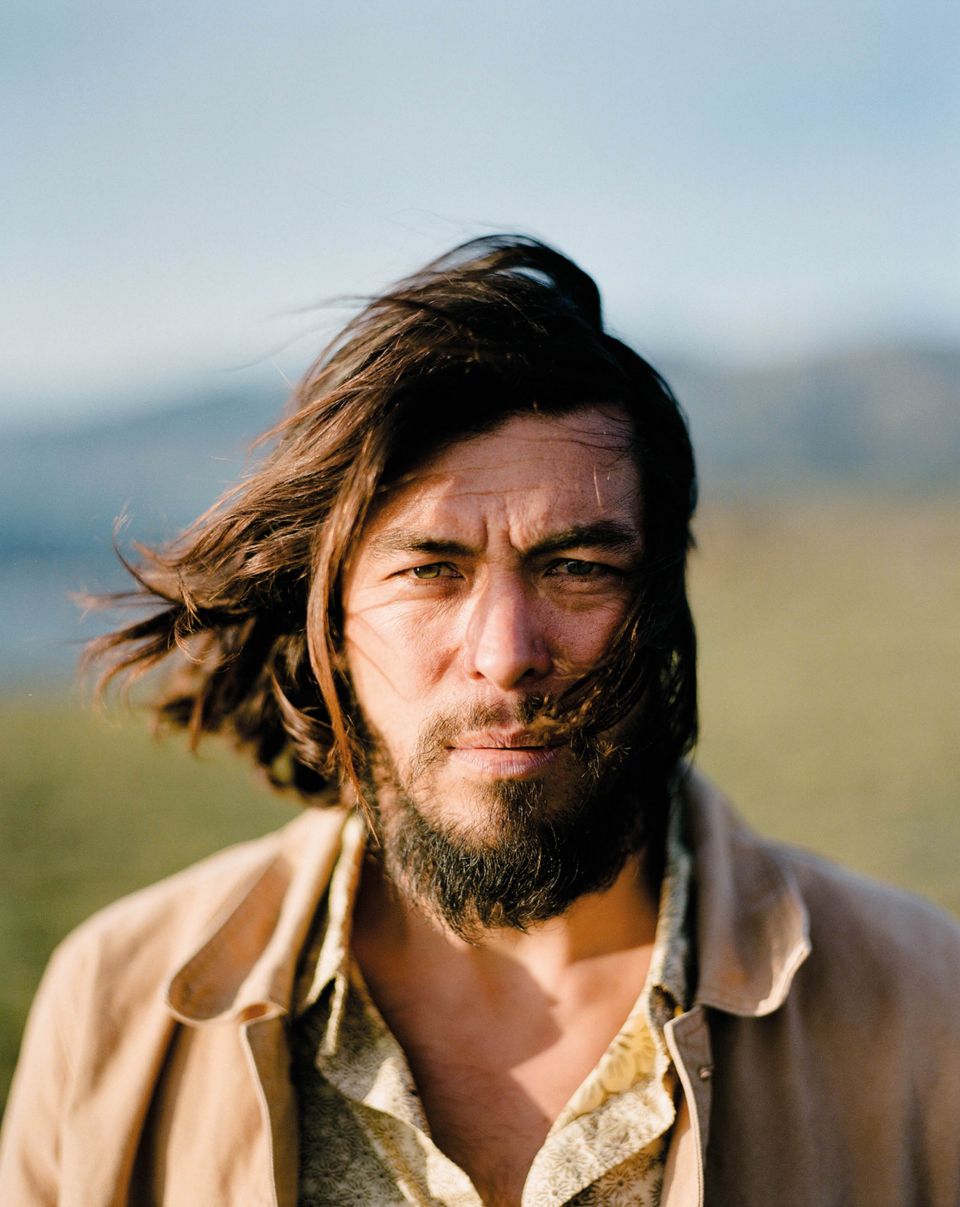 "It was such a good experience rolling with [Kealii]," Kaimanu says, "because he's such a raw, true Hawaiian, with absolutely zero filter. Just a savage waterman. Kealii is very inspiring. He embodies Hawaiian-ness probably more than anyone I've met, maybe besides Cliff [Kapono]."
Like Kaimanu, Cliff Kapono both embraces his Native Hawaiian heritage and works in the sciences in the field of conservation, all the while maintaining a stylish presence in the professional surfing world. When Kapono came to the mainland to study at UCSD in 2012, he brought a photo he'd ripped from an issue of Surfer magazine—a shot by Burkard featuring a ribbon of highway, open country, and Kaimanu in the barrel.
"I knew who [Kaimanu] was growing up from seeing him in Da Hui ads," Kapono says, "but I'd never seen him in Hawaii. It was like, 'Where is this Hawaiian at?' From the first time I reached out to him, he was like, 'Hawaiian! Where are you? Come meet me at my house.' I didn't have sponsors at that time; I didn't have anything. I just had my ancestry, and we found where our connection is to Hawaii, talked about family and genealogy. Not only is he such an incredible waterman, but his intellect is so fine-tuned to what it means to be connected to the earth, and that involves the people of the earth. His story that he's writing for himself is very central to where we come from, and it doesn't matter that he lives on the Central Coast or that I live in Hilo. Our friendship is a friendship that has existed for generations. We're just the next rendition of that."
•
Kaimanu and I head north on Highway 1, through the Central Coast. Here, the eye toggles between glimpses of reef and beach with a snippet of a wave here and there on the left and the rolling hills and ranchlands just inland and to the right. For most folks, these are the in-between places—pretty enough as scenery, but not the destination.
For Kaimanu, however, this stretch holds the story of his surfing life as well as the story of other lives that may seem lost to the ravages of time and contemporary society. His eyes, those of an archaeologist, see much more than country. He's found ancient village sites at numerous points along this coast, a few of them adjacent to his favorite surf spots.
He gives me the rundown on his academic background as we drive: valedictorian of his middle and high school classes, then the top student in the electrical engineering program at Cal Poly as an undergrad.
"I started to realize that I would end up sitting behind a machine at a desk, working for some tech company," Kaimanu says of what pushed him in a different direction than he'd planned.
His misgivings led him to pack his quiver and hit the road, accompanied by a serious reading list. The Bhagavad Gita raised eyebrows on a 1998 trip to Oaxaca with fellow …Lost team riders. He read Confucius during three weeks camped on Kauai in the late '90s, and mentions finding solace in the I Ching after getting robbed by local extremists in Jakarta in 2000, after getting robbed by local extremists in Jakarta in 2000. (He also rode some of the best waves of his life on that trip, at Uluwatu, G-Land, and Sumbawa.) On a 2001 jaunt to Pavones, he was "completely floored" by Hyemeyohsts Storm's Seven Arrows.
"I realized I wanted to learn about Native American wisdom and reconcile US history with the Indigenous people," he says.
Thus, Kaimanu headed back to Cal Poly in 2004 and enrolled in the earth sciences program, funding his return to university by repairing dings and shaping. Kaimanu focused on high-performance design, his "marketing strategy" nothing more than his place in the top echelon of the local hierarchy at the premier breaks in the region, which ensured a steady stream of board orders.
"What I started to realize," he says, "is that if you go a little shorter, with a little more volume, you could maneuver the board. You can go wider, but you're going to need a little more rocker. Because on this stretch of coast, there are a lot of days that are, like, 12 foot—not 20 foot, but it's big. Really good 10 to 12 foot, triple to quadruple overhead. You're not just trying to go straight, you're trying to get tubed and do highlines, maybe do some turns. You're not going to do anything on a 7'0″, but you don't need a 9'6″. I have a magic 8'5″."
It all coalesced. With a focus on sustainability in school and the Clark Foam shutdown in 2004, Kaimanu began to experiment with alternative foams and resins, including linseed-oil resin made in the UK. Ultimately, in terms of workability, durability, and supplying the market, he concedes that polyester and epoxy resins with polyurethane or EPS blanks are "superior materials" for surfboard construction.
"I want to be transparent," he says. "The fact is, we're a long way from making a truly sustainable surfboard in terms of performance and durability."
Nevertheless, he wants to be "part of the movement towards more-sustainable, alternative materials." To that end, he'll make the most environmentally friendly board a customer can get, with agave, bio resin, hemp or flax cloth, and fins from salvaged materials. His agave boards—with the stalks he harvests and that his dad helps make into blanks, and the redwood fins he foils from recycled timbers in Big Sur—resonate with California magic.
Kaimanu's interest in anthropology also came into focus during his second run at Cal Poly, in tandem with his environmental studies, together satisfying his interest in both science as well as language in the form of stories. A former professor of his, Terry Jones, remembers Kaimanu's enthusiasm for a theory that Polynesian voyagers may have made contact with Chumash in the Malibu or Channel Islands area, based on strong linguistic and design evidence in the sewn-plank construction of traditional tomol canoes and in the word tomol itself.
"I gave him a book," Jones says, "called On the Road of the Winds [by Patrick Vinton Kirch], and he read it in two days and got back to me. Students don't typically do the reading they're supposed to do, much less extra reading, and in two days!" Professor Jones also shares that, through communication with the Polynesian Voyaging Society, he learned that the present-day voyagers themselves believe that contact with North American tribes occurred.
After earning his degree in 2006, Kaimanu pieced together several jobs in anthropology and environmental science over a 12-year span before landing his job with California State Parks in 2018. These roles included working with tribes and environmental consulting firms involved with private-sector cultural resources, doing "everything from oil, gas, and water projects to environmental-remediation projects—oil spills—solar plants, wind farms, Caltrans road jobs, and even consulting on smaller residential and municipal developments."
Impressed by how the discipline of anthropology has assisted the Polynesian Voyaging Society in reclaiming the ancient art of wayfinding and voyaging aboard traditional va'a sailing canoes, Kaimanu sees his current work as a tribal liaison fulfilling a similar need at home on the Central Coast.
"What I'm doing, on a smaller scale," he explains, "is trying to make steps towards helping local Native Americans with their language, with finding sacred locations. Hawaii was illegally taken and occupied, and people are still feeling those effects. It hasn't just all blown over. Now we have this multicultural, multi-ethnic, diverse society in the States and Europe, or wherever you go, really. That's one of the beauties of it: People can still have their traditional heritage and celebrate that—that just gives color to life—but at the end of the day we're all human, we're all trying to learn technology, we're all trying to figure out how to make money."
Throughout this period, he's continued to shape, and mentions Terry Chung as a major influence in his own big-wave design considerations, having seen the master bring high-performance surfing to the big-wave realm on Kauai during the year he lived there. "And my dad was just a natural at it," Kaimanu adds. "He's made some of my best guns. He's just an engineer by nature."
In 2010, Kaimanu came back to the Central Coast from Kauai with his son from his first marriage and met Jenna, with whom he had their younger son. Another child of the Central Coast, Jenna is trained in psychology, and Kaimanu describes her as an artist with a flowing style in the water. Kaimanu's brother, Aaron, is a winemaker in the area.
Firmly reestablished on the Central Coast, Kaimanu seems to have found a balance to the breadth and depth of his pursuits: archaeology, anthropology, and craftsmanship. Then there's his surfing game: big, lonely wintertime waves—not tropical by a long shot, but Pacific Rim just the same.
"I took out a life insurance policy," he says, rather soberingly. "I don't want to leave my family hanging."
•
As we near Cayucos, Kaimanu talks again about his recent work tracing and cataloging ancient village sites on the Central Coast, as well advocating for cultural revitalization with Salinan and Chumash tribal members. He also reveals his own Indigenous lineage, able to trace a thread through Hawaiian royalty that connects to King Kekaulike, who ruled on Maui in the early 1700s.
In each of his pursuits and in sum, his efforts ask and answer the question, "What does Indigenous life look like in the twenty-first century?"
"Is there traditional, Indigenous-based knowledge—wisdom—that can be applied to our modern predicaments and our modern, industrial society? I think the answer is yes," he says. "What I'm doing in my career with Indigenous-based knowledge systems and traditions and recognizing Indigenous people—some of it is just acknowledgement, and in the spirit of truth and healing, in the narratives, the stories, that becomes this interesting energy where you have to face these wrongdoings of the past. And be conscious of it."
Kaimanu has presence. If I have the right understanding, I believe the Hawaiian word is mana, with English synonyms including standing, stature, reputation, honor, esteem, rank, character, and prominence. He speaks with deliberation, and not even a little of what some of us might call the "yeah guy" approach, meaning the over-smiling, ahistorical, apolitical types that currently populate the land, the Central Coast in particular.
After pulling into the Cayucos Pier parking lot, Kaimanu starts transferring boards from one car to another. A woman pulls up beside him. He doesn't see her at first, but I do, and I notice a familiar poise.
"But we can't sterilize everything," he says, beginning to pick up our prior conversation. Then he sees her.
"Oh, this is my mom," he says.
She introduces herself with the same composure and self-containment her son carries. Kaimanu says she's come down for the evening session on her bodyboard.
Finally, as he heads back out, Kaimanu finishes his thought.
"We have to continue to celebrate cultures, but not just live in the past."
[Feature image: Harnessing the benefits of local knowledge on a handmade 10'4″ Danny Hess gun crafted from paulownia wood: "This wave is rare, exposed, and heavier than it looks," says Jackson. "It only starts breaking when everywhere else is maxed out. This day was 25 feet at 21 seconds."]