Features
Photograph by Corey Wilson
From the city that brought you Pelé and Fittipaldi, Paulista Gabriel Medina sacked the world surfing circuit with stone-faced equanimity. In this profile by TSJ's Brazilian correspondent, "Biel" finally looses his tongue.
Photograph by Thomas Lodin
The bank was by no means a beautiful wave, but having it all to ourselves allowed us to surf completely free and be totally creative. No leashes. No forcing it on closeouts. No human obstacle courses. It proved really refreshing, and somewhat reinvigorating, to be able to ride some waves and work through design concepts without the pressure of other people weighing me down.
Attention: Chiens Bizarres
In the Côte des Basques, respite is just around the next bend.
Photograph by John Hook
Portfolio: The Hesitant Professional
From government-identification costuming to Second Reef Pipeline swimming, John Hook keeps the viewfinder level.
Photograph by Geoff Ragatz
As the years passed, my travel mode came to focus less on editorial and increasingly on personal experience. I came to see the benefit of a less-is-more approach to traveling companions, discreet lineups, and staying as far away from the masses as possible.
Observational frames by a passport stamp collector.
Illustration by Richard Chance
Fear is a totally normal emotion that protects you, but sometimes you don't need protection. You need to act.
An interview with Rickson Gracie.
Photograph by Chris van Lennep
"The act of surfing is still incredibly exhilarating, you know? I see a wave breaking and, even with the Parkinson's, I start thinking about how I can get out there."
In the no-holds-barred 1970s, Michael Larmont did it all. As a competitor, explorer, innovator, and businessman, he laid much of the groundwork for South Africa as a surfing nation.
Illustration by Hokyoung Kim
The candles and the lighters soon went out and the apparition above the stands dissolved. Charlie's surfing secret was safe.
A single wave reverbs across the landscape of time and space.
Photograph by Ryan Heywood
When a wave face bends or a lip chucks or a foamball bites—or all three at once—the 17-year-old uses his pliable frame to shapeshift his way along and through, responding to every subtle bend and twist with a complementary action of his own.
Australian Lungi Slabb explores the inner reaches.
Photograph by Kenny Hurtado
We can lament the way things turned out for Cornelius, and pine for what might've been, but only if we recognize it as our remorse, not his own.
The lost art of SoCal maestro Butch Cornelius.
Photograph by Mike Coots
A trio of heavyweights recall their most profound and harrowing moments in maxing Hawaiian seas.
Photograph by Daniela Caram
A postcard from the fringe.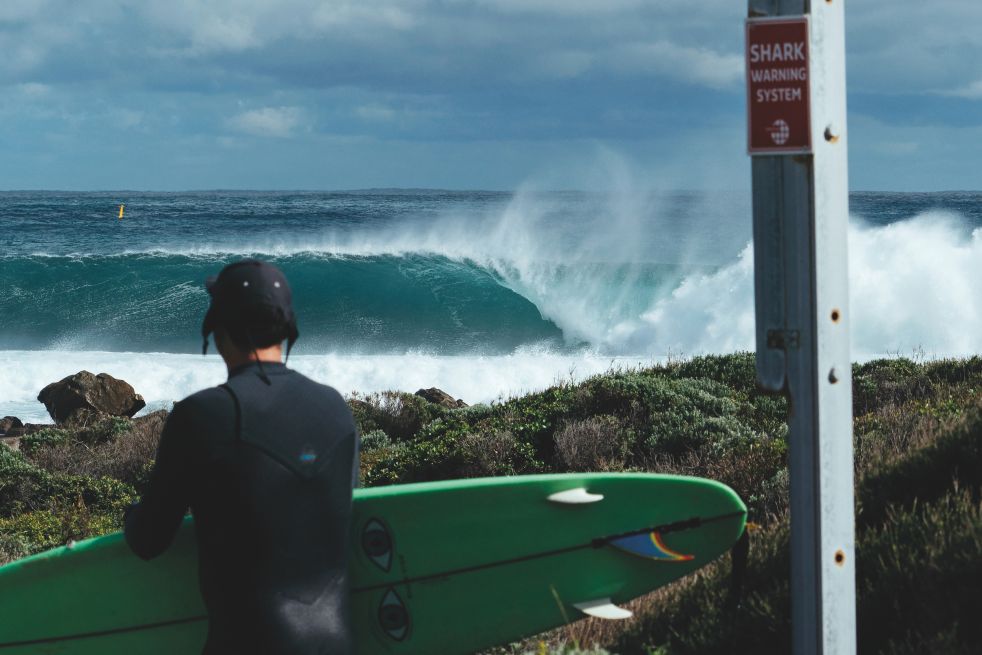 Photograph by Tom Pearsall
A stickered-eyes deterrent (based on the theory of mimicry) and a public alarm system certainly can offer big fish peace of mind, especially in the activity hotbed of Western Australia. But this North Point drainer? That's just damn-the-risk enticement.
Photograph by SA Rips
Without even waiting for a set, Sam grabbed a nine-foot gun and jumped in the water. He just knew it was good, and, as soon as he entered the lineup, an oil-slick 12-foot set came through. Perfectly positioned, he swooped into a wave and rode it immaculately.
The Workman's Approach: Sam Jervis displays humbling Southern hospitality.
Photograph by Jair Bortoleto
All in My Head: Reality and reveries from beachside rambling.