Features
Illustration by Pieter Van Eenoge
Sure, a well-paved road and parking lot—maybe even a public shower—would've made my mission less toilsome, but also less significant. So, does the inaccessibility of a break make it a more fulfilling ride? Absolutely.
Page 12
ESSAY: RIGHTS OF PASSAGE
When it comes to beach access, let's just agree to disagree with ourselves.
Photo by Arto Saari
An interview with Evan Mock.
Photo by Chris Burkard
The runway on the next island sits on the side of a mountain. The weather is foul and we're in a small prop plane. The pilot says he might not be able to land, in which case we'd have to return to Anchorage and the trip would be over. But he decides to loop around one last time. Then he instructs us to buckle up and hold on to whatever we can.
Page 22
SOMETHING ABOUT ALASKA
Why hire a catalog shooter when you have a cold-water surf sleuth on speed dial?
Photo by Corban Campbell
Page 36
A CENTER OF GRAVITY
Photo by Larry Beard
The ripple hits the rocks, rebounds, and jumps in size. Blair Conklin connects with the side wonk just as it convulses the main wave into an overhead peak. He applies a scalpel-like backside hook, wraps back toward the beach, ducks into a quick barrel, and skids back onto the sand almost without touching the water at all.
After a half century of underdog obscurity, surfing's sandy stepchild is finally finding its sea legs.
Photo by Kanoa Zimmerman
Only in the 808 does the ignoble usage of surfboards as roadway signage make a haunting sort of sense.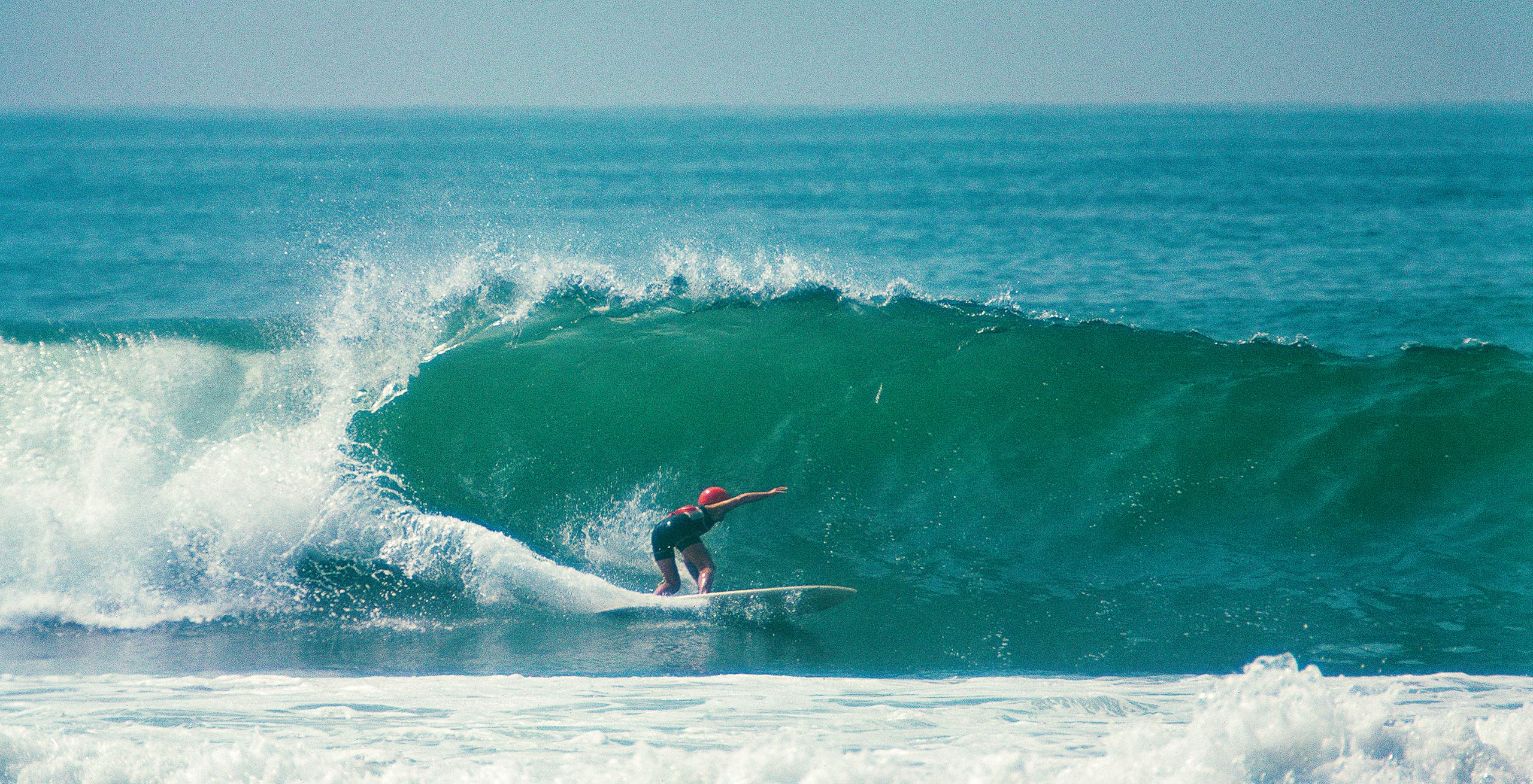 Photo by Art Brewer
"She was a big part of this very special period in surfing where surfing was finding a new identity," says Gerry Lopez. "This high-performance, shortboard, radical surfing thing, that was the beginning of it. She was one of the avant-garde."
Tracking the life of forgotten two-time world champion Sharron Weber.
Photo by Tom Servais
Page 72
PORTFOLIO: TOM SERVAIS
Twenty pages showcasing the fruits of sharpshooting arcade ducks for nearly four decades and counting.
Photo by Bryan Soderlind
By then, Jeremy Flores wasn't the only person after Sterling Spencer. Sonny Miller and Laird Hamilton tried to eat him in a supermarket. Kelly Slater hunted him down after Spencer advertised his phone number on a mock webcast. It wore on him. "Making fun of people is dangerous," says Spencer. "And we were making fun of legends."
Page 92
DOWN IN A SOUTHERN STATE
Sterling Spencer's turn from professional surfer to surfing's satirist.
Photo by Al Mackinnon
Page 106
LIGHT IN THE ATLANTIC
Illuminating the Azores with Hugo Vau.
Photo by Jeff Divine
We start this issue's departments section with a trip down iconic lane: Eddie Aikau is rightly remembered for lifeguarding and maritime heroism. As a surfer, he was Saint-Exupéry's maxim personified. No arm waving, no extraneous turns, no cord. Coming in fast and deep, his defiantly bandy-legged, coiled stance delivered him to each wave's end game with a breakneck dignity.
Photo by Matt King/Getty Images
Page 120
BLANK EXPRESSION: GOING ABOVE GROUND
Surfboard shaper Johnny Cabianca takes an old-school approach to the cutting edge of surfing.
Photo by JP Van Swae
Page 121
REGRETS ONLY: CLOWN SHOW CRACKS
Dealing with the at-home repercussions of a surf trip gone bad.
Photo by Fred Pompermayer
Fun-sized samplings pulled both from inside surfing and from its very outer orbit, including Albee Layer's recollection of Shane Dorian breaking ground at Jaws, fine artist Duane Hanson's surfer sculpture work, the best motorized surf accessory money can buy, and early examples of surfsploitation.
Photo by Mal Sutherland
Cooper was a Mormon who somehow remained true to his faith while still maintaining a surfer's off-center life amid the variety of rare aesthetics that defined that sparse clan who chased waves above all else. As such, his distinctive body language on a wave, his life habits, and his curiosities all reflected a one-of-a-kind human.
Page 124
SURFING AROUND: THE COLLECTED COOPER
Memories of an eccentric pioneer.