Features
Illustration by Alex Jenkins
We're all going to die. Buddhism suggests that our life's work is to prepare for death, but for most of us it is the homework we put off until the last minute. A cancer diagnosis is a wake-up call to do that homework.
Page 12
ESSAY: A WAVE TRYING TO FIND AN OCEAN
Faced with a terminal condition, what solace can surfing really offer?
Illustration by Kristian Hammerstad
Page 16
INTERVIEW: MARK OCCHILUPO
Photo by Sarah Lee
Underwater, her fins flutter against the current. She is dancing. Over the course of the day, her fingers shrivel and cheeks blaze. Hundreds of frames. Hours of work. And hopefully, at the end, something special.
Page 22
PORTFOLIO: SARAH LEE
Artwork by Martin Machado
Page 34
THROUGH THE PORTHOLE
San Francisco-based artist and seafarer Martin Machado's salty creations.
Photo by Brad Barrett
The first inkling I had that there was this surfing thing was looking out my living room window on Law Street in Pacific Beach and seeing a woodie full of surfboards stalled in the intersection. All these scruffy-looking guys jumped out and were running around trying to get it push started, like the Keystone Kops interbred with the Katzenjammer Kids.
Page 46
DIRT, SCRATCHES, FINGERPRINTS, & GRAIN.
Analog surf pics & portraits, 1962-1970.
Photo by Colin Nearman
How Casey and Ryan Higginbotham paddled from Ketchikan to Cabo.
Photo by Shawn Parkin
I would often see Brink as I migrated between Terry Martin's shaping bay and Robin Kegel's Quonset hut salon. Brink showed me strange and experimental designs, speaking of them with a kind of eloquent fury. He spoke of oxygen molecules, compound curves, Martin Luther, and swing weight.
Page 64
WHITE CAPS OF THE MIND
Shaper Donald Brink wonders if "magic" equals "frequency."
Photo Courtesy of Boise Parks and Recreation
Page 74
THE SURF GODS OF IDAHO
Are backward waves the future of surfing in Middle America?
Photo by Russell Spencer
Magic boards can't be recreated. Every blank hosts a unique matrix of inner cells. Resins cure at the whims of humidity and heat. Glassers get stoned. The ideal of surfboard symmetry is at best a tolerable guesstimation. Failed perfection as functional art.
Abstractions in symmetry.
Photo by Gauchos del Mar
Julian and Joaquin Azulay battle the elements in the Falkland Islands.
Photo by Derek Dunfee
The wave's lip cracks down on Dunfee's head. Everything goes black. He's pulled to the surface by his safety vest and vomits as he comes to consciousness. His trunks have been ripped off his body and are knotted around his leash. He vomits again. Too dizzy and nauseous to get on his board, Dunfee lies on his back and stares up at the sky.
Page 98
THE EYE OF THE HUNTER
Derek Dunfee's evolution from big-wave surfing to big-wave photography.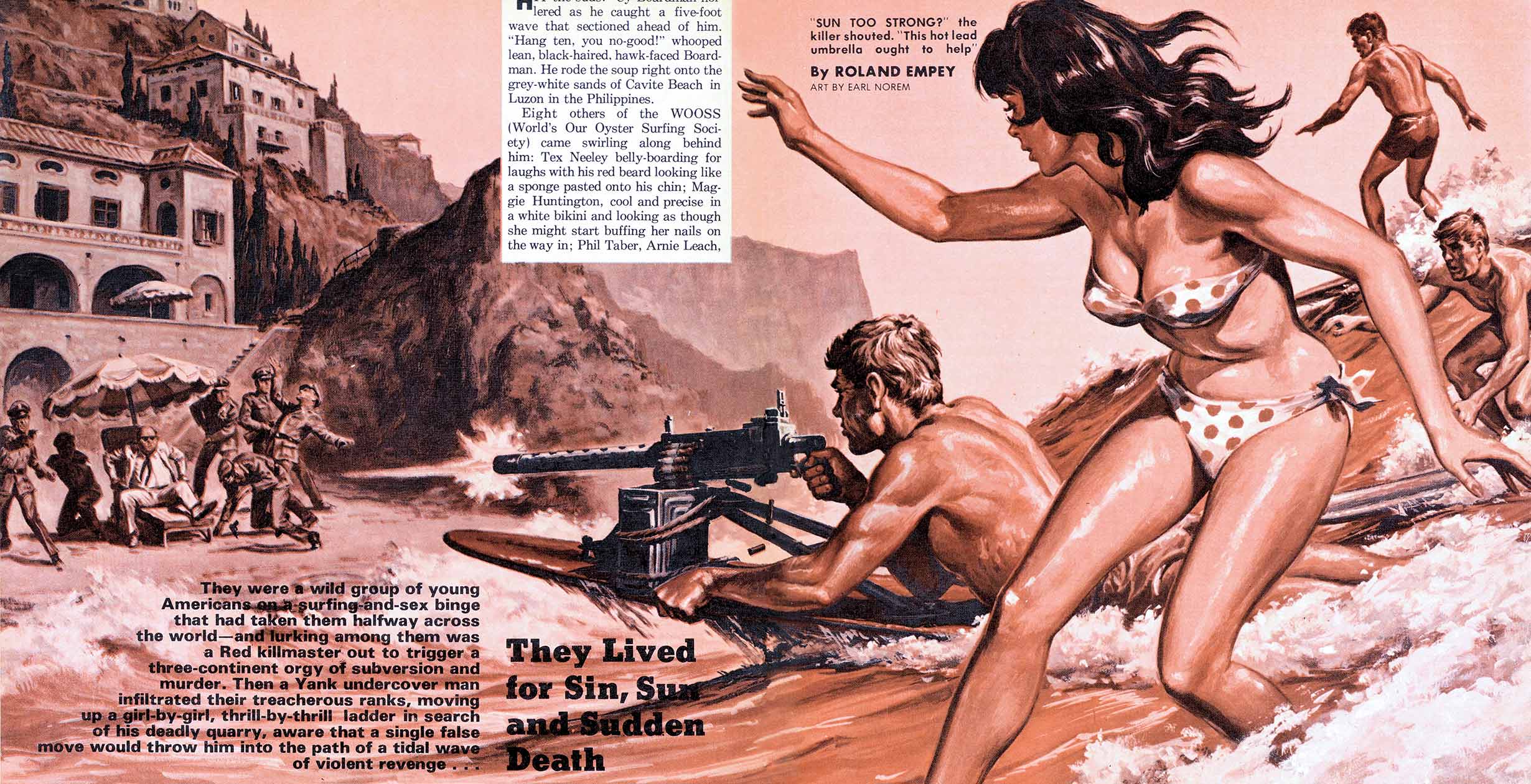 Illustration by Earl Norem/Courtesy of Robert Deis
This lurid little Male magazine number from 1967, which opens our back of the book departments, was written by Walter Kaylin under the nom de plume, "Roland Empey." In their day, titles like Male, True, and Argosy were found in barbershops and barracks, ribald, pre-woke, and too fun to be forgotten.
Photo by Mark Kronemeyer
By dark, crooked characters come out to scare the hell out of newcomers. Some of them are the bare remains of former surfers who once reigned in this outlaw town. Their skinny bodies and decayed faces remind us that the real enemies here are not natural challenges, but cheap drugs.
Page 120
FIELD REPORT: PASE USTED
A Mexicana writer observes a beach where it's always warm—with a chance of sketch.
Photo by Beth O'Rourke
Page 121
SCREENING ROOM: IN HARM'S WAY
Timeless Areas, Beth O'Rourke's biopic of Elissa Steamer, is a transcendent portrait of skating, surfing, and sobriety.
Photo by Tom Hawkins
Odds and ends made for rapid-fire digestion, featuring artifact's from LA's heaviest surf club, a public backhanding for a litany of lineup etiquette offenses, and a leaked government memo regarding "lewd acts" occurring at San Onofre State Beach.
Photo by Don James/Courtesy of SHACC
Page 124
SURFING AROUND: HEAD (HIGH) TRIPS
Ego checks and naval models inform our "How big is it?" calls.