Wilshire Boulevard's full on, where the swank, minimal Roberts-Tilton Gallery is staging for the opening of their new show. The walls are strapped with the produce of three counter-culture painters turned bankable art rockets. Barry McGee has set up an immersive, overturned truck installation in the parking lot. Phil Frost is AWOL, having succumbed to the effects of his medium—fume-gassing correction fluid. Thomas Campbell is putting the final touches on a dimensional "pop-up" piece. The whole gig should sell out within days of the opening, cashing up the pack for their next volume of output.
For Campbell, the show's completion marks a segue to one of his various other modes. A steady output of commercial and fine art photography, filmmaking, A&R and art direction for Galaxia (his record label), and a stream of magazine work keeps his pager slammed. Right now, it's the production of his second surf film, Sprout, demanding his attention—and, soon enough, yours. While that might read hyperbolic, flash on the shot list already in the can: quiver mayhem in Ceylon; right points throughout Morocco; off-the-grid Mexican sand headlands; Pipe cleaning with bodysurfers Mike Stewart and Mark Cunningham; Indian Ocean size with Rasta, Oscar Billy Wright, Tyler Hatzikian, and Diamond Dan Malloy; Tico point waves with Tudor, Machado, and Skip Frye; nauseatingly smooth log-riding with CJ, Joel, Knost, and Zeke; a boiling fish frenzy at J-Bay.
Once the i's are dotted and the t's are crossed with his signature art direction and soundtrack, the project has strong odds of becoming a new reference point in surf cinema. "I'm sort of freaking out at the amount of footage," says Thomas. Something in his voice makes it apparent that this isn't marketing talk. "I mean it's crazy…I think I'm gonna have to Kill Bill this thing into a couple of movies…."
While the churn is intense, the 35-year-old Campbell—who a friend says, "looks like a cross between Slingblade-era Billy Bob Thornton and Morrissey from The Smiths"—is calm. He's almost always calm, excepting those times when affronts to his control and vision send him launching into an imperious shriek, "aehhHH" (a sound lampooned plenty by his friends). Even then, his speech returns to the deliberate and modulated, merging slang with unblinking grand pronouncements: "Dude, you don't know how important what we're doing is…." That sort of flame draws moths.
The Seedlings are his disciples: young single-fin surfers with Byzantine glass jobs, sketchbooks, and experimental hair.
They come to him green, dripping black sheep angst and latchkey attitude. After six months of praise and direction, they have some strut in their step, maybe a small endorsement deal and modest artistic aspirations. It's an unspoken quid pro quo: He preaches the benefits of do-it-yourself, documenting one's tracks, and zigging when you're expected to zag. In exchange, the rats surf for his films. Not all of the acolytes fit the mold. Some of the most zealous supporters are old enough to have bullshit detectors, yet still find themselves dropping blurb bombs.
"I'm pretty sure [the film] will change the way people look at surfing," said Dan Malloy in a note to TW Surf editor Joel Patterson. "I think it could quite possibly alter the way people feel while they're surfing."
It's easy to see how the kids fall into his thrall. While not holding a steady job of any conventional sort, he's usually involved in some manner of attractive creative release—which is not shorthand for saying he's a trust funder or a dealer. His income derives from a blend of royalties, gallery sales, assignment work, and retainers. In effect, the globe is his office. Sporting a studio in Santa Cruz, an editing suite in New York City, and representation in L.A., he's most often found behind the wheel of his pale-green Econoline, bumping up and down the West Coast stalking waves.
The van deserves—and somehow defies—description. From the outside, it's of the type favored by immigrant smuggling coyotes: plain-wrap trim, good off-brand rubber, all lights and registration in order, and generally workmanlike.
Inside, things drift into the guardrail. A platform bunk hovers over a full quiver of Fryes, Choices, Dan-Os, and Christensons. Stale bedding provides a drop cloth for pens, brushes, portfolio boxes, cameras, film, tripods, buckets of paint, lighting gear, vegan refuse, books, mix tapes, wetsuits, trunks, magazines, buttons, stickers, found totems, LP covers, cheap wine, mismatched sandals, fins, hardware, spare tires, a jack…any honest inventory might take days. A mobile art factory, it's as commonly found parked on La Brea as it is straining for the hole shot on a minus tide Baja beach.
More remarkable yet is what pours forth from the bowels of the beast: razor-sharp, medium-format portraits for commercial clients like Nixon Watches; elaborate, child-like paintings inhabited by robed or feathered beings; pen-and-ink works; and artfully lit and composed 16mm surf footage. Quickly glancing into the vehicle—and indeed at much of Campbell's work—one could be tempted to write it all off as self-absorbed balderdash, a hastily constructed front designed to stall adulthood, commitment, and connection. Such dismissal would be well off the mark.
Born and raised in Dana Point, California, T-Moss (one of a laundry list of self-assigned noms de plume) was industrious from the start. At eight years old, he started working down at the harbor scrubbing fishing boats, working his way up to deck hand and office manager by high school. Up the hill in the neighborhood, he came of age with a hive of skate rats bike trailering castoff longboards down the grade to Doheny.
Skating sank its teeth deeply, but by the mid 80s the commercial side of that scene had all but blown away. Left in its wake was the simple act itself, and a broad canvas for the obsessive new breed to paint as they saw fit. Punk rock's focus on DIY had been embraced by disaffected youth worldwide, and the cut-and-paste club flier aesthetic was well suited to cash-strapped skate rats. 'Zines—Xeroxed and stapled, self-produced screeds of faith—blossomed throughout the skate world, and a small group of voiceless, feckless suburban youth found in publishing a means of docu-communication.
This marked the beginning for Campbell. At 13, he was swapping self-produced zines through the mail with his friend Chris Johanson; the two have since become regular presences in the gallery realm. An affinity for editorial thus hatched, Thomas moved to Santa Cruz, producing freelance work for the skate mags. Working at a car wash paid the day-to-days. A serious regimen of travel ensued: a year in Hawaii, cross country hitchhike runs, attendance at the first skate art show in Chicago, and European skate tour assignments for Transworld Skateboarding. Further trips yielded long-term fruit: living in a squat in Bilbao, Spain, in '93; exquisite surf sessions at Mundaca and in Wales; working a skate mag start-up in Madrid (a call to Spike Jonze coached him on lighting, exposures, and film stock); a stint in Portugal; a season on Mauritius, Reunion, and Madagascar; and several influential stays in Morocco. Yet the chrysalis of his success as a painter is most easily traced to NYC.
Crucial to the history of Campbell and his comrades is the art combine known as Alleged. This influential gallery space bloomed in 1992 with the unlikely beauty of a blood mushroom in a syringe. Sited in a pre-gentrification Lower East Side, curator/impresario Aaron Rose assembled a stable of artistic outsiders still hard at it 13 years later. Mark Gonzalez, Margaret Kilgallen, Tobin Yelland, Glen E. Friedman, Sofia Coppola, Jim Jarmusch, Harmony Korine, Cibo Matto, Thurston Moore, and Shepard Fairey all hung, played, or displayed at Alleged.
In the Zing article "Exile on Ludlow Street," Paper magazine editor Carlo McCormick described the maelstrom thusly:
"… Ludlow Street was still just another Lower East Side gutter of low rent tenement dreams that just so happened to have a phenomenally deep demographic of artists, musicians, filmmakers, designers, writers, and all around hoodlums. Hell, it was a freak show, fueled by every illicit vice—from powders to pills to prostitutes—that your mommy and minister ever warned you about. As much as Alleged was a community project, it was very much a community in exile, a degenerate horde of expats who had fled the American dream machine and the glitter of Gotham for a little piece of paradise that was simply too smelly, dangerous, inaccessible, dirty, and dilapidated for the world of the white and polite."
Alleged became a refuge for artists disenfranchised with the doctrinaire, stratified, and political world of fine art. Why trouble with studio and art history degrees, public relations machinery, and tenure track when walls were free, opportunities for guerrilla marketing abounded, and you could Do It Yourself? Graffiti writers, expressionists, skaters, and graphic specialists made Alleged and the nearby hipster dive bar Max Fish their hang. "There was nowhere else for us to go," remembers Aaron Rose. "I didn't really see it so much as a phenomenon…it was more like a [refuge]."
Rose recalls Thomas showing up not as a dopey-eyed surfer from the OC beach 'burbs, but as a relatively street-savvy sharp fresh off a two-year run living and painting in the squats of coastal Spain, Wales, and North Africa.
"He was a sight," says Rose. "He had long, dyed 'riot red' hair and carried a 100-pound roll of paintings, some he'd been working on for years. They were layered and thick, wrapped in cardboard and duct tape. A few were really good, but his work has come a long way since then. Barry McGee introduced him to sable brushes, which started to give his work a finer look. Before that he was using these big Chinese brushes and buckets of paint. When I first met him, his pieces were sort of Picasso influenced, with that long scribbly line and faces coming out of flat planes; that was probably due more to the Spanish kids he was hanging with than spending time in the Prado." ["Not true," laughs Thomas. "I was heavily into Picasso's sketches for Guernica at the Reina Sofia in Madrid."]
The current work Rose refers to is a cartoonish phantasmagoria of gouache, acrylic, and ink. Layered and playfully composed, the works are studded with a menagerie of beings: hooded hominids, four-legged "exhausters" pumping smoke from their pollution ports, onion-headed watchers, winged birds and not-birds, pine trees, water shapes. Affirmational Zen Lite or singsong messages appear: "Be here now," "The present is the present," "Trim your life away," or "What's your attachee? (sic)" The creatures' faces are expressionless or melancholy… open to interpretation. Surfing occasionally finds its way into his work, but that vein is most often exploited on still or movie film. Most of the two-dimensional pieces are stamped with a red rubber Japanese chop and signed with an indicator of location, e.g., "Via T-Mockduck Cutlet, Baja California, 2 thousand 3."
Place has a large hand in everything Campbell does. The year before his first Alleged show, he migrated to Taghazout, Morocco, to surf and paint. Locals in their hooded djellabas quickly became thematic in his work, and even today seem to represent an organic, connected version of humankind. The country was ripe territory for the penniless Campbell.
"The appeal was simple—it was a mellow way of life and a great place to paint," he says. "Morocco is fascinating and disturbing. You can feel 1,000 years removed from everything, yet be right on top of ridiculously good waves; super cheap, a Mediterranean climate, just a healthy place to live. I'd hike a mile out to the point and back, sometimes two or three times a day, and then paint all night. It was a good fit for a guy in his early twenties with all of that youthful energy."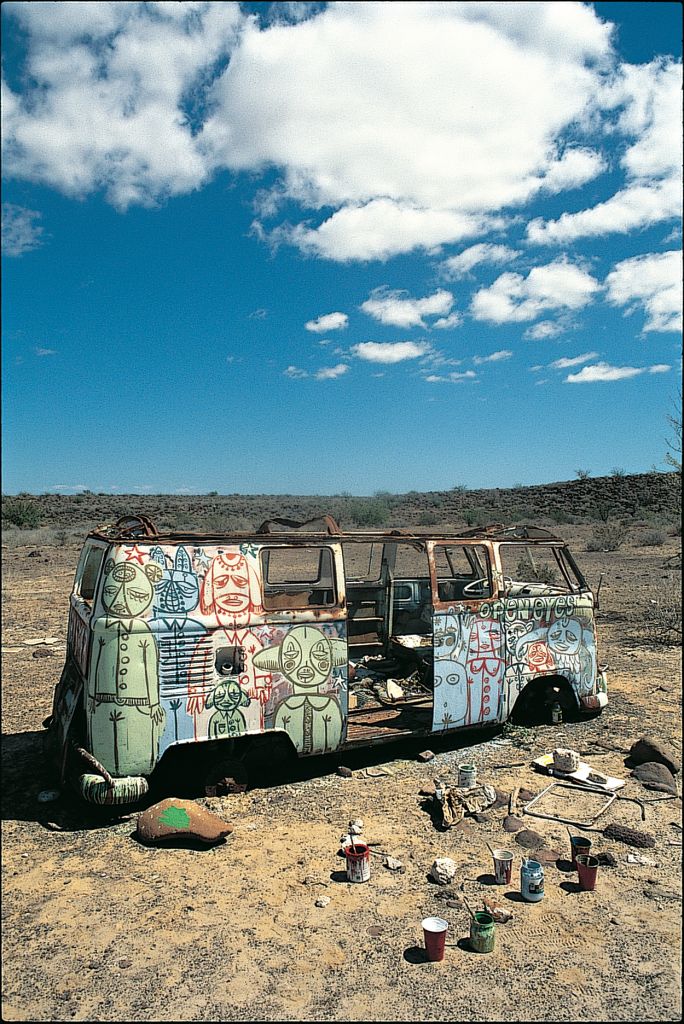 As it is today, his daily bread was a braid loaf of wave riding, slinging paint, and planning his next move.
"I was in Rabat visiting one of the bigger modern art galleries owned by a Frenchman," he says. "He was showing this amazing stuff by an artist named Chabia. Her work blew me away, and I showed him some pieces I'd done. He bought a few of them and later offered me my first solo show. After that, I had a solo in New York. I ended up living on Mauritius for three-and-a-half months producing work for my third solo in Paris at the Beaux Arts and surfing Tamarin Bay."
After the Paris show, Campbell made his way back to New York for his second Alleged show, where he promptly fell in love—deeply enough to find himself living there for a few years, basically writing off his surfing life, skating daily, and painting at his Brooklyn studio. When he found his way back to California, he rekindled the wave-riding blaze. Joel Tudor prompted him to pursue a film project focusing on the kids pursuing classical surfing on heavy longboards. The result was The Seedling.
The feature was shot on 16mm, glancing back with a gimlet eye to the work of maestros Bruce Brown, Dale Davis, and especially MacGillivray-Freeman. In some ways, the reverence crossed over into note-for-note homage, including narration that did the film no special service. The overall effect, however, was a truly unique package merging an unerringly cool eye with an avant-garde, spot-on score. Tonally, it butted together gritty vérité and honey-dripping water love. Taken as a whole, it was artful doff of the cap to the beauty of trim and will likely be remembered as one of the most uniquely successful reels in surfing's collective filmography.
Campbell was back in the thick of the surfing life, but not exactly ready to give up his wandering ways. In a single year, he made his home in Encinitas, the North Coast of New South Wales, and finally made his current residence midtown Santa Cruz. The SC situation seems to suit him particularly well. His roommate works seasonally cutting trail for the forest service, freeing up the bungalow for Campbell's trademark spillage. A Pasadena driveway leads to a garage-conversion studio. He can peel his 12-foot Frye from the rack, walk down the hill, paddle down the river, over to Cowells, and on to the Lane. Up the coast are dozens of coves and reefs that come alive under various swell angles and wind directions. Small measures of California Gold are still evident, and it's a far cry wilder than what's on offer down south.
The Santa Cruz studio copped a harder-than-average drubbing this year as he prepared for "Beautiful Losers," a comprehensive art workout curated by Rose for Cincinnati's Rosenthal Center of Contemporary Art. The "Losers" show started a national tour in June, and will find its way to Boston, San Francisco, Orange County, and Australia. Tracing the history of graffiti, hip-hop, punk, and skate art, it's a roundup of legends (Jean-Michel Basquiat, Warhol, Larry Clark, R. Crumb), and mid-career, post-punk wolves (Ed Templeton, Mike Mills, Steven Powers, and Evan Hecox). Campbell, being a foundational member of the latter group, is well represented.
Thomas nuts himself into a frenzy when such calls to arms come in. "Campbell is not an artist who paints daintily, one canvas at a time…his studio becomes almost radioactive in intensity," writes Rose. "The walls and floors become covered with paints, canvas, papers, and raw materials being worked on simultaneously and systematically…. His execution is a layering process…. First, wide, loose curves establish a basic rhythm. Next comes the application of random but directed fills, washes, and swipes of color that further the composition and give clues to the emerging personality of the arrangement. Finally, small characters and text are rendered into the landscapes with intricate brushwork…."
Which is a polite way of saying that when T-Moe's on the turps, step the hell off 'cause the crap's gonna fly.
Where the Sprout saga is concerned, such sailing excreta has fallen back to earth. By the time you read this, Campbell will have completed a barnstorming U.S. tour and will be off into another mode entire. The Econoline will roar to life, pointed into the southern desert hunting abandoned cars to art-grenade, waves to slide, and creative grist for the next chapter. As for the film, you can watch it and make up your own damn mind.