"What does a ski bum do in summer? LIFE Photographer Loomis Dean, who last winter [1949] documented the gold-bricking existence of ski bums at Sun Valley (LIFE, Feb. 27), looked up his cold-weather friends and found them still leading a bum's life. Now, however, they are beach bums, spending the summer at San Onofre, Calif., 70 miles south of Los Angeles, where they take as much delight surfboarding on rolling waves as they did in winter schussing down snowy slopes.
"In May, as soon as the snow gets soft at Sun Valley, the bums begin to migrate. They head first for their parents' homes where they drop off their skis and pick up their brightly colored, 15-foot-long [sic] surfboards. Then they make for the beach. At San Onofre the setting is a little less glamorous than at Sun Valley, where the expensive hotels afford a pretty high type of free-loading. On the beach the bums spend every minute they can surfboarding, sunning, guzzling beer, making friends with the people who come down to be weekend beach bums. By taking jobs nearby as packers, lifeguards, bartenders, they earn just enough to fill their cups and stomachs and the gas tanks of the trucks in which they live and sleep. If war does not catch up with them one way or another, the bums expect to be back at Sun Valley by November."
—
From "Life Revisits the Ski Bums and Finds That Now They Are Beach Bums," LIFE magazine, Volume 29, Number 9, August 28, 1950.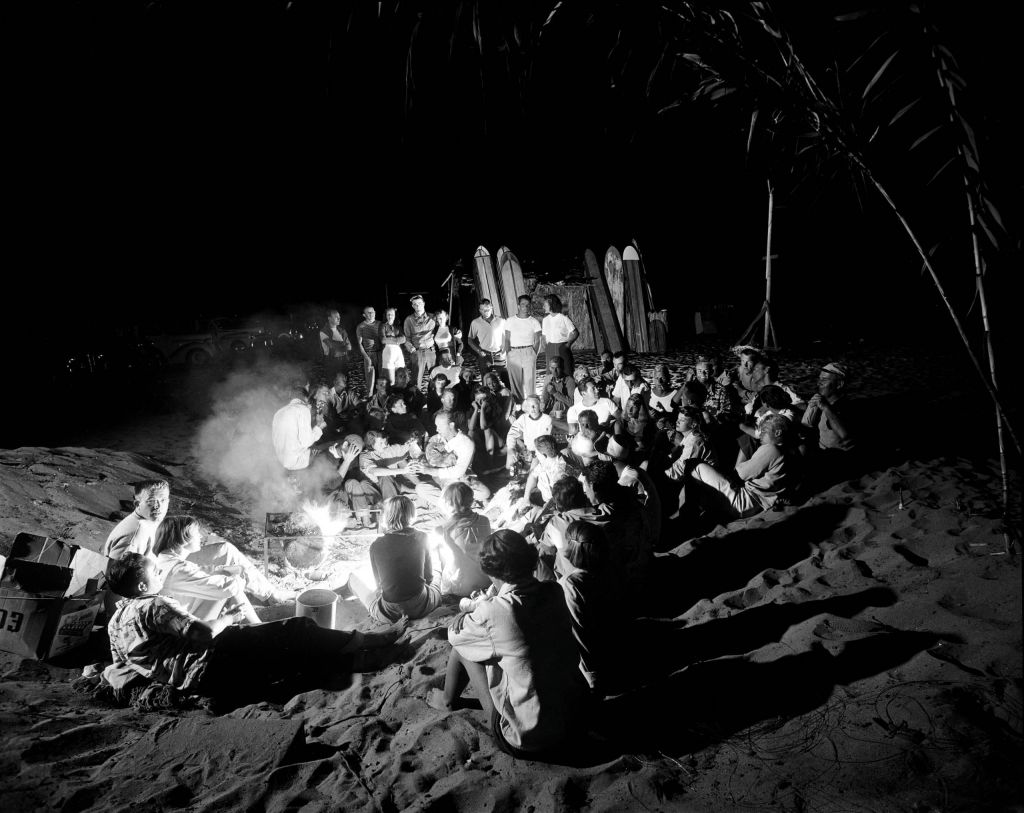 For all of today's chatter about "community," you'd be hard-pressed to find anything to match the pre-Gidget scene. The centerpiece of the nighttime gatherings were horse-meat filets, bought for 30 cents a pound in a San Clemente market and grilled right there on the fire.
Robert "Hammerhead" Gravage holds court from the top of his late 1930s Ford Panel van, while the gremmies sight him in with their cap guns.
Jim Elliott says the two most important words in the English language and hopes the plastic bags around the cast on his leg stay sealed while he slides a few.
Nomadic homesteading: Unidentified assembles a thatched roof for a build-it-and-leave-it-and-hope-it's-there-next-year beach shack.
Warren Miller, the famed outdoor filmmaker, gets a haircut from Myra Roche to maintain civilized respectability for an upcoming supply run into town.
Subsistence living meets lowbrow fashion. Check the Navy marker, most likely put on either in Hawaii during the Pacific Theater or just up the coast at the Pike in Long Beach.
Yes, it was once that easy. Yes, they were once that big. Yes, we were once that fit.
Gravage, post-surf, displaying the notion that home is truly where you make it.
The clothes on your back, the essentials in your pocket, the sea stretched to the horizon: "The Life," as defined in a single image.
Hammerhead and his dog, Cork McSnork, stand watch over their little kingdom.
[Feature Image: Is there any better place to count sheep? The real ones know, then as now.]