While it seems most mainstream profes- sional-sports photographers shoot their subject with the detachment of an analyst, Ryan Miller is deeply embedded in surfing's big show. During his ten-plus years on the 'CT wagon, he's created trading-card-caliber imagery while being the life of the party behind the scenes. A shoulder some cry on after a loss, the catalyst for a full-fledged rager after a win.
Shortly after the last heat of each day expires during any given event, or at the end of each lay-day side trip, an email from Miller lands like clockwork in the inbox of nearly every surf-media editor in the game. Included is a Dropbox link to his photos of that day's peak surf action and off-wave drama—each image color corrected and neatly organized, made turnkey for post-game wrap-up needs.
Also in Miller's emails is a brief, idiosyncratic scene report—a tangential, restless stream of consciousness that's a foil to the robotic, media-trained post-heat interviews regurgitated by the pros. Topics range from how he owned the airlines at their own bureaucratic game to exotic restaurant recommendations, and everything in between. In the subtext lurks an optimistic template of how to maximize a hard day's work and have a damn fun time while doing it, each message signed off with a "Let me know if any of these work for you."
5:20 p.m.
Monday
16 August 2021
Subject: Mexico
At first, I was freaked out by this all-inclusive hotel we were staying at—last time I stayed at one of these, I hated it. Also, I've only been on an all-inclusive cruise ship three nights total in my life, and hated that experience. I'm such a princess for a nice meal and a clean house with a kitchen to cook in. I didn't like my room at all; it just felt seedy. And I really didn't like the buffet with all the steamer trays filled with overcooked pork chops and boiled broccoli—so bad and bland. Because of that, I was contemplating turning around, flying home, and selling all my cameras.
However, after living this way for a few days, I think I've fallen in love with the all-inclusive lifestyle. I now know why people come to these cruise-ship-like resorts: It's the feeling of doing absolutely nothing! Everything is taken care of, my room gets cleaned, and I don't have to cook. No need in stressing over buying $1,000 in groceries in a foreign language. You can just turn your brain off and go on autopilot. I've already started looking at cruise-ship-review sites.
1:08 p.m.
Friday
6 November 2020
Subject: Maldives
You definitely don't want to find yourself in the ER deep in Brooklyn, at 2:30 a.m. on a Saturday night. But that's exactly where I ended up after fucking up the dates on my COVID-19 test and not being allowed to board my red-eye flight to the Maldives. So I bolted from JFK to the closest hospital that could complete a test with a quick turnaround time. Found one in Brooklyn, and boy, were there some creatures in that ER room. Rock bottom.
Everything else went smoothly. Got to a hotel room, rebooked my flight, went to bed at 8 a.m., woke up at noon, headed to Coney Island with a big bag from Starbucks for breakfast, and watched football all afternoon in the hotel. Picked up my negative COVID test from the hospital, went back to the airport, and boarded my flight. Hardly anyone was on the plane—empty rows for lying flat.
Qatar's Doha Airport was wild. A nine-hour layover in the lounge with a rooftop pool wasn't long enough. I ate and drank myself silly, putting down an entire bottle of Bordeaux at one point.
Upon arrival in the Maldives, I was terrified to fly in a seaplane for the first time. But we landed safely and disembarked onto the most charming island resort I've ever been to. Welcome to paradise, baby!
3:37 p.m.
Tuesday
26 November 2019
Subject: Hawaii
I started off the day before sunrise at Haleiwa. Shot the comp while simultaneously watching the Eagles football game on my computer, editing files right there on the beach with my feet in the sand.
With my bags already packed in the car, I went straight from the contest to the airport and touched down in Maui just after dark. Grinded McDonald's on the drive to Honolua Bay. It was my first McDonald's of the year, and it was so gross, but so incredible. I wanted to lick my fingers and eat the napkin after I was done. Got to my spot and downloaded my assistant's files from Pipe as soon as I got online.
I went nonstop from 7 a.m. and was still going until just after 10 p.m. I absolutely live for this shit!
12:29 a.m.
Friday
30 August 2019
Subject: Tahiti
I've rented the cutest little aluminum boat in Tahiti for the past two years. It brings a smile to my face every time I see it. It's nothing flashy, and that's exactly the way I like it. Its 15-horsepower motor barely uses any fuel and gets me out to Teahupo'o efficiently with one other guest onboard. The seats and floors are covered with traction pads. The boat comes with plenty of rope and clips to hook onto the buoy—no need to know how to tie a bowline. The retractable T-top might be the best part of the whole thing: Flip it down to carry a full crew or fly the drone, flip it up and take a nap in the shade.
I often go out on the boat before it's light enough to shoot photos, just to relax in the channel. One morning I was out there flying my drone, drinking coffee, and taking phone calls all at the same time. It was perfect. A boy and his boat in Tahiti is a bond that is unparalleled.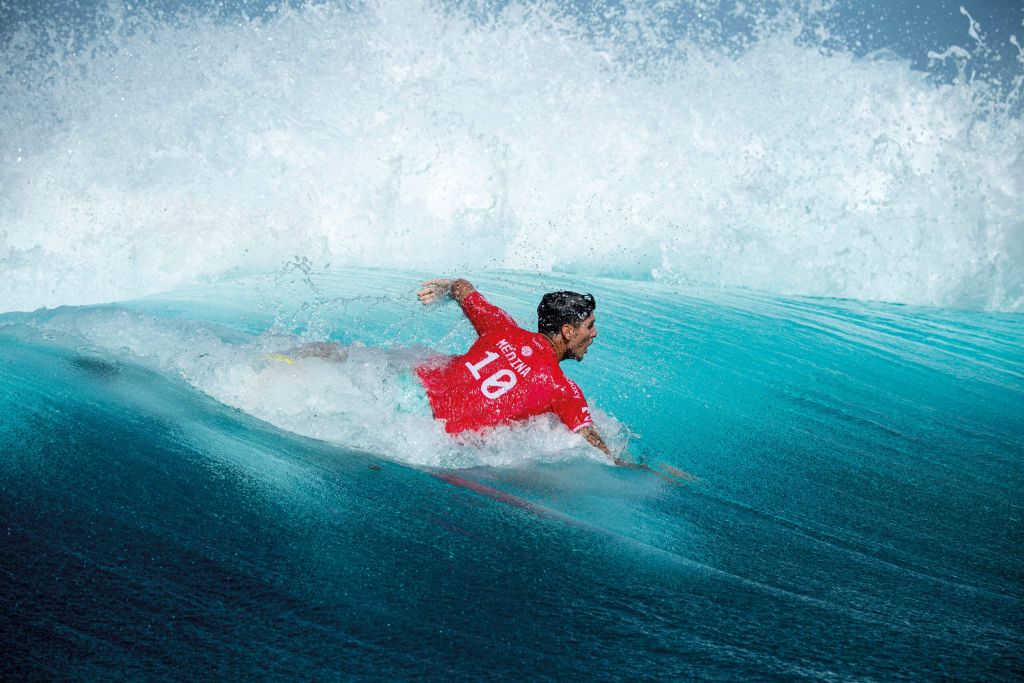 1:14 p.m.
Saturday
13 October 2018
Subject: France
Food is one of my favorite things in the world, and Hossegor has two of my favorite restaurants:
Le Touring: Don't even look at the menu—just order up the pierre à feu. Five minutes later, a slab of rock heated to about a million degrees and a cut of raw filet mignon are delivered to your table. You cook the steak yourself on the hot rock. Don't put the whole steak on at once, though—just cut off small slices and sear them on each side. I can sit there and eat till I explode. I cry when the steak is gone.
Chez Minus: There are only three things on the menu: mussels and two other things that don't matter because you only came for the mussels anyways. One huge bowl comes out for the whole table, and you just dive in with your hands. Not too sure if they sprinkle cocaine on those things, but they turn everyone into a frenzy.
9:12 a.m.
Monday
16 July 2018
Subject: J-Bay
These houses in J-Bay are all built out of concrete and brick and have no heat. They're freezing and I love it! I went to the store the first day when it was still hot out and loaded up on 400 pounds of firewood. Now it's cold and I've got my fireplace raging, Neil Young on the stereo, and a glass of cabernet sauvignon in my hand. The waves were pumping today and life couldn't be better.
12:05 p.m.
Sunday
10 June 2018
Subject: Bali
This was one of my finest aviation achievements yet. When the WSL schedule comes out in December, I log all of the dates into Google Flight Tracker. The Bali flight at that time was only $962 on American Airlines, so I jumped on that right away even though it was six months out. When I called AA to add my systemwide upgrades to my reservation, they all cleared that day; I would be lying flat both ways for 16 hours. I hung up the phone and started to tear up. I didn't know happiness like this existed.
12:14 a.m.
Saturday
19 May 2018
Subject: Brazil
I made the mistake of trying to buy my wife a bathing suit in Brazil. They've got some wild gear down here, and for crazy cheap, too. Tops alone in the USA run $100 each, but in Brazil a Benji gets you a four-pack of tops and bottoms. I thought I was killing it at the mall in Rio, but when I handed the goods to my wife, she barely even looked at the things before she gave me a "Pffffffff" and brushed them to the side. I was completely deflated. She didn't even try them on, and she is the most low-maintenance girl I've ever met. I don't know why, but I'm damn sure men can never buy swimwear for women.
9:18 p.m.
Saturday
17 March 2018
Subject: Gold Coast
It's been freezing cold at home in New Jersey for the past two months, and I am pale as ever. My precious skin finally bore witness to the sun here on the Gold Coast. I went to D-bah and stood shooting barefoot on the black asphalt jetty for hours. The heat felt amazing. My feet started getting itchy, so I was scratching each foot with the other, inadvertently rubbing dog crap on the tops of my feet from turds I didn't know I'd stepped in. When I woke up this morning, my feet looked like hamburger meat from heat rash. At this point, I could easily amputate them at the ankles with a dull blade and be very content. I've woken up twice this trip with nightmares where I was lying in a pool of blood.
11:55 p.m.
Friday
16 June 2017
Subject: Tavarua
All of the resort rooms on Tavarua have three beds and one bathroom, except for two. All the boys just share a room, and there's no privacy—kind of like summer camp. Those other two rooms are family suites with two twin beds in the living room and two bedrooms with their own bathrooms; these are the rooms where the WSL puts all the surfers traveling with their spouses.
Because the island is over capacity, they have to stick people on those twin beds in the married couples' living rooms. One of those people is always me. It's kind of awkward that you have to enter the bathroom through their bedroom, so at night I pee and brush my teeth off the front porch.
No one ever wants to stay in these rooms with the couples, but I love it. Drinking wine with the ladies in the afternoon is one of my favorite activities. Half the time I feel like I'm one of the girls anyways. And a hidden bonus is that once someone loses, you get to upgrade to your own bedroom while everyone else is still three to a room. I just got my own room, baby!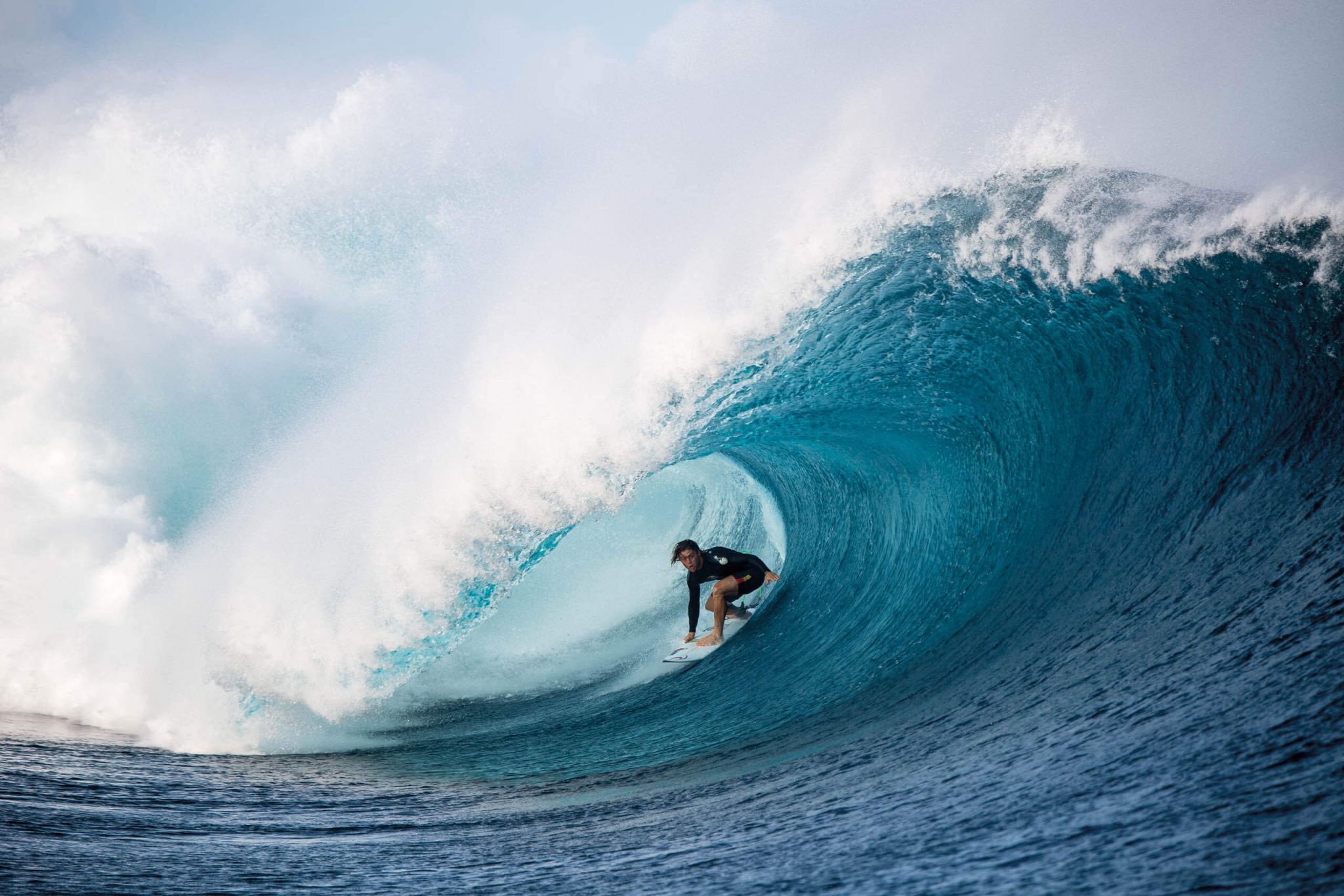 10:53 p.m.
Wednesday
19 April 2017
Subject: Bells
I have the most adorable little red boogie board I use to shoot from the water here in Bells. It waits for me every year by the door like a little puppy. It doesn't have a lot of flotation, especially for a beast like me, so it's a bit of a struggle to get out in the lineup. The leash is just a little spaghetti noodle, and it's popped off a few times while getting rolled by whitewash. But Little Red is always waiting for me on the sand when I get in.