The small coastal hamlet of Gracetown is theater-like in its setting. Each house on the hill is oriented physically and psychologically toward the sea. So, too, are its residents.
Out the back, Indian Ocean swells roll across the horizon. On the shore, a sandy swimming beach and a small jetty suggest safe anchorage and stillness. It's a place of power and serenity whose history contains equal parts beauty and tragedy for those who call it home. From the cliff collapse of 1996 that killed nine community members attending a local surfing carnival to fatal shark attacks in 2010 and 2013 (and the well-documented near misses since), life in and around Gracetown continually exists in close proximity with its wild natural elements.
Growing up, Kim Feast's family moved often around the state of Western Australia, following the teaching appointments of both his mother, Mary, and father, Rob. Living in small and remote inland country towns with names such as Wickepin, Narrogin, Kulin, Dumbleyung, Gnowangerup, and Northam provided unique life experiences.
"I loved being out in the country," says Feast. "And all the moving around has afforded me the ability to adapt quickly and be fine with the mobility required in my creative pursuits. What I will always remember, though, is that the moment that school finished each term, we headed straight to the coast."
It was during these breaks, spent at the family's humble holiday house in Gracetown, that a young Feast learned to surf on the soft, rolling waves at a spot called Huzzas. Through their living room window, he also watched the freight-train-like barrels of North Point break on the other side of the bay, equal parts frightening and fascinating.
"It's a relationship of unconditional love and admiration," Feast says of the spot, "and an ongoing challenge. North Point beats the living daylights out of me on a regular basis, in between giving me some of the most incredible experiences I will ever have."
Feast's style of wave riding also reflects a similar dichotomy. As a drop-knee bodyboarder (riding in a half-kneeling stance), the challenge is to maintain a balance between the carving lines drawn by surfers and the friction-free release afforded by the board.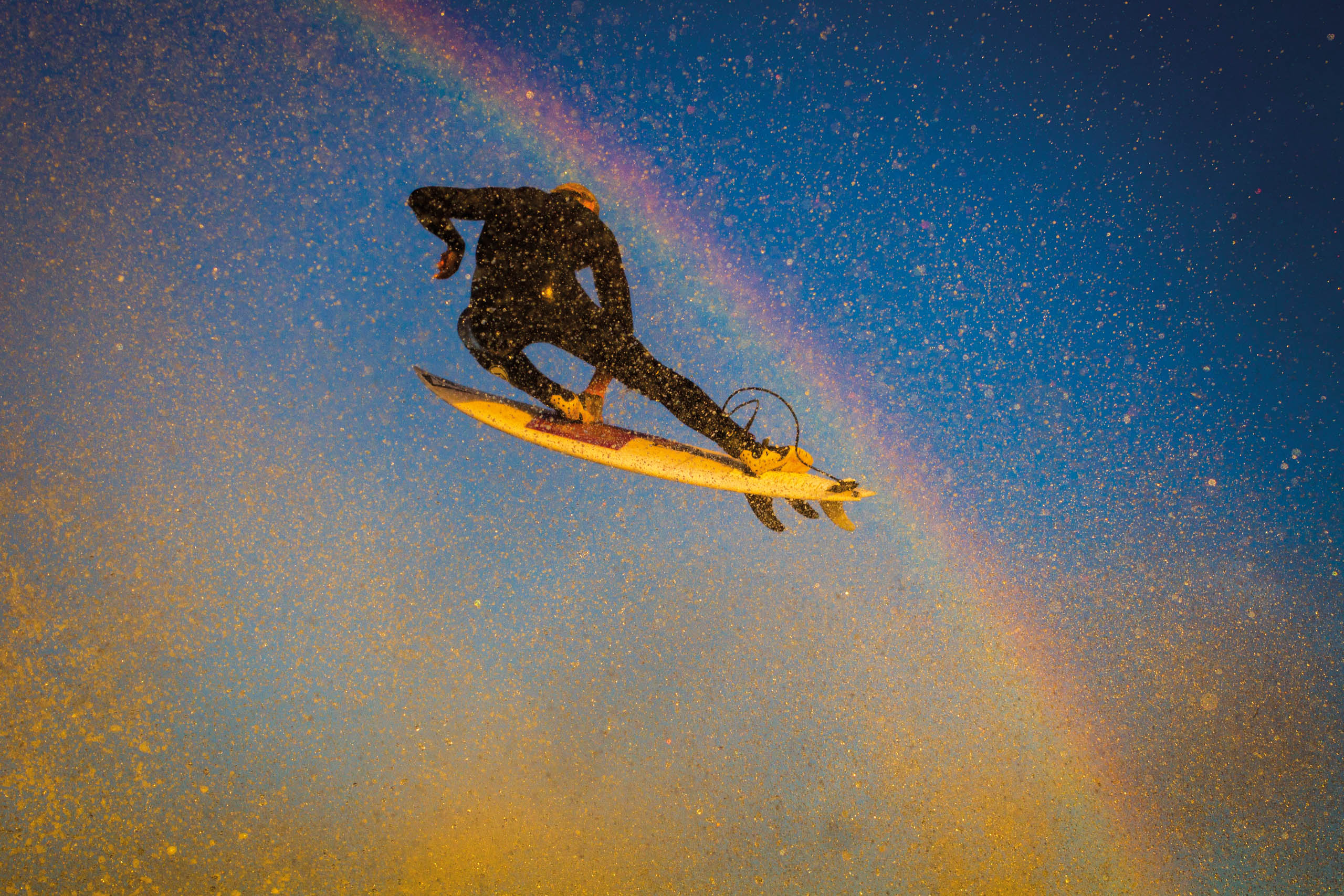 Interestingly, growing up among stand-up surfers, the perceived dividing line between surfing and bodyboarding was not an issue. Seemingly belonging to neither one nor the other, Feast's position in the lineup was instead built upon showing respect to the established crew and, in kind, earned with a quickly developing desire to take on anything that the ocean threw at him.
"I grew up not caring what anyone else rode or why," he says. "Sometimes I'd get lighthearted jokes from the old boys—things like, 'You're almost there; why don't you just stand up?' But it only made me dig in further."
The transition from talented drop-knee rider—on the fringe of a fringe pursuit—to his current position as a well-regarded photographer has not been a straightforward one. Despite having traveled the world self-producing his own drop-knee short film series, achieving multiple No. 1 world rankings for drop-knee (including a coveted win at the 2011 IBA Bodyboarding Pipeline Pro), and being the only person to have attempted to drop-knee at Australia's The Right, Feast's achievements didn't garner the industry recognition or support that would allow him to pursue bodyboarding as a living.
Along with the professional struggles were a series of personal losses: his father to cancer in 2007, close friends to accidents and illnesses, his sister-in-law-to-be in a car crash in 2012, and the ending of a significant relationship that couldn't be sustained through it all. These events eventually culminated in Feast reaching a breaking point.
On a fine summer's day in 2013, he was found lying on the floor of his mother's house, unable to move and no longer able to hold back the relentless flood of emotions that had finally overwhelmed him. The emotional trauma was compounded by the accumulative toll of chronic surfing injuries, and the addictive and conflicting medical prescriptions taken in an attempt to treat multiple conditions—a combination that would see him take a step back from surfing.
"Looking back," Feast says, "there were so many issues, experiences, and injuries overlapping each other over a sustained period of time. With everything going on, there was no time for things to heal. Then there were my surfing aspirations seemingly fading away. I needed to find a balance in my life where all things have a time and place, which has been and still is a huge internal shit-fight. But like all of us connected to the ocean, adventure, exploring the world, it's something I cannot stop. I realize now that as hard as it all gets sometimes, I'm not going to give up on it."
There appears to be a correlation among surfers between sustaining injuries and becoming a surf photographer. For Feast, photography wasn't simply a case of filling the void left by not being able to surf. With an old water housing borrowed from friend and surf cinematographer Tom Jennings, photography became a form of rehabilitation, a way to purposefully reconnect with the ocean and to find a fresh perspective on life. Looking at the world through a camera provided a brief respite from the complexity of life on land and gave him the challenge to again pursue moments of clarity in the water—this time on the other side of the lens.
"Kim's more comfortable in the ocean than being on land—something I relate to," says fellow Western Australian photographer Scott Bauer. "The thing that sets Kim apart from most is that his comfort and knowledge in the ocean allows him to get into positions that a lot of others can't."
That comfort translates into his work. A sense of a calm within the chaos pervades his images, and he's able to find fleeting details among fast action. Within surfing, his photography brings the viewer close to its rawest moments, perhaps a result of his being self-taught.
"He knows how to ride big, heavier waves," says John John Florence. "So he knows where to position himself. And for photos, it's incredible. He's not afraid to go over the falls or get lipped or be in the spot that photographers have to be in to get a really good shot."
For those closest to him, it's noticeable that the only time Feast is still in both body and mind is when he has his eye up against the viewfinder of a camera. In this way, Feast's photography is not only a creative outlet, but also has become both an analogy and an approach to life itself. To attribute the resulting images to good luck or good timing would ignore the determination and dedication required to reach the level he has in such a short period of time. And he's done it by neither limiting himself to shooting only the best days nor copying or following the standards set by others.
"Kim is very enthusiastic and passionate about everything he does," says childhood friend and professional surfer Creed McTaggart. "He can get an idea in his head and easily become obsessed with it. It's probably why he gets so good at everything."
Feast credits completing a degree in architecture in 2014 with enabling him to think creatively and critically across various types of projects. This ability to learn and transfer skills between disciplines now sees him commissioned to capture the energy of music concerts, the tender moments of weddings, and the violence of amateur fight nights, as well as filming and editing for various commercial projects both in and beyond surfing. However, it's not just the resulting images that are of importance, but also the exchanges had with the people in the photos or for whom they are taken.
When asked about what the future holds, Feast ponders the question from a familiar vantage point on the hill above Cowaramup Bay. Looking out, a small pack of grommets crowd expectantly around the peak at Huzzas, while on the opposite side of the bay an occasional set hints at breaking along the outside ledge. It is a picturesque view with an unseen but underlying energy.
"For now," he says, "I'm back home in Gracetown, renting a small house that overlooks North Point. I'm just going to keep trying to put myself and my camera in situations where good things can happen. I still feel sometimes like I have no idea where I'm going or what the bloody hell I'm doing. But I know I'm okay as long as I'm in the motions of doing it."