A big swell can be a revelation, making the familiar strange again by expressing deepwater reefs and bringing rare birds to life. Even if you're not getting waves yourself—as often as not, monster surf shrinks the number of usable spots, promising more than it delivers—you still want to drive down to the water and stare out to sea. When the surf is merely pumping, our minds grind on where we're going to score that day, what board and tide, and "Oh God, Oh God, Oh God." But on days like March 9 of 2003, when the far northern buoys showed 29 feet at 20 seconds, I bet a lot of guys felt the way I did—eager just to see it go down, to watch the pure spectacle of the sea. We transcend our preoccupation with the rideability of waves in those moments and yield to our simpler and more passive preoccupation with the sheer mystery of the waves themselves.
No disappointment, then, in rolling down Route 1 from my home in San Francisco for an afternoon surf with star chef, culinary impresario, legitimate sand artist, and honest-to-goodness Eastside local and twin-fin ripper Jim Denevan, one of the more unusual creatures ever to emerge from the shallows of our peculiar sport. My hometown's Ocean Beach, needless to say, was a preposterous, channel-free maelstrom of unruly 15-foot barrels. Maverick's, farther down the coast, was just emerging from the golden morning's fog and settling into solid tow-in shape (although Renneker says he and John Raymond paddled out on 11-foot boards, that Raymond nearly died in the rocks, and that Doc caught a few smokers), and Waddell, Scott's—all the points and reefs of northern Santa Cruz county—saw not a soul in the water, just roaring outsized bombs and empty beaches and fields of electric yellow oxalis blooming bright against the lush green grasses of a warm spring on the heels of a drenching winter.
To slide into Santa Cruz, on a swell like that, is to slide out of the mystical uselessness of an open coast and into a full-fledged surf party, the whole town going nuts for the fat, groomed lines at all those sheltered, south-facing right points. And to park in front of Denevan's Eastside cottage, in the shade of a Monterey pine, on a swell like that, is to witness the apotheosis of an original life. Just start with the setting: A few blocks off the rock-reef miracle of Pleasure Point, on those poorly-paved no-sidewalk streets of cheaply-built beach shacks and shingled 1970s surfer Shangri-Las, the man owns an unexceptional beater of a one-story home. Heavy jasmine bush out front, perfuming the overgrown yard and picket fence, a rose bush and lemon tree and beach cruiser bike and crappy old rowboat. Then knock on the door and, hearing nothing, walk around the side to a big stack of surfboards among the scrap lumber.
And there he is: tall, lean, fair-skinned, and smooth-skulled in the my-hair's-thinning-so-I-might-as-well-go-Telly style, with soft freckles and blue eyes and the most bemused and private of smiles. He's not alone, either, because a light-on-his-feet cameraman from San Francisco's public television station, a former ballet-dancer, is prancing around shooting digital video. Jim's blowing up right now, his massive and ephemeral sandpaintings suddenly in a group show at San Francisco's Yerba Buena Center for the Arts (photographs of them, that is), a documentary in the works, critical art attention, and quite a lot of food-press coverage. The latter comes for Outstanding in the Field, this deal where Jim and his crew set up the whole white-tablecloth dining thing in the crop-rows of some gorgeous organic farm, get a celebrity chef from a famous restaurant to cook a many-course, five-star meal using foods from that very farm, and invite high-paying guests to sip local wines and tinkle among the tulips. Last fall's "Foraging Dinner," in the Santa Cruz redwood forest, involved shooting a deer in that same forest, gathering mussels on the coast, digging mushrooms out from under oak trees, and deliberately confusing guests en route to the dinner site, so they'd never be able to find their way back.
But I want to get waves, and so does Jim, and the ballet-dancer-cameraman wants to film Jim getting waves, so we change into our suits—no booties or hood for Jim, because he's an actual Eastside local, born and raised, and he's got appearances to keep up. The cameraman films Jim grabbing a shiny-new 6'8″ round-tail twin fin, and I ask what the deal is, because the surf's double-overhead-plus. But it turns out Jim's just a surfer of a certain age, one of those guys who came up in the twin-fin era, got a lot of love for the lines he drew, and never moved on. Also, he's got this very particular idea of how he wants the session to go. He wants to paddle out at First Peak at the top of the point where the waves will be biggest, then ride clear to the Hook, then catch a Hook wave into Privates, then catch a Privates wave along down to the Capitola Pier, and then paddle around the Capitola Pier and into the lineup at the rarest of Santa Cruz rare birds, the ruler-edged point waves of New Brighton State Beach, a place so sheltered it practically faces east.
Jim's on a classic, core, local's ride, is what I mean to say. It's the kind of thing you only want to do if you live right on top of a great point break, and you've surfed it all your life, and you've ridden it in every imaginable state, and your mind has turned toward bagging various superlatives, or pulling off certain hat-tricks that'll get you excited as in the days of old, and give you something to kick around with the boys when it's all over. Especially this New Brighton business: The place breaks so infrequently that only the true locals even know it exists. And sure, it's a great wave, but it's also great to be able to say you've surfed it—because that means you've been around, you've caught something special.
But while we're walking down the concrete stairs at Sewer Peak, past all the shaved-headed locals in their jailbird fashions nodding hello to Denevan, clearly friendly with him, skeptical about his board choice for the epic walls blowing down the reef, I'm also thinking I'm not sure I want to surf my way through one unfamiliar lineup crowd after another in order to retreat ever further inside Monterey Bay where the waves will be ever smaller and ever less frequent. So after we paddle out, I just watch while Denevan strokes into the first set wave to come along. This guy knows the pecking order so well, that with a hundred guys in the water, he also knows with a glance that he doesn't have to wait for anybody. And just like that, he's throwing buckets with the ease of youth.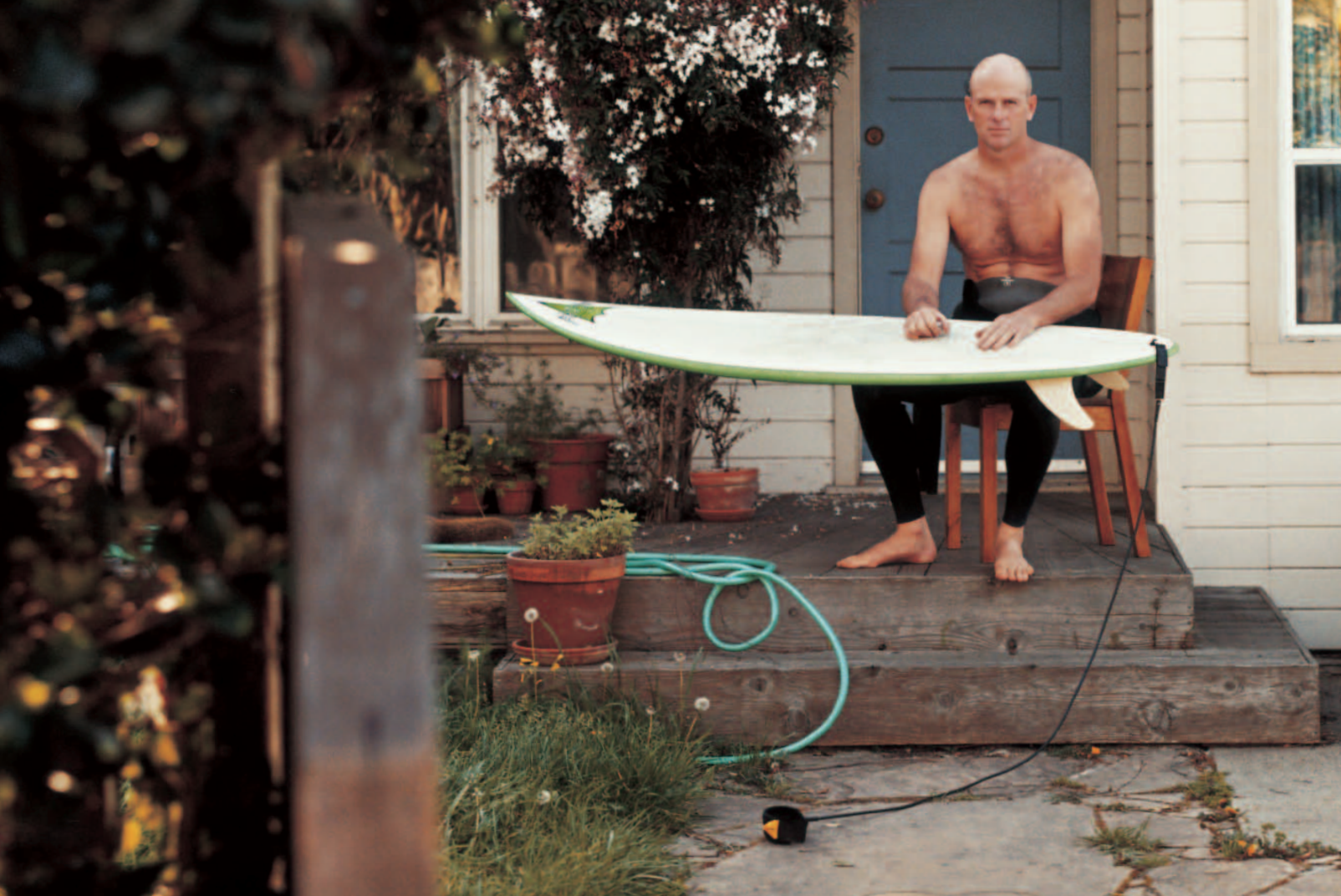 "Denevan was the king of Pleasure Point," says Rusty rep and fellow eastsider Marcel Soros. "We all used to hang together. He's actually brilliant. There's brilliance, and I know when I see it. He was so nurturing, so cool, he was such a big-brother-type kind of guy, and I used to hang at his house. Comes from a pretty trippy family. His brothers are a little tweaked mentally, the whole deal. I used to hang at their house when they used to make skimboards. He was the king of skimboarding back in the day, too. The guy's talented in anything he touches. He's amazing. He's one of those guys that was really cool and nice, but he used to rule and dominate the line up, too, and he was a big man. He also fucking could paddle like an animal, and he was really smart in school, like he could recite all the capitals of the US. He is one of the boys, too. A lot of people don't know that because they don't go that far back. It's such a transient town now, but I'm like the historian on that side of town, and I don't forget Jim Denevan. I never will."
*
I didn't forget him either, as he carved his way down the surfing equivalent of a walkabout, doing his Pleasures-to-Hook-to-New-Brighton odyssey, but I didn't even try to follow. I'd surfed with Denevan before, and I knew that he really did draw elegant lines with his twin-fin, not an easy thing to do, in my view. I also knew that he could spank the hell out of the lip with no visible effort, and that he did it all with a soft smile on his face, as if it were all just vaguely amusing. Also, after one set wave of my own at First Peak—a quarter-mile cruise, taking me well past 38th Avenue—I was too hooked on the possibility of getting more. So I did, for several hours. And, then, sometime in the late afternoon, I belly rode a wave to the beach and was just tying up my leash when I saw Jim walking up the sand toward me.
We strolled back down the funky road to his house, took showers in that ramshackle little home—everything low-budget except the top-dollar Viking range—and then we drove downtown to the restaurant where he's a chef, Gabriella Café. It was a soft, warm evening, windows open to the dining room, and a soft-spoken blonde waitress brought us white wine and salads and more. She was perhaps 25, tall and slender, and slightly awkward, as if unsure of herself, although she was clearly fond of Denevan. I thought he returned the feeling, and she gave us plenty of privacy for a long conversation.
Denevan grew up in San Jose, he told me, but his folks owned a beach house in Santa Cruz, so he came over on weekends and during summers. He learned to surf when he was nine. His mother was a math professor at San Jose State, and his father was a machinist for Westinghouse, even worked on the Poseidon submarine. Apparently, his father worked at some place that is now a toxic superfund site and died of a brain tumor when Jim was five years old. "My mom raised nine kids by herself," Denevan said, in his deep, controlled voice.
"Nine?"
"Yeah. She died of Alzheimer's about four years ago. My family history's very intense. My brothers are very accomplished, but I also have three siblings that are schizophrenic."
"Institutionalized? Or coping?"
"One of them died from a side effect of one of the medications, and two of them live in board-and-care homes. When I was in my teens, they became schizophrenic in the same year. I was living in the idyllic world of Santa Cruz, Pleasure Point, all the waves and hanging out at the beach with all my friends and my schizophrenic brother would come down to the beach and freak people out, battling with the devil and hallucinating. He'd come up to some women on the beach in bikinis that were enjoying a beautiful sunny day, and he hadn't taken a shower in months, wearing a down jacket, his hair sticking out all directions, really crazy. Then my mother started getting Alzheimer's about seven years ago and she became insane and went into the hospital, which was very shocking because she'd always been very sharp. She went to Stanford. She was very gifted. She was recognized. So that was very shocking, and that's what propelled me into doing drawings in the sand, as a therapeutic…a way of organizing thoughts and feelings. Then I became somewhat of an accomplished surfer in that time as a teenager."
The lovely waitress brought our meals quietly, discreetly. First, a salad with some special egg for Jim, and a salad of "little gem" lettuces for me: very upscale, very delicate. Next came risotto with scallops and asparagus for Jim and petrale sole for me. Jim talked about moving to Santa Cruz at age 15 and how the local kids ostracized him and hassled him, especially for surfing with a leash. They'd ride their cars alongside while he was biking home from school and scream at him. "Then I ended up punching Randy Davis. He was the best surfer on the point, so I singled him out as the one I was going to fight. He was picking on me for months, harassing me." After that, respect.
Even dessert was awfully good: I had an ice cream sandwich of big homemade ginger snaps with port-soaked figs. As the night neared an end, and my thoughts began turning toward the long drive home, I said for clarification, "Wait, help me sort out all the siblings before I go. Give me the rundown. Nine kids?"
"One older brother, Bill, is an organic farmer in the Santa Cruz mountains—his fruit has been in the New York Times twice, once for apples and once for pears. He also consults for organic farms in Chile, near Punta Lobos, and surfs there. My brother Tom, who went crazy when he was 27, was a surfer, too. He was extremely good. He was a phenomenal longboarder, incredible style. Then, there's my brother Pat. He was in the world hang-gliding championships. He owns the second largest hang-gliding company in the country, Mission Soaring Center. After Christmas, we have a big family hang-gliding day. And after Pat is my brother Mike, he died in a hang-gliding accident. He and Pat started the business together. He was testing some new equipment—I see the area every time I drive on Route 17—it was near Lexington Reservoir in a side canyon. His girlfriend was watching. Equipment failure. That was a long time ago. He died about the same time my brothers went crazy, when I was 14 or 15. Then there's John. He's really crazy. My brothers Jeff and John traveled around the country on boxcars, completely nuts, like homeless on the trains. Jeff's the one who died from a side effect of the medication. He choked to death. My mom had an apartment for him; he was staying there. He was in prison for four years. Nobody knew where he was. He almost killed his best friend when he was crazy, but we never knew where he was. He was in prison somewhere in the Bay Area. And then he came out and my mom took care of him until he died. Jeff taught me how to surf. Then there's John. He comes to the back door here asking for five bucks for cigarettes and stuff like that. And there's Tish, my sister, the world champion bodysurfer. She's worked at The Boardwalk her entire working life. She's a personnel person. Started as a ride operator. And then there's me. After me is my little brother. He owns a bed store and sells beds. He makes a good living, does very well. He's very shrewd with his money. He has a beautiful house, and he's a pretty smart guy. My uncle Frank invented the frozen waffle, the Eggo. We used to visit his mansion when we were kids. He sold it to Kellogg's for 15 million in 1973. And my other uncle is from Mirassou, the oldest wine making family in California."
"Were you ever married?" I asked.
"Yeah. To the woman I had my son with."
He paused for a while, glancing to that pretty waitress. With a warm and healthy laugh, a sated surfer's laugh after a day of great waves, he added, "But I'm single at the moment."
[Feature image: Spiral, Ocean Beach, Cliff House, March 2003. Photograph by Chelsey Chen.]