It's been 18 years, roughly, since I picked my way across a darkroom to examine the freshly developed prints from the best student in the class, a photographer's assistant and former model. Where my prints were hurried, makeshift, and lacking skill or inspiration, Richard Freeman, then 31 years old, demonstrated a profound understanding of the craft and its techniques.
One moment in particular from that day remains vivid in my mind, of watching a portrait of his girlfriend's exquisite face coming into relief in the photo's chemical bath. I remember how difficult it was to keep my mental balance in the presence of such beauty: photographer, subject, and photograph.
At the time, I was in the process of starting a surfing magazine, and I quickly realized that Freeman's work, sharpened by years in front of the cameras of major fashion shooters Bruce Weber and Mario Testino, would provide a point of difference. That he surfed and liked to hunt left-hand tubes, enjoying regular triumphs at reefs we both lived near, drew us together.
As a parasite finds its host, I found mine.
Freeman's surfing pedigree was forged in the coldish waters of New Zealand's North Island. He lived in the country's busiest metropolis, Auckland, and at school quickly determined that if he could smell the mashing grains and boiling wort from the nearby Lion brewery, the wind was a northeast offshore on the island's west coast. With friends, he would split class, drive across the Waitākere Ranges, and hit wherever was turning on: Raglan, Piha, Shipwreck Bay, Karekare.
A promising career as a fast bowler in the genteel game of cricket was put aside as surfing beckoned, much to the chagrin of the school's headmaster, who pulled Freeman aside and warned that it would affect his chances of becoming school prefect.
But when surfing bites, it bites hard. The headmaster knew. Freeman knew.
Along with a friend, Matt Harley, Freeman created his school's first surf team, the pair delivering the school its debut appearance in the national scholastic titles.
On his 13th birthday, Freeman was gifted a 35 mm Ricoh XR-M, one roll of film, and a notebook, and was told by his father to write down the settings for each frame he took so he could learn from his mistakes. Freeman carted his Ricoh on these early surf trips, shooting portraits, beach scenes, landscapes…moments.
His father, John, a hobbyist photographer, knew the value of shooting stories. John printed his own images, and when he wasn't hitting stills, he was filming the family with his Super 8 camera.
"The work becomes so valuable with the passing of time," says Freeman now, John a few years gone. "And that's how I feel about photography today—recording and documenting for future generations. Photography goes through so many trends and styles, but ultimately we're there to record things. And if you can record it well, then you're doing your job."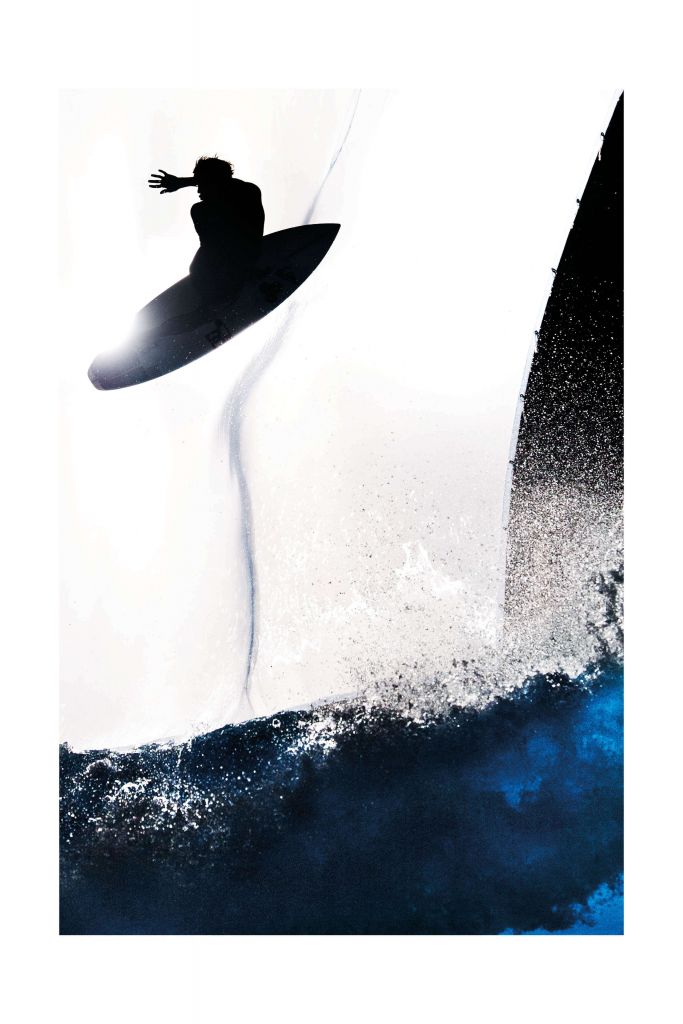 When school wrapped, surfing owned Freeman's life.
For five years, every June and July was spent in Indonesia, the journey paid for by working long hours in a fine-dining restaurant on the Auckland waterfront. Most days at home, he would wake before dawn, drive to the west coast or sometimes for two hours and 100 miles to Raglan, surf all day, and then arrive for staff dinner at the restaurant, where he'd work all night and "drink like mad," only to start it all over again the next morning.
All that surf, work, and irregular meals resulted in a wildly low body mass index.
"I got accidentally fit—really fit," he says. "I had no idea until I was drinking at a bar and a magazine editor asked if I would appear with one of their girls on the cover."
Within two years he was shooting for L'Uomo Vogue in London, walking for Issey Miyake, Calvin Klein, Paul Smith, and Versace in London, Paris, New York, and Tokyo, and being photographed by Testino and Weber.
Freeman liked the cash, the attention, the women, the VIP treatment in nightclubs and bars. Who wouldn't? But it was mostly the opportunity to observe masters of photography at close range, those elemental forces of nature, that turned his head.
"It was like being a kid in a candy shop," says Freeman. "All those assistants and elaborate light setups. [But] I didn't know a thing about lighting, large-format film, and directing talent."
He kept a notebook and during breaks would record every detail of the lighting: types, how many were used, meter readings, and diagrams of the different arrangements.
"It was probably a bit naughty, alth-ough even if you have all that information, you can't replace a photographer's eye or knowledge," he says. "It was a good starting point for studio testing."
For seven years, Freeman traveled the world as a model, the last two and a half also assisting photographers. The latter days of his modeling career were marked by regular two-month contracts in Japan, where he'd be used in photos and television commercials and on catwalks.
While in Japan, Freeman became close to Eric Koike, an MTV VJ who shared Freeman's love for surfing. Both of them knew Tokyo was a real easy place to get lost in. Eschewing easy pleasures, whenever they saw an Aleutian swell brewing, they'd hire a car and hit the expressway up the coast, spending the weekend surfing empty beachbreaks.
"After long periods in Tokyo, with its population density and no personal space, you could either dive into the dark underworld of clubs and boozing and spiral down ever further, or you could restore the balance," Freeman says. "Once I found that recipe, my life in Japan became so much happier. There were times when it would be 4- to 6-foot and barreling, and after a while your arms would become so tired you'd sit out sets, just watching them. It was a really beautiful time."
A photo from that period shows Eric in front of the pair's tent, the moon rising and empty Pipe-like barrels sweeping down the beach behind him.
In 2001, Freeman's first editorial piece, an eight-page feature of Tokyo's "street princesses" shot on his medium-format Mamiya RZ Pro, appeared in Pavement magazine. Four years later he was shooting full time, for titles including Vogue, Harper's Bazaar, and Cosmopolitan and for brands like Lee and Levi's.
He didn't miss modeling.
"It provided me with opportunity and great experiences, but it's a dud job," Freeman says. "You're the bottom of the food chain, not taken seriously, and really have nothing to contribute creatively to projects. It sucks!"
When Stab magazine was rolled out in 2004, he moved into surf.
The magazine's other founder, Sam McIntosh, and I had what might generously be called a guttural contempt for the channel and beach jockeys with their 600 mm lenses and quantity-over-quality ethos. We both felt immortality was the hallmark of fame, not the other way around.
Create greatness, leave a legacy.
At a 2010 shoot in the Canary Islands, Freeman applied his skills to save an ambitious shoot dreamed up by McIntosh where surfers Kolohe Andino, Evan Geiselman, Adam Melling, and Julian Wilson would demonstrate different aerials. In a pool. At night. In front of a giant scrim. Lit in silhouette.
A logistical nightmare.
I called the series The Solution Is Beautiful, for neither McIntosh nor I had worked with a photographer who carried as infinitely rich a knowledge of his craft or was stirred by such an artistic appetite.
A series of portraits of Bruce Irons on the same trip followed, with Freeman's use of theater and drama taking the magazine to a new level of creativity.
"I'd wanted to make a photo of Bruce ever since I'd seen him as a young kid," says Freeman. "It was prophetic in a sense, bizarre to find myself there with Bruce in front of my lens. The portrait of Bruce deep in a cave-like doorway, wrapping light dropping off to create a gradient across the skin, is the most powerful picture I've taken of a surfer. It's a window into his craziness, his edginess, his danger. I saw a lot of myself in him. I felt like I understood him."
Other portrait covers would follow. Craig Anderson in a turban. Creed McTaggart with a rockabilly haircut, wrapped in a leather jacket and couronne of cigarette smoke, drawing in the reference of Karlheinz Weinberger's book Rebel Youth, one of Freeman's influences at the time.
In 2015, Freeman was invited by Stab to the Mentawais to shoot large-format portraits of Andino, Dane Reynolds, and Noa Deane.
On a remote beach, he built a photo studio and dragged a cherry-wood Tachihara 8-by-10 Field Camera to shore. He carried only three plates of expired 8-by-10 sheet film for each surfer, as he wasn't able to reload them in the light, humidity, and sand.
"The idea was to create an iconic portrait of each surfer. Kelly Slater and John John Florence were supposed to be there too, but Kelly pulled out when John John got injured. I have a huge deal of respect for Dane to put himself in front of that camera, given his battle and journey with anxiety. After years of studying faces, I feel like I can get a pretty good read on people."
What did he read in Reynolds?
"That he trusted me," Freeman says. "I earned his trust enough for one incredible image."
He also was employed to shoot action. And it was here that Freeman, for once, felt out of his depth.
"Surf photography is so specialized, and I had this imposter syndrome going on. I have so much respect for those guys; they are so in tune with the ocean, the surfers, and their equipment. People don't understand how incredibly difficult it is to get those shots. I grew up idolizing Jeff Divine, Don King, Aaron Chang—marveling at their work. I feel like I don't have the eye. There are nuances I just don't have the ability to see."
As well as men, there were the women for Stab—Malia Manuel, Sage Erickson, Sally Fitzgibbons—as well as couples: Jack Freestone and Alana Blanchard, Jordy Smith and Lyndall Jarvis.
Beauty, beautifully photographed. Still, it all comes back to the lessons he learned at the feet of his father.
"My role in this current life," he says, "as I realize now, is to document and tell stories, and it makes me happy to share these. In the last few years, I've seen and learned that my life has become similar to my father's. I'm here to document those things for posterity. That's my role."
[Feature Photo: The pterygium in Bruce Irons' left eye really conveys his volatility here. You can tell there's a wild element to him even though he appears cool and composed. I like the uneasiness people feel when they see this photo. They don't know if they love it or hate it. Whenever I approach a portrait, I try to have an original take on the subject, especially for people who have been photographed so much.]