Perched on the plain between Mauna Kahalawai, the high point of West Maui's volcanic peaks, and the towering Haleakala Crater that dominates the main part of the island, Waikapu is an unassuming town on Route 30. Once a sugar-plantation hub, it was in even earlier times one of the ahupua'a, or divided section of land as prescribed in traditional Hawaiian culture, of Na Wai Eha, also known as the Four Waters, named after the streams that run down from Mount Pu'u Kukui and make their way to the ocean at Kahului.
Today, Waikapu and its neighbor Wailuku are part of the exurbs of Kahului, as the encroaching sprawl of development renders their demarcations almost unnoticeable. Subdivisions sit along the highway, interspersed with what once were country stores, their wooden roofs and walls sagging, their doors and windows shuttered. Upslope on the flanks of the Waikapu Valley, old plantation houses line dead-end streets where yards are resplendent with breadfruit trees, citrus, ti leaf, and bougainvillea. Some homes have boats out front. All have a direct view of Haleakala reaching to the heavens, the peak of its cone brightly visible above the clouds. It's a sight Dane Kealoha can see from his house, too.
The history of professional surfing is littered with cautionary tales of would-have-beens, could-have-beens, and should-have-beens. Some came to fame too young and flamed out early. Some spontaneously combusted. Some simply self-destructed. But Kealoha stands alone as the only top-ranked professional whose career was completely destroyed by fiat.
Surfing's pro tour was still in its infancy in 1977 when Kealoha dropped into the fray as 5 feet, 9 inches of Hawaiian pride and muscle, his surfing pure and powerful and propelled by heart. He didn't approach heats with the tactics that were then being developed for man-on-man format, introduced in Australia that same year—a system that envisioned surfing as a contact sport and the surfers as gladiators dueling to a metaphorical death. He paddled out and surfed by instinct, the way he'd learned growing up in Hawaii, and he did it to great effect in waves from 2-foot to 20.
His rise up the rankings was meteoric. By 1983, even as the two Toms, Curren and Carroll, clashed for the crown, there was no doubt among most scribes, pundits, and fellow competitors that Kealoha was on the cusp of winning his own. Yet when the '84 tour began, Kealoha was nowhere to be found anywhere on the ASP ratings.
His fall from the zenith has been described as "biblical," "Shakespearean," and, more bluntly, "bullshit." I'd also add "Dickensian" to the list, pitting, as it did, a heartfelt matter of principle against an indifferent bureaucracy. Caught in a pro surfing political maelstrom that ultimately ended his career at his competitive peak, Kealoha's story is nothing short of tragedy.
Waikapu might seem an unlikely place for a surfing icon to live. It's landlocked, about 45 minutes from Honolua Bay to the west and Jaws to the east, with Maalaea some 20 minutes away. But for Kealoha, now approaching his mid sixties, Waikapu isn't far from his ancestral roots. "There are lots of Kealohas on Maui," he says, explaining how his father's family was originally from Hana and his mother's from Nahiku, on the island's eastern tip. Kealoha, however, was born and raised on Oahu.
"My grandfather lived off the land and the ocean," he says. "But he knew change was coming, that growing taro and fishing wasn't going to make it. So he moved to Oahu. Because of the building boom in Waikiki, he wanted my dad to learn construction. There was a lot of bad blood passed down through the generations, because of the overthrow [of the Hawaiian monarchy], and my dad wasn't happy on Oahu. He wanted to move back to Maui and live off the land in the old ways. He was unhappy, and that turned to alcoholism and family abuse. It was a tough time growing up."
Kealoha's family lived near the Ala Wai Canal so that his father was closer to the construction work in rapidly developing Waikiki.
"My dad started working on buildings; demolitions were starting," he remembers. "It was mainly homes then. There were only a handful of hotels. The Ala Wai was still clean. There was fish in it; you could swim in it. There were mountain apples, mangoes, lilikoi, guava—everything growing wild. Watching all that building, I didn't realize what was going on. The Hilton was being built, the Sheraton. Later, when I was older, it was really sad. I had a friend that fell in the Ala Wai, got cut, and died in two weeks because of the pollution."
In 1968, when Kealoha was 10, his father introduced him to surfing. But during that first encounter, a good dunking after a wipeout left him "scared of the ocean for years." Still, he was a natural athlete, playing football in high school and building his strength, especially in his legs.
"The breakthrough came when I started canoe racing in the Ala Wai," he says. "I was a steersman. But my crew all surfed and would tease me for not going out. I'd just sit on the rocks at Bowls and watch. I told 'em, 'You just wait. One day I'm gonna be better than all you guys.' I had no basis to say that; I just wanted to get back at them. The Hilton
Hawaiian Village had one of those sunset booze cruises and the tourists would throw coins in the ocean for kids, like my canoe crew, to dive for. Everybody would get money like that. I started to do that too, although I wasn't good at it because I was still scared. But between the canoe paddling and the coin tossing and through prayer, that's where it started to happen."
At 14, his mother—a continuous lodestar in his life—encouraged him to try surfing again.
"One day in eighth grade, my mom asked me if I wanted to try surfing in the schools' contest. I stayed mainly in the whitewash.
My brother won the high school division, and even though I didn't win nothing in the middle school division, my school won the overall event. I dove right into it after that. I didn't care whether I won or lost, and that was the way it was with me even after I turned pro. I never argued the results. I didn't look over the judges' sheets and count points, even if people on the beach told me I should've won. I did it because I loved it. I fell in love with the ocean."
Within a year, he'd won the boys' division of the Hawaii State Titles. Two years later, in 1975, he won the State Junior Championships. There was no looking back.
Tom "Pohaku" Stone recalls giving rides to a teenage Kealoha, who wanted to expand his horizons beyond Town. "I used to pick 'im up in Waimanalo or at Kaiser's, him and Michael Ho," says Pohaku. "I was the same way as a kid, always wanting to get rides to the North Shore. But they were on their own out there. I didn't watch out for them, because I was going surfing. At the end of the day, they'd be back at my truck for the ride home, and I'd be just glad they'd survived."
Kealoha remembers those days fondly: "When I was in school, there was an uncle who lived in a Quonset hut by Off The Wall. We stayed with him sometimes. Uncle Joe's is what we called that spot. Nobody was surfing that area very much. So we'd surf there and at Backdoor."
"Later on, when Dane was starting to get good," says Pohaku, "I'd see him out at Pipe with his brother, Mike. Mike was the charger back then at Pipe."
"He was supposed to be the one," says Kealoha of his brother. "When he graduated from high school, my father told him his surfing days were over and forced him to work construction. That's when he got into drugs, ran away from home, and totally lost it. We would've been a major team if we'd have been on the pro tour together."
In 1976, Kealoha graduated from high school at 17 and won the juniors' division of the US Surfing Championships at Ala Moana. That earned him an invitation to South Africa to compete in the juniors' division of an amateur "World Contest."
"I really didn't think I could go," he recalls. "It was going to cost a whole lot of money, which my family didn't have. But Jesus came, like he has so many times in my life."
The contest was something of a propaganda exercise, as South Africa was at the time undergoing sports boycotts due to apartheid. Local promoter Basil Lomberg, and his pro-surfing counterpart, Peter Burness, wanted to keep surfing out of that political morass. The two decided to bring international flair to the country's contest season that was part of International Professional Surfing's inaugural world tour. There was one invitee from each country, and Kealoha was Hawaii's junior representative.
That first trip overseas was an eye-opener, and not always in a good way. "It was Mandela time," he says. "There was rioting and bombing, and I got rejected everywhere I went. It was tough."
Australian Peter Townend, who was there for the pro contests, witnessed one example of this treatment. "We were in a Zippy's, like Denny's, a half a dozen of us," he says. "We sat down, but I noticed the waiter acting fidgety. Then something was said to the effect of 'Sir, you're going to have to leave. Dark-skinned people aren't allowed in here.' Dane explained that he wasn't South African, that he was Hawaiian. The waiter told him it didn't matter. We were all shocked, and finally someone said, 'If Dane has to leave, we're all going to leave.' So we all left."
The experience shook Kealoha to his core, and he swore he'd never again go back to South Africa.
The mid 1970s was a pivotal time in professional surfing. The world circuit's inaugural year, 1976, was composed of one event in New Zealand, three in Australia, one in Florida, two in South Africa, one in Brazil, and five in Hawaii, with a total of $77,650 in prize money.
Michael Peterson was widely regarded as the best surfer in the world outside of Hawaii, and his Australian contemporaries were all hot. Their best was matched by an equally adaptable South African contingent—Jonathan Paarman, Gavin Rudolph, and cousins Shaun and Michael Tomson among them. Only a small group of Hawaiians, such as Barry Kanaiaupuni, Gerry Lopez, Eddie Aikau, and Jeff Hakman, carried the same international kudos, mainly as tube riders and big-wave specialists. If anything, the new tour highlighted Australian surfing's strength in a wide variety of conditions. By contrast, the Hawaiians were largely lost in small, weak, beachbreak waves.
The end of 1976 brought the Aussie crew to the North Shore of Oahu in unprecedented droves. They were brash to the point of being labeled arrogant, and not shy about their desire to shut down what they perceived as the old-school Californian and Hawaiian surfing hegemony. Rabbit Bartholomew went so far as to write an article in Surfer titled "Bustin' Down the Door," which famously didn't go over well in the Islands. But as if to prove Rabbit's point, Mark Warren won the pro division of that year's Smirnoff Pro-Am at Sunset Beach, Ian Cairns won the Lancer's World Cup at Haleiwa, and Peter Townend won the world title on cumulative points, without having won a single event. There was a new name in the winner's circle that year, though: Dane Kealoha, then 18, who took the Smirnoff's amateur division.
At home, however, those kudos didn't count. Kealoha's father was insistent that his son get a "real" job. Kealoha agreed to start the process of becoming a firefighter. In fact, he says, he was supposed to have taken the qualifying test just as he'd been invited to South Africa. It was postponed and never rescheduled. Meanwhile, he'd gotten a taste of international success and felt there might be a future in pro surfing. His father was so furious, he says, "he kicked me out of the house." Fortunately, around that time, Kealoha found a sponsor in Town and Country Surfboards.
"Larry Bertlemann had brought him to me," recalls T&C founder Craig Sugihara. "Larry said, 'I want you to meet my cousin. Trust me, he's good. He's gonna be really good. He's going to be the next one.' Coming from Larry, that was enough."
Sugihara quickly became aware of Kealoha's plight at home and stepped in. "When he told me he wanted to turn pro, but his father insisted he get a job, I said he could stay with me. I gave him [my wife] Linda's VW bug so he had wheels, and a little pocket money for food. He stayed with us that winter. He got up in the morning and we didn't see him again until evening. He was in his own world, just surfing. That's why he got so good so fast. He had water time, surfing all day. He didn't have to split his time between surfing and a job like most people."
Bertlemann, three years Kealoha's senior, was already a household name in Hawaii and overseas, having won the 1974 Duke and been a finalist in several other prestigious pre-circuit Hawaiian events. He was also widely regarded as the ringleader of an emerging group of local surfers who'd soon eclipse the old guard. The Hawaiian bench was deep, and included Kealoha, Ho, Buttons Kaluhiokalani, Mark Liddell, Louie Ferreira, Vince Klyn, Timmy Carvalho, Tony Moniz, Calvin Maeda, Randall Kim, and others. They'd cut their teeth on Waikiki's reefs, and most were under the mentorship of Ben Aipa, riding his innovative Sting design with its stepped outline and bottom, single-fin placed way up from the tail. Bertlemann and Kealoha, who were about the same size and build, exemplified the powerful, progressive, low-center-of-gravity, carving style that changed the look of hot-dog surfing.
Kealoha took that style onto the world tour in 1977. His media coverage and sponsorship opportunities soared—including his first magazine cover and an important invitation from O'Neill to join its team alongside Shaun Tomson, who was soon to be world champion, and Reno Abellira. Together, they competed in the Katin Team Challenge in California and took top honors. The rest of the year also went well for Kealoha. Despite sitting out the South African leg, he finished a respectable 20th in the rankings, ending it with an exclamation point by placing third in the Duke Kahanamoku Classic at Sunset Beach. In Surfer magazine's North Shore coverage, a callout reads, "When asking veteran observers whose surfing was most exciting to watch this winter, Dane Kealoha was consistently one of the first to be mentioned."
Kealoha himself was buoyed and relieved that he could hold his head high among family and friends as a pro surfer: "It was post-Vietnam. There was a lot going on in Hawaii, and it was tough for my generation. Drugs, depression—the whole nine yards. I felt very fortunate that God got me out of Hawaii to go surfing."
Nineteen-seventy-eight was the year Kealoha officially "arrived." He kicked it off on the cover of Surfer's "Art of Small Wave Riding" issue. He scored a second Surfer cover later that year, a rare occurrence for anyone in that era, in a radical cutback shot in Town for the magazine's "Magic of Hawaiian Summer" issue. Meanwhile, he started the event season by placing fifth in small waves at the Stubbies at Burleigh Heads. Surfer's coverage mentions Kealoha, Bertlemann, and Mark Richards as "ripping apart two-foot waves, just like they do six-footers."
One reason may have been due to a switch from Sting single-fins to the Dick Brewer–inspired twin-fins that Richards had adopted exclusively in smaller surf. T&C's manager, Tony Higa, had bought one of MR's early twinnies in Australia and taken it back to the shop in Honolulu, where, according to Sugihara, shaper Glenn Minami made a T&C version of the design. "We made Dane one," says Sugihara, "and when we went surfing with it the first time, he wouldn't even let me have a wave on it. He kept saying, 'One more.' When I finally got my own version, I realized the twin-fin released so much quicker. It was like having Dane's power even for an average surfer like myself. That's how different it was."
That began a long and fruitful collaboration between Kealoha and Minami. And by midsummer of '78, there were surf magazine advertisements for T&C heralding "Dane Kealoha Designs by Glenn Minami."
"I had a lot of say in the dimensions I wanted in the boards," says Kealoha. "Both small-wave boards and guns. All surfers want a board that's going to help them get the creativity they want while surfing a wave. You want looseness and you want stability and you also want speed. I kept going shorter because I wanted to ride in the barrel as deep as I could and still have the ability to get in a few pumps and create speed to come out. I wanted to widen the turn in the tube."
With his new boards underfoot, Kealoha continued to post solid, if inconsistent, results through the end of 1978. He finished ninth overall, part of a long-term, "step-by-step" approach, as he explains.
Kealoha's momentum continued into 1979 as events began in Australia, with a third-place finish at Bells. In the Coca-Cola Surfabout, he was back at Bells as part of "The Great Aussie Airlift" and again came in third, moving him to No. 5 in the ratings.
By this juncture, Burness was almost frantic to get Dane Kealoha back to South Africa for the '79 events. He knew the Hawaiian surfer was still troubled by his previous experience, and eventually he called Kealoha's mother with a plan to make sure her son would be well taken care of.
"Peter Burness and Shaun's dad, Ernie Tomson, were like father figures to those of us who surfed the Bay of Plenty in Durban," says South African surfer Lista Sagnelli. "When international surfers came from Hawaii or Brazil, anybody who might have a problem, we went out of our way to make sure they had a good time and [to] protect them from running into trouble."
Sagnelli, his brother, Chen, Shaun's brother, Paul Tomson, and Wayne Shaw were thus enlisted to be Kealoha's minders. The proposed security blanket was persuasive, both to Kealoha's mother and, by extension, to Kealoha himself, and Kealoha agreed to revisit South Africa, this time surfing as a pro.
He made an immediate impact, winning the Gunston 500, the cornerstone of South Africa's pro circuit, and in so doing put an end to Shaun Tomson's six-year string of victories. Overnight, Kealoha became a household name in Durban.
"When Dane won the Gunston, everybody was rooting for him," says Sagnelli. "Even Shaun's dad. We threw a party for him at a restaurant and disco. But first we went to the owners and told them we were bringing a group of people, some of them darker than their usual clientele. The government's position on international athletes at the time was they were free to do or go wherever, regardless of their color. But that didn't stop some of these Afrikaaner owners of bars or hotels from turning them away. It did happen."
At the beach and in the water?
"At the Bay of Plenty," explains Sagnelli, "there was a sign that said 'Non-Whites Not Allowed,' and there was a colored beach and a beach for Blacks, which was the most treacherous beach around. But Dane never had a problem in the water, even at the Bay of Plenty, because the people who surfed knew who he was. When he paddled out, the crowd would just part for him, like he was royalty."
"The younger generation wanted segregation over," says Kealoha. "The Bay of Plenty was still for whites only, and I got harassed by the police until I showed them who I was and why I was there. I was probably the first 'Black' person to hit that beach during apartheid. The road split the beach and there was a hill overlooking the break. The day of the final, that hill was packed with Black people because they'd heard what was going on and wanted to see. Later, when segregation was over, Lista would call me and tell me how things had changed and how all these Black kids were learning to surf. So something good did come out of that."
Sagnelli's relationship with Kealoha also paid dividends when the South African visited Hawaii. "I got to surf places I probably wouldn't ordinarily have. Velzyland, you just didn't unless you arrived with someone like Dane. He told me, 'You paddle out with me and sit by me,' and one by one he introduced me to whoever was out. Still, sitting there with Mark Liddell, Bertlemann, Buttons—he's the only reason I got to surf so many waves at Pipeline, because he'd paddle for a wave on my inside, then pull up and let me go. I even got to surf Third Dip on the Westside. The locals all paddled in and let Dane and I surf for an hour on our own. He's a very loyal person."
If '79 started well for Kealoha, things got even better as the year went on. In Japan, he took third in the JSP International and second in the NPSA Japan Cup, moving to No. 3 in the world. He then won the Grog's Seaside Pro at Seaside Heights, New Jersey, and took third in the Florida Pro. In Hawaii, as the tour wound down to a conclusion, he took second at Pipe, and the title race came down to the Hang Ten World Cup at Haleiwa, the momentous last contest of the year.
Still, Kealoha was unfazed by his own fame. In a profile I wrote about him at the time, he said, "If I become World Champion that's what I'll become. If not, it doesn't matter. I don't want to say too much about it."
It wasn't meant to be, however, as Kealoha's leash broke in the semifinal against Puerto Rican Edwin Santos, while Richards won the event and the title. Kealoha finished the year in fourth, behind Richards, Horan, and Rabbit.
"Dane was set to win that title right there in barely overhead conditions in what constituted a festive sense of well-earned expectation from the beach," says astute observer Derek Hynd. "He was in extreme form, more than anyone else at mid-sized Haleiwa, with power, speed, high lines, and, most importantly, style. Edwin Santos, the Puerto Rican Good Guy, did nothing untoward. Edwin surfed a basic, or at best moderate, natural-footed heat. Edwin surfed as good as he could. Edwin won. Dane couldn't, indeed didn't, take the trick."
Despite the result, Kealoha's family and friends organized a huge party for him at Steamers, now the Turtle Bay Resort, where his mom made an impassioned speech saying how proud she was of her son and all he'd achieved. Still, they all felt—in fact knew—the best was yet to come.
For the next three years, Kealoha, Richards, and Horan went head-to-head-to-head. Richards would win the title each year, bringing his total to four consecutive. Kealoha would finish second in '80, third in '81, and sixth in '82.
Perhaps Kealoha's focus was a little distracted from competition through this period. He had, after all, been married in 1980 to Carol Ching, the former Miss Hawaii. But his surfing on the North Shore was still game-changing, particularly his approach at Pipe, where he was turning heads with his behind-the-peak "pig-dog" stance and his balls-to-the-wall charging at Backdoor.
"When I started going right at Pipeline," he says, "Gerry and all them guys were shaking their heads and saying, 'Hey, man, if you keep going that way, you're going to end up dead.' There weren't too many guys going right at Pipe on the bigger days. But I paid the price. I got really beat up. And as I got older, it crept up on me. I tore just about all my joints."
In those early days of the Pipeline Masters, it was a point of heated debate whether Backdoor was a legitimate use of Pipeline's unique attributes. Since its inauguration in 1972, the event had been a left-hand tube-riding contest.
"I had discussions with Randy Rarick," says Kealoha, "and I told him, 'Hey, we're sitting in the same takeoff zone. Why shouldn't we be able to go right?' In those days when Randy held the event, Pipe had to be bombing. The day Simon [Anderson] won [in 1981], it was huge. I basically caught one wave and ended up second. I'd go right on those big days, but I'd never kick out and try to paddle back out because you'd just get pounded. So I'd go as far as I could, prone out to the beach, and then run back up to paddle out for the left. It opened up the break wider for everyone."
By the end of the 1982 season, after seven years in existence, the pro tour's total prize money had grown to $338,100. But pro surfing was still having growing pains. Contest formats and judging criteria were different from place to place; such things had yet to be codified in a rule book. While most contests had adopted the man-on-man system, Hawaii was still running heats of six. Some events were scheduled and then canceled at the last minute, and in one notorious case the event promoter absconded with the prize money. Event sponsors required competitors to wear their branded trunks in heats, making life tough for those surfers who relied on rival surfwear labels for personal sponsorship—vital for traveling the tour. The surfers began to complain that some judges were directly involved in surf-related businesses and had conflicts of interest.
The situation was so fractious that after that year's annual meeting of IPS contest promoters and surfers' reps, Randy Rarick resigned as IPS executive director. Fred Hemmings, its founder, could barely contain his disgust.
These tensions would soon embroil Kealoha, who, at the time, was experiencing his own internal conflicts about his surfing career: "When I competed, I didn't care whether I won or not. I just went out to surf these great breaks with just a few other guys. Sure, I did the best I could. But for me it was always more of a spiritual connection with the ocean. Trouble was, as I started climbing up the ratings, my sponsors and all these people started talking about the world title, and that changed my way of thinking, my purpose for surfing. They made me think this was my job now. Looking back, I wish I'd never gone down that road, because before that it had always only been about the beauty of the ocean and the joy of just being out there. I felt at home there. All the stuff that happened on land had nothing to do with it."
The big shift came in Australian Ian Cairns, himself a tough and experienced pro, as hardheaded as Hemmings and with big ideas of what the future of pro surfing should look like. He'd recently convinced OP to sponsor a pro contest at Huntington Beach, for which he'd act as director. He then went back to the brand to back a bloodless coup.
"I went to [OP head] Mike Parnell with the proposal for ASP—the Association of Surfing Professionals—a three-year contract for $250,000," says Cairns. "I called all the event promoters to hook them into this new association owned by the surfers 50 percent and the events 50 percent, management and labor sitting down at a table to decide policy—not a company like IPS that was wholly owned by Fred."
Cairns then flew to Australia to meet with contest promoters there and secure their support, breaking his journey in Honolulu to meet with Hemmings. "I sat down with him to explain it," says Cairns, "and we had a handshake deal to go ahead, including the Hawaiian events."
Hemmings was miffed to have his pro-tour concept usurped. His idea had always been to have a tour that was minimally controlling of its event promoters, merely a co-coordinator of the calendar and producer of the ratings system. He railed against the creation of a bureaucracy, the kind Cairns wanted, even if the surfers themselves supported it. The final straw, according to Rarick with the benefit of 40 years' hindsight, was the ASP demand that if surfers had to pay membership dues, contest promoters should also contribute to the cause of the tour by paying a sanctioning fee. "There's no way Fred was going to pay the ASP anything," Rarick says.
Cairns himself shrugs and is sanguine about it, but adds, "At the OP Pro, on Labor Day, Fred announced he was pulling his contests off the tour."
Kealoha had begun 1983 surfing for O'Neill in the Katin Team Challenge in California, then embarked on the tour—a marathon of 20 contests—leading the ratings coming into Hawaii and blissfully unaware of the trouble brewing.
"I heard nothing about what was happening," he says. "I was 32 points away from the title and I was going home. That was when we got notified that there was a new association, and I got a letter stating that we couldn't surf in the events in Hawaii. That went against everything that had gone before, when if a non-rated event was held in your geographical home, you were permitted to surf in it. Everyone in every other country had been able to do that the entire year, and we were being told we couldn't right at the end. I thought that was wrong, so I challenged it. I had friends who were lawyers and they wanted me to file a lawsuit against the ASP and IPS. But I made that decision to surf and it cost me."
It's easy to imagine Kealoha returning to Hawaii as the homecoming hero after a grueling year traveling the tour, most likely to become Hawaii's first professional surfing champion. Really, how could he refuse to surf the events at Sunset Beach, Haleiwa, Pipeline? The very idea was unthinkable. Kealoha denies he felt any local pressure to surf. "It was a personal decision," he says coldly. "Nobody influenced me."
He didn't disappoint, winning the Duke Classic and then the Pipe Masters. Michael Ho took second in both events and went on to win the World Cup in lackluster surf where Kealoha didn't get past the second round. Thus, Ho took the first Triple Crown trophy, and Kealoha was runner-up.
Unfortunately, the hammer soon came down from Cairns, as
ASP director, who announced that Kealoha, Ho, Bobby Owens, Buzzy Kerbox, and Hans Hedemann were henceforth banned from the tour, and their results nullified, for surfing in unsanctioned events. Jaws dropped across the surfing world. It was bad enough that the Hawaiian contests were outlawed, but even worse that Hawaiian surf heroes were being punished for what was essentially a pissing contest between promoters.
Unsurprisingly, some thought it smacked of retribution for the slaps Cairns, Bartholomew, and other Aussies had taken on the North Shore after Rabbit's incendiary article years earlier. An ASP board meeting subsequently revoked the outright ban and instead levied a $1,000 fine. Pay your money, renegades, and all will be forgiven. Owens and Kerbox simply bowed out of the tour. Ho and Hedemann paid the fine. Standing alone in defiance, Kealoha refused to pay. It was the involuntary end of his career. He was 25.
"It was Catch 22 for every Hawaiian pro: Don't surf the Hawaiian sector and be deemed disloyal to your Hawaiian roots; surf the Hawaiian events and lose your rankings position," says Hynd. "Dane was already in strong form leading in, easily the standout Hawaiian season performer, but he lost all his points and his competitive career. It was a bullshit move from the ASP."
Cairns remains unmoved, even today. "He was a great surfer. Logically the first world champion from Hawaii. For him, personally, the self-esteem he would've built from that would've lasted him the rest of his life, like Duke Kahanamoku. Michael Ho paid the fine and sailed off to a very happy career. I've never understood why Dane didn't do that. The ASP made a reasonable decision to levy the fines. It mitigated the fallout. It made it easy for the surfers to re-engage. The opportunity was there. Pride came before a fall. It was biblical."
Cairns maintains that playing tough was required for reining in the renegade Hawaiian contests: "We needed to send a firm message to Fred Hemmings: [He] pulled the plug, and this is going to be the impact. And those events were soon back on the tour, and have been ever since."
Regardless, the perception among some in Hawaii and elsewhere was that ASP's move to strip Kealoha of his standing was, in fact, personal. And there were repercussions when Cairns next showed up on the North Shore. "There was a beating," he says. "Dane and Ben stood there watching. But I take responsibility for my actions. You want to dump it all on me, fine. I've thought of it often. I don't feel guilty. It was a group of people at the ASP, not just me. I wish Dane had done what Michael had done. We all make choices and have to take the consequences. It was a bummer."
For Kealoha, of course, it was more than a bummer. Even today, it's clear he hasn't gotten over it. The emotion, the anger, and the pain rise in his voice as he revisits it all again, until he finally chokes.
"I hate talking about it," he says. "It really hurt me. They tried stopping me in so many ways. They didn't want me to have the title. They knew I would eventually snap. And they were right. They tried everything—including starting a whole new tour they didn't want me in. It was personal. I made a bad decision because of anger. I wanted nothing more to do with the surf industry. Some of my family members got angry too, and persuaded me to go down a road I regret. I'm still dealing with it. I hope that at some point I'll come to closure over it."
Kealoha resigned himself to being almost just another surfer in Hawaii, spending the rest of the 1980s as, in surfer Tamayo Perry's words, "the main enforcer at Pipe and Backdoor, refining his barrel riding unmolested by drop-ins."
Kealoha is candid about that era: "My whole attitude changed. I went racist. Anyone who wasn't from Hawaii didn't belong in the water when I was out. It got violent. It was bad, and that hurt me even more. I'd go home and cry, and drown myself with drugs. I was so depressed. It really broke my heart."
Kealoha hadn't been forgotten by everyone in the surf industry, though, including Quiksilver head Bob McKnight and longtime Hawaii rep Glenn Moncata. The mid 90s found Kealoha managing the Quiksilver Boardriders shop at the International Market Place in the heart of Waikiki.
Moncata recalls Kealoha manning the store for at least two or three years. "We were getting Roxy going and thought it would be great to have a Roxy flagship store too," Moncata says. "So Dane came to me with a suggestion to have Jake Mizuna as his partner, so we did the first Roxy store with them down in the Ward Centre. Dane worked there with his [second] wife, Kai. It turned out to be a great store, just cranking. Kai was from Maui, and her dad was a legislator there. She wanted to move back, so they approached me about doing a store on Maui. We helped them to build out the store—first in Kahului and then in Pa'ia—and we gave them great terms on inventory, so that's how it got going. But as the 2000s went along, business got tougher. Eventually Quiksilver told them that we'd relieve them of any debts, and we closed the store. That was it. It ran for four or five years, until 2007."
At one point during this period, in 1997, Quiksilver invited Kealoha to take part in their Masters event at Tavarua. By coincidence, he was again brought face-to-face with Cairns. "I ran into Dane at the airport," Cairns recalls. "We were on our way to the Masters, and Dane came up to me and said, 'Look, that's all in the past,' which I thought was really big of him. I thought this could have been part of a healing process, to forgive and move on. But he didn't come. He never got on the plane. I thought it was really sad, because we could have reconnected out in the water. But then, extraordinary people are not normal. And he's one of those people."
The shadow hanging over this time in Kealoha's life is his dalliance with drugs. "It's walloped a lot of people over here," says Moncata. "Dane wasn't the only one by a long shot. Successful surfers, windsurfers, businesspeople reduced to living on the streets, begging for food."
Repeatedly, though, Kealoha managed to pull himself back from the brink, something that he emphasizes is due to his faith. He traces that back to his maternal grandmother introducing him to Jesus Christ and telling him stories from the Bible at an early age. He says faith has sustained him at many difficult times throughout his life, but especially after losing his pro career.
"I went down some pretty horrific roads that I'm still battling with—depression, disappointment, frustration, all that stuff. Jesus has helped me with getting over that," he maintains.
Being back on Maui, Kealoha found himself drawn again to the ocean, including some of the most challenging surf on the planet. Famously, in November 2002, he towed Garrett McNamara into a monster barrel at Jaws. He was towed into some monsters himself. But big-wave surfing took its toll. In one incident, being bounced off the reef headfirst, despite wearing a helmet, left him with damage to his neck so severe that doctors told him he'd almost certainly be paralyzed or dead if it happened again. Kealoha, then in his fifties, decided to hang up the tow rope and move back to Oahu.
But he was by no means finished with surfing.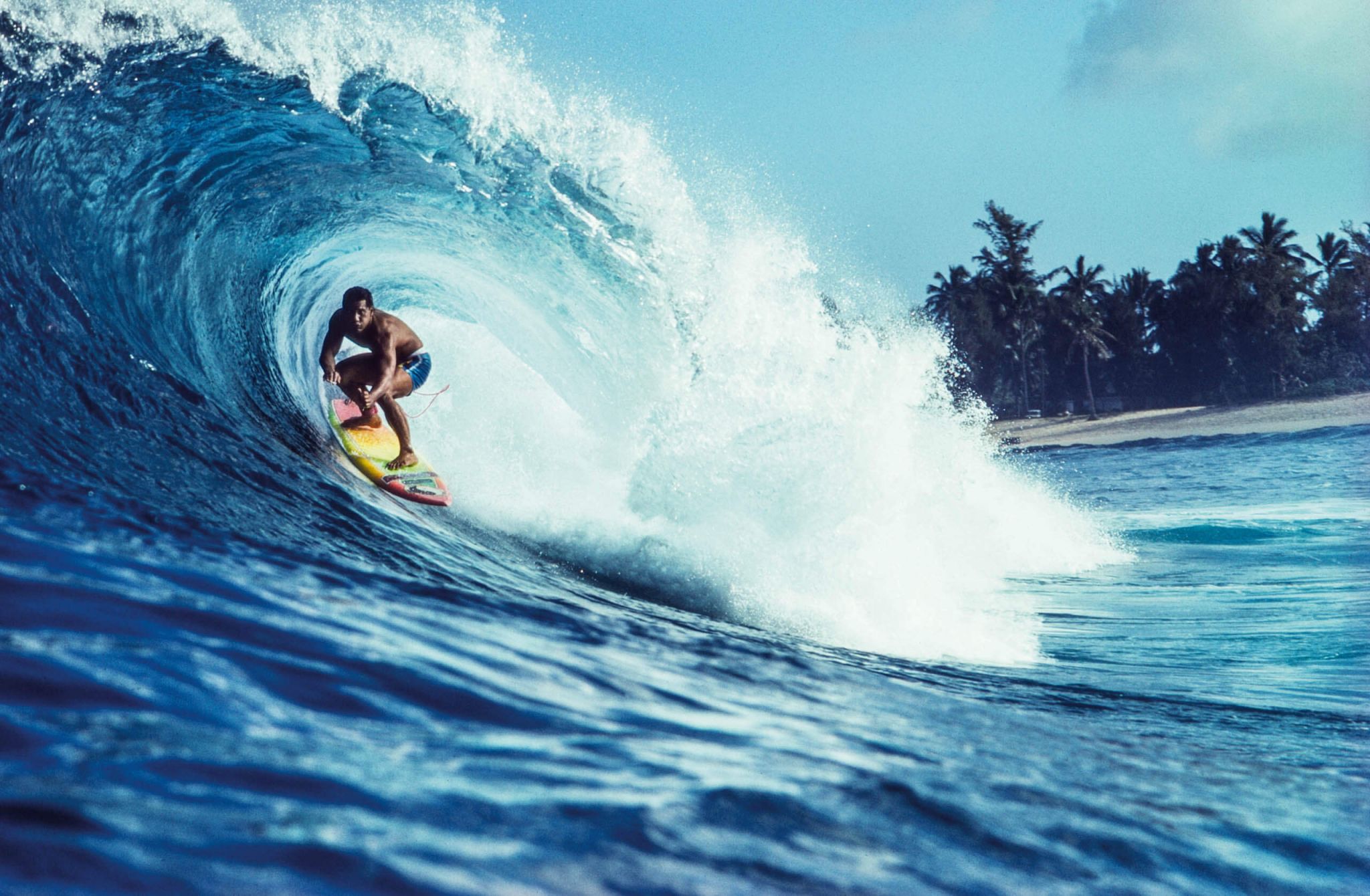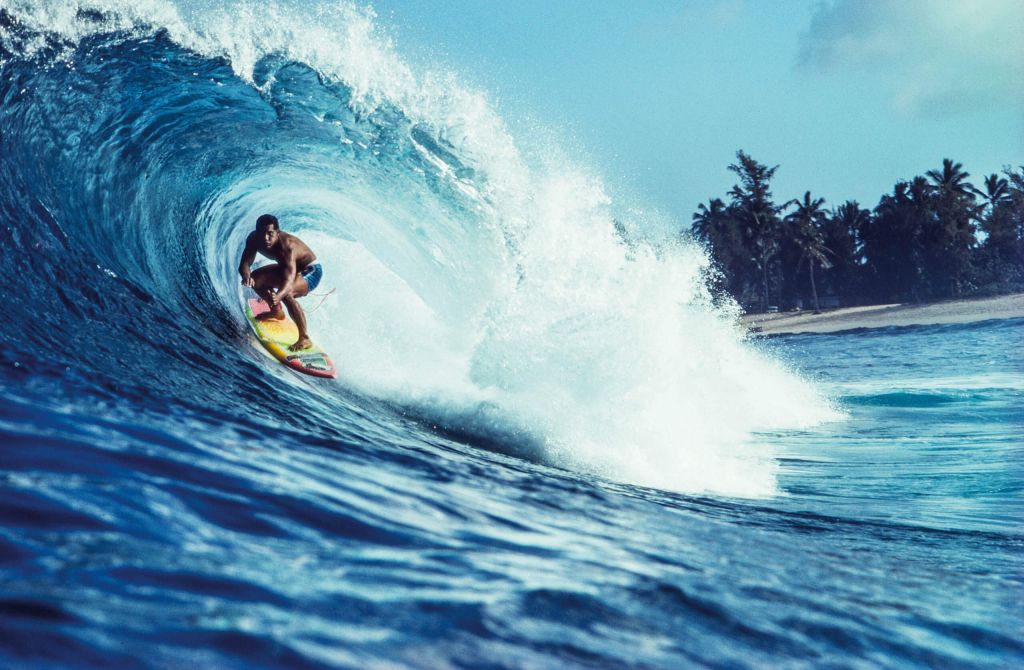 "I wanted to do something that was more fulfilling, using surfing as a platform for therapy," he says. For two years in the 2010s, he ran the Surf Academy by Dane Kealoha out of the Hyatt in Waikiki and gave free surf-therapy sessions to Wounded Warriors and other groups.
"I was approached to take 35 of the most highly suicidal soldiers from all over the country," he says. "I never had a permit or nothing—just went to the uncles, the beach boys, and told 'em what I was trying to do. They said, 'Whatever you want, Dane, just tell us. We'll clear the water for you, whatever you need.' I partnered with AccesSurf, a nonprofit of doctors, and I got some of the firemen and lifeguards and some friends and we took these guys out, some of them missing limbs or scarred up with shrapnel in their faces, and afterwards their whole attitude had changed; they were hugging me and we were all crying. They'd all come back to life again. It was one of the most rewarding things I've ever done. Then I got called to get involved in junior drug court and a foster program, and then a program for homeless shelter kids to help with their education, build up their self-esteem and spiritual life through surfing. We brought in tutors from UH to help with their homework and developed a curriculum all based on surfing—weather patterns, geography of the beach and shoreline. It was a platform for education and therapy, and I paid for the thing from my own pocket."
Today, Kealoha is again living on Maui. "I went to Oahu to visit my kids last year and I don't ever want to go back," he says. "It's changed so much since I was a kid—traffic, buildings, roads, even the surf breaks that are so crowded now. I'm happy here. I may have gone through some really heavy stuff in my life, but there was lots of positives. I know it was only through Jesus that it happened."
And, from his window, he sees clouds gathering over Haleakala.
[Feature photo by Dan Merkel/A Frame]