To understand Cocoa Beach, Florida, you must first be a child here. For those of us who came late—who weren't here yesterday, who never pedaled on spring-loaded legs up to the beach crossover, or jon-boated through the mangrove canals after school, or got trampled at the doors of the Surfside Playhouse on opening night of Five Summer Stories—a fundamental secret lies forever across the Banana River, an unbridgeable gap between our perception of this place and the truth of it.
Motorists up and down the I-95 corridor are bombarded with Disneyfied visions of girls in bikinis, families wearing outdated swimwear, and team riders tail sliding off the top of the billboards. An astronaut in full moon gear stands stiffly on an overexposed beach, beckoning you to "Space Coast, Florida." These are simulacrums of reality, hazy double images that only hint at the real place. Surfers know Cocoa Beach as the birthplace of Kelly Slater and, vaguely, as a hub of East Coast surfing, but the town itself seems incidental, a throwaway detail in an origin story.
In the fall of 2001, I followed the advice of Philip Salick, a blue-eyed Hollywood type I'd befriended at a makeshift commune in Topanga Canyon, and pulled up to 13th Street South in Cocoa Beach to check the surf. The wind was onshore, the waves negligible—2- to 3-foot slop—but the surfers were finding improbable pockets of speed and noseriding with more skill and flair than anyone I'd seen in California. The dunes looked like white snowdrifts, and I remember the seething heat of the sand and the feeling of some subterranean energy thrumming beneath my feet.
I floated for a time on the outside, marveling at the bend of the cape and the darkling monoliths on the northern horizon. The peaks were jumbled and wind-wrecked, yet a flow and harmony abided in the lineup. My first wave, a miraculous left, carried me farther than should have been possible and deposited me, forever transformed, onto the beach.
If it's true that the children of a place are its only real locals, an outsider might still intuit certain connections. How this insignificant, dribbly waved hamlet of 11,000 souls has spawned an impossible number of world champions, Pipe masters, and iconic surfboard builders might present a mystery to the untrained observer, but, if one pays attention, patterns emerge in the tapestry, recurring themes and colors, and the story of Cocoa Beach begins to unfold.
2,000 BC to 1959
Four thousand years ago, a coastal tribe—the Ais—inhabited this palmetto scrub barrier island from Cape Canaveral to Sebastian Inlet, or what is modern-day Brevard County. Their ancestors had survived enough cataclysmic storm surges to apprehend that beaches are temporal affairs, and that sand, like water, exists in a constant state of flux. Long periods of calm accumulated until hurricanes and apocalyptic floods came to wash it all out. The seas rose and the island folded back, migrated landward, generation after generation. To adapt to the shifting beaches, the Ais built summer and winter villages on either side of the Intracoastal and made themselves as fluid as the sands.
For sheer bulk of water, no people on earth were as inundated as these ancient Floridians. Water foamed in the boundless east and reflected in the green labyrinthine islands of the west. It flowed through reedy estuaries and inlets, strafed down at them from black thunderclouds, burbled up from cold springs, rilled over palmetto leaves, glistened on the backs of alligators. It hung heavy in the air they breathed and swelled from their every pore.
Only a habitat as wet as this could breed an aquatic people like the Ais. Tall and long-limbed, they navigated their realm on dugout canoes carved from 60-foot slash pines—hand-shaped vessels stripped and hollowed out with fire and stone—spearfishing for stingrays and redfish and diving to depths of more than 20 feet to harvest oysters and calico scallops. Tales exist of Ais youths launching their canoes into the Atlantic to hunt for right whales. A Jesuit missionary who witnessed this feat in the sixteenth century described one of the locals leaping onto a whale, riding it as if on horseback, and pounding a wooden stake into its blowhole. "The whale runneth into the deep," the missionary attested. When the whale breached again, the hunter was still clinging to its neck, and he proceeded to beat another stake in and finish the job.
What power, what breath control, must it have taken to hold fast to the sounding leviathan? Such was the spirit of these original dwellers of this fingerling barrier island. But by the eighteenth century, the Ais had been killed off, sickened and sublimated by the explorers of the New World. For a time, the waterman soul of this place was submerged. Ibises pecked among the dune daisies on the burial mounds. Oysters went unharvested. Waves peeled unridden on the outer sandbars.
1959 to 1968
Any connoisseur of quality surf knows that Florida offers only slippery, illusory prospects. Stir up a system out in the Atlantic and cast a long-period fetch toward Brevard County, and it's a safe bet the waves will combust in mile-long closeouts from Playalinda to Wabasso. The sandbars are fickle, untrustworthy beasts, the trade winds blow perpetually onshore, and high tide tends to swallow anything under head-high. Even when the west wind makes a cameo and the swell pushes in at the perfect southwest angle and some fluke sandbar happens to be doing its best impression of Rincon, the magic hour could well arrive in the dead of night and dissipate like a vaporous dream in the morning.
All this gives the legend of Brevard County's first surf session the ring of the apocryphal. It was the summer of 1959. Jack Murphy, a Miami Beach hotel-dive-show rogue known to the surfing community as Murf the Surf, and Dick Catri, a Neal Cassady–looking, cigarette-smoking high-jump champion, headed up the coast from Miami, looking for waves. When they rolled into Indialantic, they were met with offshore winds and blue-glass, head-high rollers breaking clean over the outer sandbar and rifling all the way to the beach. Catri and Murphy traced their elegant ogees on the outside, the Australian pines murmured approval, and the golden age commenced.
"We wound up staying a month in Brevard County," Catri recalled in a 2012 interview. "Between Indialantic and Cocoa Beach, we could find waves almost every day. It wasn't always big, but there were waves. And as soon as we got out of the water, everywhere we went there were always kids coming up and asking, 'Hey, can I rent your board?'"
Indialantic turned out to be a low-action venue, but, 15 miles to the north, the young scientists, engineers, and creative minds of the space race were flooding into Cocoa Beach, energized by their quest for manned flight. Midcentury-modern motels popped up like planetarium models all along State Road A1A. Rocket ships uncoiled in skeins of fire over the cape. Astronauts—John Glenn, Gus Grissom, and other fighter-jock heroes of Project Mercury—sped through town in gleaming Corvettes and tinkled cocktails with long-lashed, beehived women at the Holiday Inn lounge.
Catri and Murphy had found their Shangri-La. They talked their way into jobs at the Starlite Motel, managing beach rentals, and began to shape surfboards out of one of the cabanas. In 1960, Catri—jaded, no doubt, by one of Florida's notorious flat spells—flew off to Hawaii. But Murphy remained in town and opened Brevard County's first surf shop, Murf's Surf Shop, in Indialantic. Gidget was still in theatrical release, and the towheaded children of the NASA workers shelled out the cash as fast as Murphy could unpack the boards. Demand far outstripped supply, and, in the early '60s, Bill Feinberg started up Oceanside Surfboards, the first production shaping house in Brevard County, calling in California board builders Pat O'Hare and Johnny Rice to speed along the dream.
Warm water, beach access at the end of every street, sand bottoms, gentle waves…where else on the mainland could a kid spend more time in the surf? Throw in the occasional hurricane swell and nor'easter to impart heavier lessons, and there might have been no better nursery for a budding surfer than the Space Coast. Any kid willing to work the slop and finesse imperfect sections could catch 100 waves a day here, 300 days a year.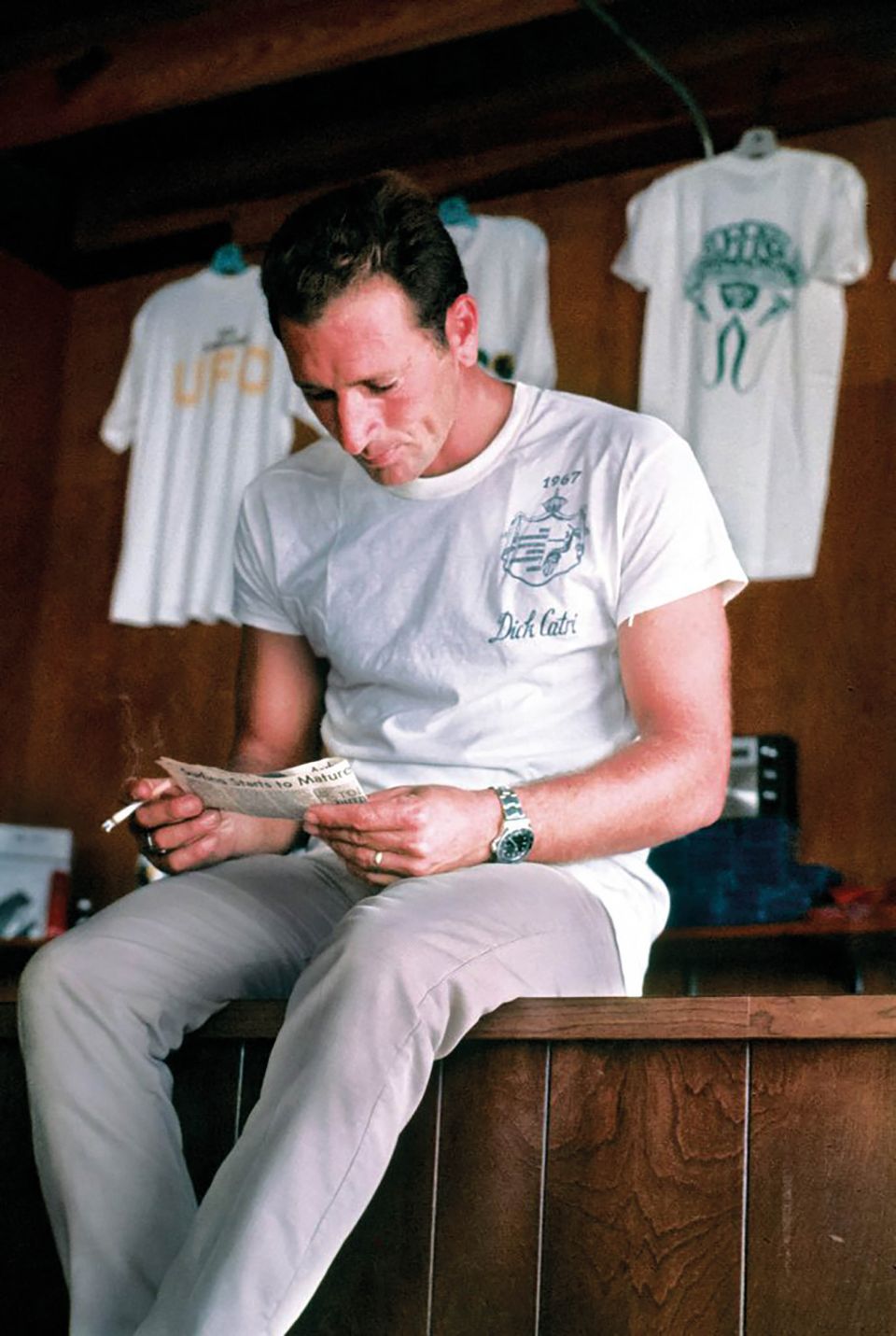 So these towheads became water bugs like the Ais before them.
The 1960s would produce Cocoa Beach's first modern youth movement: Bruce Valluzzi and Mike Tabeling of the 15th Street Crew, butter-smooth Claudie Codgen, and a little white-haired punk named Gary Propper.
In '64, Catri returned from his adventures in Hawaii—he'd surfed Sunset with Butch Van Artsdalen, Makaha with Buffalo Keaulana, and Pipeline a hundred times by himself—and signed on with Dick Brewer to distribute Surfboards Hawaii everywhere east of the Mississippi. He opened Satellite Surf Shop and scouted out the hottest local riders for his team. Valluzzi, Tabeling, Propper, and Fletcher Sharp were his first disciples, and, later, Joe and Betsy Twombly, Fred Grosskreutz, and 12-year-old noseriding savant Mimi Munro. Catri's surf team would go on to sweep every contest on the East Coast and begin a 40-year tradition of competitive domination by Brevard County surfers.
Those were Technicolor, I Dream of Jeannie days. Chiffon headscarves, candy-colored surfboards, sunflower bikinis, Buick Skylarks in Teal Mist. From Ron Jon, that fledgling surf shop up on the Canaveral Pier, speakers warbled the Ventures, Beach Boys, and Delltones out over the water. The pier was the center stage of East Coast surfing, and Propper—a whip-turning small-wave maestro—was the headliner. His fin-first takeoffs, supple heel-hangs, and Nureyevesque pivot turns earned him a reputation as one of the best surfers on the planet in conditions under 6 feet. When Propper defeated Dewey Weber at the East Coast Surfing Championships in Virginia Beach in 1966, Hobie Alter recognized the potential of the brash kid as a surf star on the East Coast, and the Gary Propper Signature Model was born. It would become Hobie's best-selling surfboard of all time, and it made Propper the highest-paid surfer of his generation.
Ed Leasure—who owned and operated Quiet Flight Surf Shop in Cocoa Beach with his brother, Jim, for 40 years—notes, "We had a high school graduating class of 87 people, and more top surfers than Huntington Beach, which has three schools of 1,000 students each. How is that possible?"
"We were just hungry," Tabeling said in a 2014 interview in Surfer.
"We were eating, living, dreaming, dying for surf. We'd ride anything. California surfers didn't do that. Hawaiian surfers didn't do that."
Catri, Codgen, and Valluzzi would participate in the Duke Invitational at Sunset Beach in 1967, gaining Florida a modicum of respect in Hawaii. Tabeling went off with Nat Young to ride for Weber and traveled and surfed for years with Valluzzi in France, Spain, Portugal, and Morocco. Propper, uninterested in riding bigger waves, would glide out to Hollywood, hustle his way into the Teenage Mutant Ninja Turtles franchise, and make millions as a professional promoter.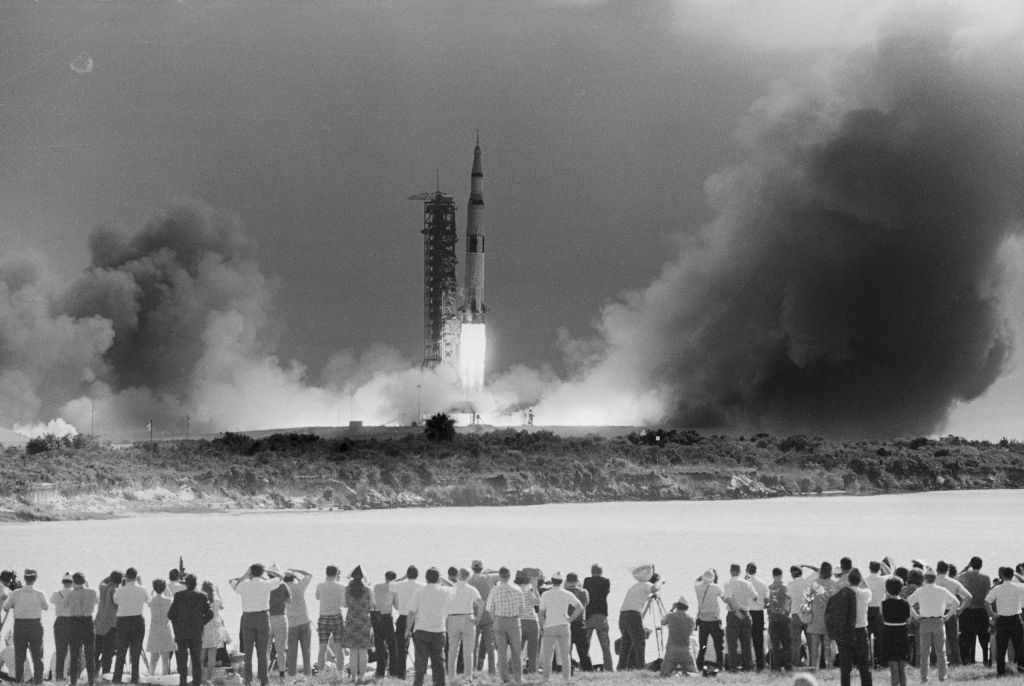 One by one, the children left their subtropical Eden. Some went off to war, others to Taylor Camp in Kauai. Their hair deepened from blond to brown, their faces wrinkled like the sea under a turning wind. The age of innocence, that golden summer of love, gave way to fall.
1969 to 2003
The children of Cocoa Beach tilted their freckled faces to the north and stood up an inch taller on their toes. They watched as the Saturn V rocket, dream child of their fathers, burned into the upper reaches of the stratosphere. When the first stage exploded and dropped away and the ship got smaller and faster and farther out, they understood it to mean more speed, more altitude, more freedom. For some of them had been experimenting with this very same concept—this paring of the vessel—in their own garages.
"We were getting rid of the board. Trimming it down," says Pete Dooley, who was one of the first shapers in Cocoa Beach to subscribe to the thought experiments of Greenough and Weber and slice the noses off of his longboards. Dooley started out of a Visqueen-and-cardboard lean-to at 16th Street, but he soon built himself a shaping bay and opened Natural Art Surfboards in the late '60s. Natural Art would go on to produce more than 40,000 lightweight crafts in variegated airbrush and neon-bladed flourishes for the surfers of the '80s and '90s. "The generation before us, they rode a board on a wave," Dooley continues. "We rode the wave."
The Beach Blanket Bingo shit was over. The revolution was on. Suddenly, the unmakeable shorepounds of Patrick Air Force Base, Satellite Beach, and Melbourne Beach had transmogrified into racy walls and workable barrels. The surfers migrated south like a flock of black-winged gulls in their Chevelles and El Caminos. Soon, a crew of Cocoa Beach locals—Tabeling, Valluzzi, Larry Pope, and the Salick brothers—discovered a hidden treasure at Sebastian Inlet. The recently reconstructed jetty (another high concept of government engineers) was consistently ricocheting a bounce-back wave into the incoming swell, producing a powerful, steep, double-up peak twice as fast and twice as big as anywhere else in the county.
Phil Salick—whose identical twin brother, Rich, was the father of that beauty boy, Philip, from my Topanga Canyon commune days—remembers those halcyon years at Sebastian. "We had a decade where only 15 of us were surfing the inlet," he says. But the radical wave at First Peak, progeny of the technological age, proved too photogenic to remain a secret for long. A photo of Tabeling wrapping a cutback there made the cover of Surfer in 1971, and the locusts descended the morning after the issue hit newsstands.
This posed an unfamiliar dilemma for the Florida surfers, with the peak having a single takeoff zone and a hundred heads in the water. It was a recipe for a bloodbath, and it gave rise to a ruthless pecking order. Jeff Crawford, a tube-riding, hotheaded goofyfooter from Titusville, became First Peak's de facto enforcer. He banished nuisance surfers to Second Peak, 75 yards down the beach, threatening them with spankings or simply paddling over their backs, fins and all. "Somebody's gotta be the lifeguard," Crawford reasons. "And I saved a lotta souls from getting lost."
"Localism, it happened at the inlet," admits Greg Loehr, the high prince of the early Ocean Avenue crew. Ocean Avenue, the Melbourne Beach surf and skate team founded by Lewis Graves and Bruce Walker, reigned supreme at the inlet through the '70s. "There was this X in the water where you had to be," Loehr says. "And we knew where the X was. Not too many other people did. And we were protective of it."
The speed, the drop, the fight-your-way-in mentality: Sebastian Inlet had scaled-down affinities with the North Shore of Oahu. Earn your respect, and the apex surfers get their waves. This education in aggression, this jockeying and hassling, would serve Loehr and Crawford well in the lineups at Sunset and Pipeline. In 1974, Crawford was invited to surf in the Pipeline Masters. A freak bomb swung his way right out the gate, and he ensorcelled his 8'2″ pintail into a six-second vanishing act. It was enough to beat Gerry Lopez and Rory Russell and become the first Florida boy to win the event. (He wouldn't be the last.) "They had very little respect for East Coast surfers back then," Crawford says.
When they heard the news of Crawford's victory, the children of Cocoa Beach, who had seen Lopez win the event on Wide World of Sports the year before, grew another inch and swelled with more pride than they had for any old moon landing.
By 1975, the Apollo blueprints were rolled up and packed away, the launchpads decommissioned, and many of Cocoa Beach's best and brightest had loaded their station wagons and ridden on to greener pastures. Housing prices tumbled and the town drifted into a seedy, frayed, run-down, heavy-drinking shell of itself. The motel signs collapsed and lay burned and rusted on the ground, and the once-lustrous symbols of the future littered the streets like so many broken children's toys.
Even the fabled patriarchs fell on hard times. Catri got punched for selling weed and served five months, and Murphy, who famously scaled the walls of the New York Museum of Natural History in a glamorous heist of the Star of India sapphire back in '64, had turned to darker, more sinister deeds and was serving a life sentence for murder.
Many of the hardcore surfers were involved in some way in the drug trade. The Salick brothers, who opened up Salick Surf Shop on 3rd Street North in Cocoa Beach, knew all the smugglers on both coasts of Florida and saw the surfboards coming in from Morocco with 6-inch-wide stringers made of pure hash. Phil Salick shakes his head when the subject of Jack Murphy comes up. "Murf fucked up royal," he says. "It was not good."
But the sins of the fathers were not the sins of the children. The midcentury motel swimming pools had been drained, and new realms were opening in the cracks. Kryptonics came out with urethane skateboard wheels in 1976, a significant improvement over Cadillac wheels, and the local kids began doing some of the first progressive pool skateboarding at Pool and Palms between 6th and 7th Streets.
Matt Kechele, curly headed cherub of Cocoa Beach, grew up a hundred yards from the Salick brothers' shop, skidded his bike tires all over the ramshackle town, got mauled at the doors of the Surfside Playhouse, and surfed his home break in front of a little burger shack on the beach called the Islander Hut. By the age of 13, he was hitching rides to Sebastian Inlet, where he remembers his mind being blown by Loehr's skateboard-inspired lines at First Peak.
"Grinding on the lip, getting the fins out the back," Kechele says.
"In the pool, you'd go up and tap your tail on the coping, then straight back down. Greg Loehr was doing that [in the water]. He was getting his board straight up to 12 o'clock, then pivoting it. That's all we wanted to do. Get vertical, get your chin up where it's touching your knee, straight up and down, whether frontside or backside, and then pivot."
It wasn't long before Bruce Walker caught sight of what looked like a beam of sunlight streaking across the face of a Second Peak left, slashing windblown plumes of whitewater in the air. It was a 15-year-old Kechele, brazenly defying the concept of friction. Walker immediately invited him to join their ranks. "Ocean Avenue was halfway to Sebastian," Kechele says. "If I could just get to the shop, I could get to the inlet. They were the most progressive thing on the East Coast. Champion surfers. Champion skateboarders. Nothing but raw progression. Everybody feeding off each other."
Walker remembers those sessions that erupted in late '78 and early '79: Amped on Devo, looking to push the limits, the crew would hit the water like a team of pack animals. "Every day, the team rode down to the inlet in the Ocean Avenue van," he says. "Jeff Klugel, Matt Kechele, Greg Taylor, Tony Graham, Tim Briers. It didn't matter if it was 1 to 2 feet. It was almost psychotic."
In 1978, Darryl Bulger, who was shaping for Mark Richards in Australia, brought one of his twin-fins to Brevard County and got it into Loehr's hands. Klugel was the first to ride it, and when the Ocean Avenue team saw how much faster he was going, the single-fins began to hit the scrap heap. Loehr, who'd learned to mow foam from Owl Chapman in Hawaii, started shaping twins for Klugel and Kechele, experimenting with thinner, narrower boards and adding slight concaves in the bottoms.
At the same time, a skateboarder down in South Florida, Alan Gelfland, was working out the trial phases of a new trick: the ollie. Gelfland had accidentally stumbled upon it—he would pop his board up over the edge of the wooden lip of a ramp, then transition in the air with no hands and ride back down. Kechele became fixated on the notion of transposing the ollie pop onto the wedge section at the inlet: Gather speed, lift off, pivot with no rail grab, land, and ride on through. Why not?
Loehr and Kechele—both sons of aerospace engineers—took a scientific approach to designing a surfboard that would accomplish something surfboards had never before been made to do: fly. Loehr tweaked the templates, tested flamboyant iterations. "The inlet was our laboratory," he says. They arrived finally at a design called the Kech Air, a twin-fin squashtail that mimicked the outline of a skateboard, maximized speed, and allowed for a tail release.
By the spring of 1979, Kechele was routinely executing functional, flow-driven aerials. While California aerial pioneers like Davey Smith, the McClure brothers, and Kevin Reed had already broken free of the lip, no one was launching and landing them like Kechele. These groundbreaking boosts—first by Kechele and then by Satellite Beach local John Holeman, who was sticking full 360 airs in 1981—predated Christian Fletcher's iconic flights by five years.
Kechele would follow in the footsteps of Catri, Codgen, Loehr, and Crawford, first to Hawaii and then onward to the World Tour. But, back in Cocoa Beach, new legends were emerging. A group of ultra-groms were attaining otherworldly speed on the inside waves at 3rd Street North, right there in front of the Islander Hut. Kechele recalls his first time seeing Kelly Slater, by far the tiniest surfer in the water. "It was incredible. I saw him do three backside 360s on this boogie board with fins. I think it was called a tubo. Really weird, super flexy, and thick."
"It didn't bend too much because I was so light," Slater says.
"It actually was a twin-fin. So I could go down the line and turn on it."
But how could such a tiny kid generate so much speed from nothing in mushy, gutless surf?
"There's something valuable about learning in slow motion," Slater suggests. "You have to be really precise. I think that translates to going faster on bigger waves, a bigger canvas. There's a benefit to the number of rides you get, growing up where there are short-interval waves. Especially a beachbreak, because it's not just one spot—it breaks anywhere and you learn different angles, and you take notice of little rips or the effect the previous wave had on the wave you're on. You find the energy. You're always looking for a little more pocket of energy or speed, to refine what you're trying to do."
The Ais leaping onto the whale. Neil Armstrong climbing the heavens. Kechele levitating. Slater drawing power from thin air. Echoes of Olympus resound throughout the mythology of Cocoa Beach. As when Dick Catri, by that time sporting his white sea-captain's beard, looking something like Zeus, stood in front of the Islander Hut, arms crossed, casting his eye upon the child sensations of 3rd Street North—Kelly and Sean Slater, Todd Holland, Sean O'Hare, Troy Propper, Scott Bouchard—and decided to field a next-generation team of competitive surfers.
"Dick figured out pretty fast that he could stack a division like ours," says O'Hare, son of Pat O'Hare, who shaped all of Greg Noll's East Coast boards back in the '60s. "Boys and menehunes. We would place first through fifth and be in contention to win the team event. Dick kinda worked the system a little bit. He was bringing us up, trying to make us into better surfers."
"We would have workouts every weekend," Catri said. "I would put four of them in the water at a time, have the rest of the team sitting on the beach judging."
He ran practices out of his new surf shop, Shagg's, in Melbourne Beach, had the kids do calisthenics on the beach, and introduced them to Peter Townend and Ian Cairns when the Bronzed Aussies were in town for the Florida Pro. They learned to work hard, to fade into the peak, to open their eyes in the barrel, and to squeeze all the juice out of the orange. "Catri planted a lot of seeds," says Slater.
In 1981, the kids traveled up the coast and plundered prize money and trophies like mercenaries. It was a triumph, a curtain call for the Godfather of East Coast surfing—coach Catri—who would retire from the contest scene the following season. "Kelly got invited to surf with Matt Kechele," Catri said. "Todd Holland went with Pete Dooley and Natural Art. I went and got my captain's license and made that a profession."
Holland, a cocky little hurricane in the tradition of Propper or Crawford and a balls-of-steel teenage charger at Pipe, Sunset, and Waimea, became the youngest surfer ever on the national team. Slater, meanwhile, would hang back on the East Coast, watching and learning from Holland's pro success, crushing the amateur circuit, riding Kechele-shaped boards, and honing his skills at the inlet alongside world-class talent like Bill Hartley and Pat Mulhern. "That localism at Sebastian was super cool," Slater says. "It was definitely a gang mentality. You had to be a local to fit in, but it really created the DNA and the roots of surfing for us. And if you were a hardcore surfer, you could become part of that group."
The rest of the Kelly Slater story is well known and well told: star child of Cocoa Beach, culmination of watermen epochs, improvises, reacts, anticipates the water better than anyone on earth, takes aerials and acrobatic surfing into the mainstream as the leader of the New School. Ascends into the collective consciousness. Blows the tail out in contest heats, takes chances no one else dreams of. Kelly Slater in Black & White. Momentum. Baywatch. Pamela Anderson. Eight Pipeline Masters. Eleven world titles. Enkindling hyperbole the world over, Slater would afford Florida permanent credibility in the surfing universe. "It all came from mastering small waves," Kechele remarks.
Sebastian Inlet prepped the kids for Hawaii and continued to pump out professional surfers and champions for decades. CJ and Damien Hobgood, identical twins out of Satellite Beach, would occupy two of the world top-10 ranking spots at the same time, with CJ taking the title in 2001. Lisa Andersen, an Ormond Beach native and a four-time world champ, would launch her career with her first victory at the inlet.
In Florida, you can never trust any spot or swell event to last for long, but for more than 30 years, Sebastian Inlet seemed like one you could count on. Tragically, however, the Army Corps of Engineers renovated the jetty extension in 2003 and accidentally removed the majestic, warping wave of First Peak. In "Death of Sebastian, a Eulogy, 1969–2003," Matt Walker lamented the loss of Florida's most consistent wave in TSJ 20.5: "Overnight, the pits, the power—the rabid pack and daily shit fights—disappeared."
Another long-held assumption in Brevard County was that hurricanes would continue to track safely off the coast. The prevailing belief since the 1950s was that the curvature of the cape, or the pull of the Gulf Stream, would cause the storms to veer away from the Space Coast and bend out to sea. For 50 years, they did just that, sparing Cocoa Beach major damage and sending quality swells our way. But this notion was a fallacy. Perhaps the locals had grown too comfortable, too complacent. They'd forgotten the wisdom of the ancients, the impermanence of the sand beneath their feet.
2004 to Present Day
In 2004, the year my wife and I bought our first house in Cocoa Beach, a fixer-upper on 11th Street, three major hurricanes struck Brevard County in the span of two months. For someone who believes in neither coincidence nor providence, it was a difficult string of events to reconcile. We rode out the storms—evacuation orders be damned—hunkered in the dark and listened with horror to the groan of the rafters and pule of the plywood. Water seeped up our sliding-door tracks and flooded our new floors.
The whole town was shredded, sandblasted. Sheet-metal roofs peeled from the houses like aluminum foil. The church steeple snapped in two and thrust itself like a sword through the gambrel. The dunes tried to fold back, but the oceanfront condos impeded their natural flow, and sand piled up to the third-floor balconies. The beach dissolved, leaving the surf to lap up against sea walls and undermining the foundations. It all brought to mind the parable of the foolish man who built his house on the sand.
Backhoes were engaged, engineers consulted, and the people of Cocoa Beach contracted hopper dredgers to suck the sand from the Canaveral Shoals, pump it into the littoral system, and ostensibly restore the dune ecosystem. But the dredging was an artificial, evanescent fix, and would prove something of a pyrrhic victory for the locals. The imported sand was coarser and less compact than the squeaky white powder, and the winter swells dragged much of it back out to sea. The ocean took bites from the newly installed beach and formed scarps, and a deep trough developed 20 yards from shore, creating rip currents and effectively ruining the nearshore profile for years to come.
The only constant thing about sandbars is that they're constantly changing. By their nature, beachbreaks are fragile, tenuous arrangements. "Come tomorrow, you don't get nothing," is how Jeff Crawford puts it. He's right. Wednesday's treasure is Thursday's fool's gold. To endure as a surfer in Florida, you must abide the vicissitudes of wind, tide, swell direction. You must cultivate patience and make yourself available for that fleeting moment, should it arise. When it does, maybe 10 to 15 days out of the year, when a hurricane lights up the coast from the Jetties on down, when the wind swings offshore and Spanish House is connecting all three barrel sections, when RC's is jacking A-frames over the outer bar and Melbourne Beach, Patrick, the Streets, Pier, and Jetty are all working, you can pick your size and pick your weapon. On those sublime days, the Florida surfer can paddle out all alone and attain complete, immaculate nirvana.
"Some people don't understand, because they didn't grow up in this environment," says Rich Munson, who came of age surfing with Tabeling, Propper, and Codgen and was inducted into the East Coast Surfing Hall of Fame as a shaper. "You just pick your spot and nobody's out there. On a good day, if you're willing to look around, you just find your little nook. That's one of the reasons people stick to this area. It's pretty simple."
Cocoa Beach likes to advertise itself to visitors and would-be residents as "Mayberry-by-the-Sea"—a quaintly parochial, tropical town. The south side fits the bill well enough: Barefoot kids bicycle by with fishing rods. Young parents push strollers past cafés, ice cream parlors, and shop fronts festooned with pink plumeria and hibiscus. Everything is fragrant and freshly washed with rain, and all within walking distance—the public library, the skatepark, city hall, the Kelly Slater statue, the jazz club. At the hardware or grocery store, locals know each other by name and fall into easy, convivial conversations about gardening or turtle nesting season.
The north side, on the other hand, is a beach-kitsch tourist trap: snowbirds in floppy brimmed hats stumble past tawdry T-shirt stores masquerading as surf shops. Plump, pasty families from Michigan and Ohio seem lost amid the traffic, motel signs, and chain restaurants. Looming over it all, in a ridiculous shade of dandelion yellow, is Ron Jon, that tacky surf-brand megalopolis, peddling soft tops, plastic tikis, and Taiwanese pop-out boards to day-trippers and theme-park runoff. Though Ron Jon still fields a world-class surf team—notably Caroline Marks, an Olympian out of Melbourne Beach—and provides a taste of authentic history in the Florida Surf Museum, for those who remember its charming origins on the pier, it feels like a palimpsest of another age, the ruined temple wall in the heart of East Coast surfing's Jerusalem.
Continue north toward the cape and you'll find a true vestige of yesterday: Core Surf, one of the few soulful old-school shops. Dennis Griffin, the proprietor, will meet you there with wet, rumpled hair and Buddhist nonchalance and guide you through his art-house collection of vintage East Coast boards. A Gary Propper Noserider from 1966. A wide-body thruster shaped by Jim "The Genius" Phillips. An early Mike Tabeling fish in ultramarine blue. An exquisite Pat O'Hare longboard with perfect pin lines and xanthic tint. A beat-up old Oceanside log from 1963. Hanging from the ceiling are classic Quiet Flight, Natural Art, and Spectrum boards. If you're lucky, a masterpiece might twinkle at you from the used-board rack, a hand shape from one of the local magicians: Larry Mayo, Chris Birch, Ricky Carroll.
Lanky kids lurk in the back of the shop, palming the rails, mind-carving. Kids of the post-Sebastian, ride-anything generation. Kids who avenged their grandfathers' murder of the longboard by resurrecting it, who learned to play contrapuntal harmonies. Long, short. Mid-lengths, fun shapes, eggs. Joel Tudor's line singing in their heads: "Fit the board to the wave." I've seen them out in the water, Core Surf kids, charging hurricane swells on leashless shortboards at Driftwood House, and I've seen them on pigs, hanging 10 on 8-inch waves at the Jetty.
"Living here, where windswell is what you get on offer, the more variety of crafts you have, the more days you'll get in the water, the more fun you'll have," Griffin tells me. By his own estimation, Griffin surfs more than 300 days of the year. There is something childlike to his commitment to surfing in the face of any and all conditions, and doing it well. Griffin scouts the sandbars, finds the choicest option, pulls out one of the old boards from the '60s or '70s, and communes with the surfers of the past. One little-known truth about Brevard County is that on any given afternoon, the sandbars will undergo a transformation, and two-block-long A-frames will materialize out of a deep-blue nothingness. These sneaker swells, locals-only events, never last long; the wind goes dead, and for those brief Orphic hours, everything becomes so silent that the music of your rail slicing the silken hills sounds just like the tearing of fabric.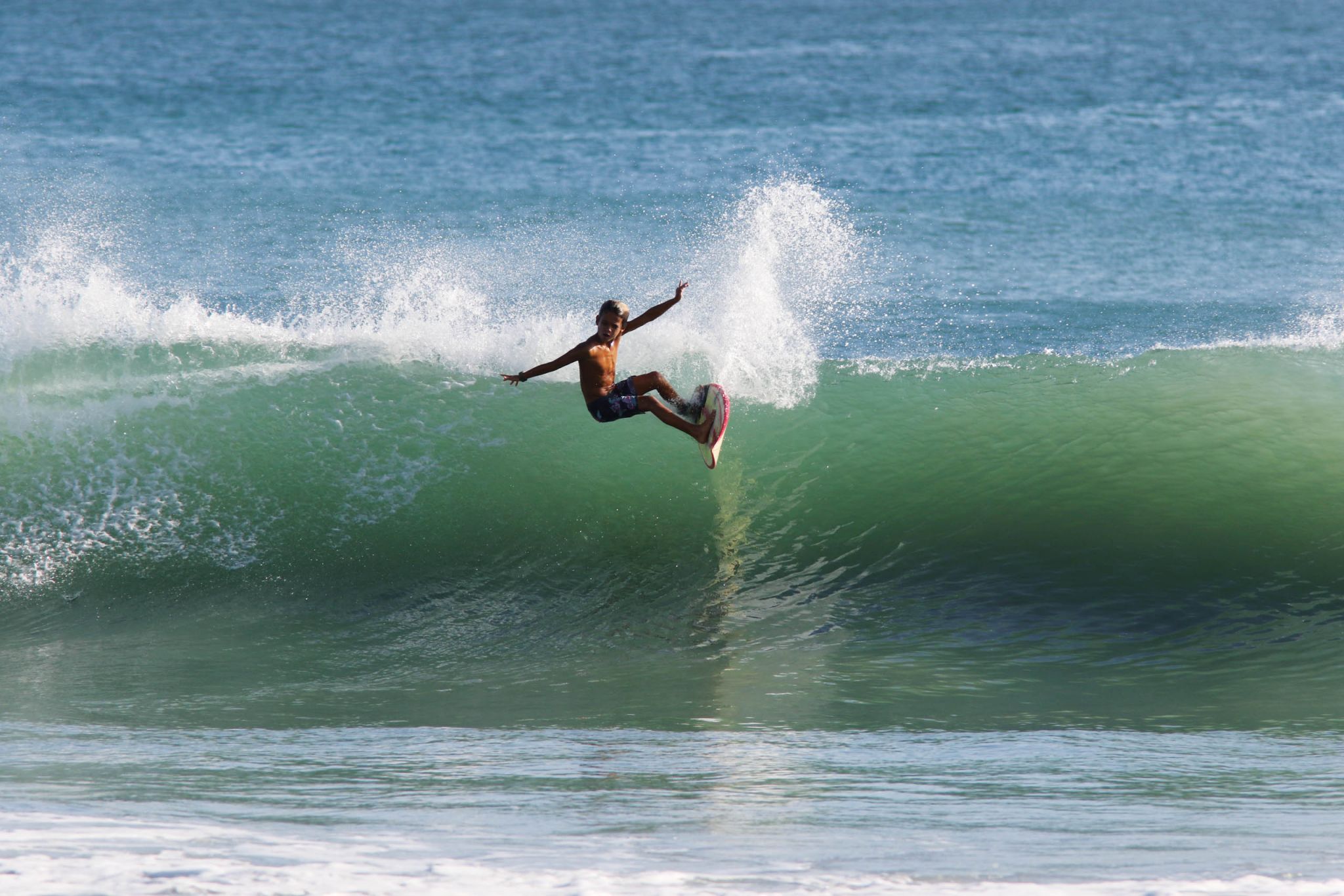 And here is the secret to how a surfer can get so good in Cocoa Beach. When it happens, it really happens. Take as many waves as you like. By the time the mainlanders cross the bridge, you'll have ridden 50, 60 waves, and the wind will already be clocking from the east.
The kids understand. Kids like Gavin Idone, rope thin, raven haired, 17, a noserider out of Cape Canaveral who might be confused for a young Tabeling in the backlit dawn. Or Indialantic's Saxon Wilson, styling into the ranks of the Duct Tape on '60s single-fins and Core Surf theology.
I was never a child of Cocoa Beach, so maybe I'll perceive it always through a filter, a gauzy veil that hangs over all those golden yesterdays. But I've raised my children here and taught them to read the clues. It is natural to them that the ocean is waiting at the end of every street, that the sun will both rise and set over the water, and that on various moonless evenings, under a sky just bright enough to surf by, they might encounter Claudie Codgen—half man, half unicorn—cruising the gloaming on his 9'6″ Sunshine Surfboards noserider, his fingers projecting light.