A bunch of summers ago Barry McGrath, an Aussie friend of mine who has lived in the southwest of France for 30 years, invited me to come surfing with a couple of his buddies on the excellent beachbreaks of northern Landes near the little town of Contis-Plage, a place he had called home off and on since arriving in Europe.
Baz, a go-for-it goofy, promised a challenging left on a building swell, followed by a good landaise lunch washed down with some Bordeaux red and excellent company. A few waves, a few laughs…I didn't need my arm twisted. It was my first visit to Contis, about midway between Biarritz and Bordeaux, and I was amazed to find the countryside so verdant and lovely as I swung off the autoroute and headed for the coast through the picturesque village of St Julien-en-Born.
Baz was waiting for me at Dan's Bar on the main street opposite the fronton, sipping coffee with two men of about my age whose initial countenance was so striking as to make me forget about the manual shift and stall the battered Peugeot as I pulled up. Typically, Baz had neglected to tell me that his friends were identical twins—so identical, in fact, that virtually no one could tell them apart, a situation they encouraged by wearing identical clothes and finishing each other's sentences when not speaking in unison. I was greeted warmly by Emmanuel and Maximilien Berque, and when I inquired as to how I could tell which one I was talking to, they replied as one: "Why does it matter?"
That morning we surfed a rivermouth left as good as Barry had promised until a brisk southwesterly blew up and quickly reduced it to a crumbling wall of whitecaps. I enjoyed the surf, but my mind was not on the job. I was totally fascinated by the Berque twins, tanned and stocky men, then in their late forties, who wore identical old-school trunks and rode identical red longboards with identical easy styles, often on the same wave, performing go-behinds without even a glance over the shoulder.
I grew up with friends who were identical twins and whose Yugoslav parents dressed them identically (until they revolted in their early teens); I played soccer with them and marveled at the uncanny timing of Tom's cross from the wing as Chris shot down the center to collect and blast the ball into the back of the net. I later read about the theories of hereditary and environmental influences on identical twins and understood that monozygotic twins—the result of one fertilized egg splitting in the womb—were identical at birth and would remain identical until they separated and their differing lifestyles and environments created personality and even physical differences.
So I understood more than the average bear about this stuff, but nothing—nothing—had prepared me for les jumeaux Berque.
*
They were born ten minutes apart in Casablanca, in 1950, not long after Bogey bid farewell to Bergman on the misty runway of a movie set of the same name. Casa may not have been as mysterious and exotic as depicted in that iconic movie, but the Berque boys nonetheless spent their first three years in a maze of high-walled lanes, the intoxicating smells of the souk in their nostrils, or high in the Atlas Mountains, where their father, Jacques, worked as an administrator, Morocco still being a French protectorate.
Adventurers from the get-go, the twins and the rest of the Berque clan (mother Lucie, three older sisters, and brother) next moved to Alexandria in Egypt, then to Lebanon, where M. Berque ran a research facility and the family lived in a mountainside village outside of Beirut. On weekends the family would sometimes visit Saint Simon, Beirut's main beach town, where in those days lavish hotels and casinos dotted the Mediterranean coast. Emmanuel and Maximilien recall: "The Med is not always flat like people think, and at Saint Simon there were surfers who rode huge hollow boards, maybe 17 feet long, ribbed with plywood and painted canvas. They rode standing up, with a double-ended paddle, often with a girl—our pretty teenaged sisters were much in demand! It is strange to look back on this, our first taste of surfing, and it was the sport that has become so popular again now."
When the twins were 7, Jacques Berque, by then recognized as one of France's leading Islamic scholars, was nominated to a professorship at the College de France in Paris. The beach boy lifestyle was over before it had really begun. The twins hated Paris. "We were the worst boys ever in the school," says Max. "Except in design, music, and gymnastics," Manu continues. "Twins often have problems in school, but we were clever in other ways. We loved making things, like a sailboat carved from oak, and we loved taking photos with an old bellows camera."
Their salvation was the long summer vacation when, like all good Parisians, the family would desert the city for the coast: In the Berques' case, the tiny village of Contis-Plage between Bordeaux and Biarritz, where Max and Manu's grandmother had a beach house. Max: "Our brother Augustin was ten years older than us, and he became friends with a couple of the lifeguards. In those days the beach was always deserted. No one would go in the water for fear of rips and currents." Manu: "But the lifeguards swam like fish in the big surf, and Augustin learnt too. We followed, and soon we were good bodysurfers, although we never called it that. And then we made a bellyboard of curved plywood and took turns riding that."
In 1966, the twins saw The Endless Summer at a cinema on the Champs Élysées and suddenly understood the big picture. There were groms like them in strange places all around the world, bitten by the surf bug and just itching to go. The following summer they saw their first real surfboard when a German friend arrived at Contis with a Barland Rott ten-foot plank. He loaned it to them for the summer, and they became the first Contis boardriders. In 1969 they shaped their first boards, and although the shortboard revolution had not yet hit Contis-Plage, they took their lead from Surfer magazine and produced boxy-railed six-footers. With long, flowing hair and "not so ugly," the Berque boys became the hot dates of Contis.
Although I have heard their stories of this period several times, I like the simple and direct phrasing from their website: "This allows them to devote themselves to the joys of the Sea-Sex-and-Surf movement, just like the Californian hippies." Manu: "The late 60s and early 70s were like a long wet dream."
After graduation from school, the twins found themselves separated for the first time in their lives, Maximilien studying cinematography at the Lumiere school in Paris while Emmanuel took physics and mathematics at Bordeaux and in Corsica. Soon the separation became even greater when Max forsook cinema for a new passion for deep-sea diving, working the oil rigs of the North Sea where he was selected to dive for the world record. He achieved a depth of 1,672 feet, still unbeaten today, breathing Heliox, a mix of helium and oxygen, to counter the enormous pressure. The diving experience made Max fearless in big surf, and his daring affected his twin. Soon both the Berques were charging whatever the Atlantic threw at them, from the churning peaks of their swell magnet home break, to a newly-discovered big-wave spot at Hossegor known only as le Nord, to the classic corduroy lines of Guethary in le pays basque.
They formed a surf club in Contis they called Banzai Pipeline since Gerry Lopez was their hero, and they began competing in contests in Biarritz, where the surf culture had really taken hold. But the wild men of Contis-Plage didn't fit the mold. Manu: "Our way of surfing was to drop into the biggest, not to make embroidery."
By 1976, Manu had quit his studies and Max the North Sea oil rigs. Cashed up, Max bought a surf van and the twins entered their "bad boy" period, cruising the coast looking for waves, women, and trouble. One stormy winter night at Contis they found plenty of the last when huge seas deposited a tanker and a cargo ship on the beach at the bottom of their dune. At low tide the following night they climbed aboard the deserted freighter to investigate and found a bounty beyond belief—42,000 Dunhill cigarettes, 150 bottles of Remy Martin cognac, exotic foods, and more—which they proceeded to liberate. Dragging the booty across the dune to their house, they left a fine trail for the gendarmes, who arrived the next morning with a posse of customs officers. A search revealed not only the stolen goods, but also a stash of dope. Max: "It was not our dope, of course, but a friend's. We had too much honor to be dealers. But it was off to jail on a little vacation, and in our village we were not any more the nice twins, the heroes of the beach where we had rescued so many people, the sons of the famous professor…." By the summer of '77, the outlaws were back on the Contis dune, along with now 25 or so members of the Banzai Pipeline Surf Club. The members all surfed together, which worked out fine since not all that many could actually surf. But the camaraderie, the bonhomie was superb, and the rare arrival of new surfers in town was the cause for a celebration, not a threat. So in July when Australians Greg Taylor and Barry McGrath arrived with their English friends Dan and Julian in a beater yellow VW bus full of surfboards, surf magazines, empty beer bottles, and smelly clothes, they were welcomed as kindred spirits and invited to dine with the locals at the foot of the dune.
Max: "They were better surfers than us and they had much better boards, but they spoke not a word of French and they were a bit boring." Manu: "Particularly the Aussies, who were from Western Australia and kept going on about Ian Cairns. We were more into Gerry Lopez, Reno Abellira, and, of course, Rubberman!"
That summer a friend showed up with a Hobie cat, which the twins mastered quickly in long sessions every day between the wind going onshore and the first wine corks popping. When the clean lines of fall started to give way to winter squalls, a late-night and somewhat drunken decision was made by the dune campfire to head south to the Canary Islands, the surf-rich Spanish protectorate off Morocco. The twins found two more French friends to share the gas bill and eight of them crammed into the VW. While they waited in a Cadiz tapas bar for the ferry to Las Palmas, Julian's board was stolen off the roof rack—not an auspicious start—but a good session at Confital took the edge off it.
In Tenerife, Max and Manu overcame localism by scuba diving before surfing and sharing the catch around the carpark. Not only did the tactic work, but also it led to them learning to make gofio, a corn-based Hispanic staple that turned out to be the perfect surfing energy food, and something that would serve them well in adventures to come. In Los Cristianos, they found a desert camp where surfers and hippies crouched in the dust smoking hash, a perfect left a hundred yards away, and a town full of pretty Dutch and German tourists. When the money and the energy finally ran out, they bought a cheap deck passage on a banana boat bound for France.
Manu: "When we returned we were so poor everyone split to get a job—it had come to that. Jean-Claude, our rich friend with the Hobie Cat, proposed that we go to the Persian Gulf with him to make our fortune selling French tiles to the Arabs, sailing his new 33-foot boat down there to live on." Max: "Since there was no GPS, Jean-Claude proposed that we quickly learn astronavigation because we were so good in mathematics. So we bought a book and learned to use a sextant…and we became astro-fanatics!" Jean-Claude funded them through another lazy Contis summer of waves, women, and wine, and in September they sailed from Marseille. But the voyage proved to be the best part of the deal. They soon fell out with Jean-Claude, the Jeddah-based tiling company fell apart, and they found themselves back in Paris, down and out in a cold and drizzly March. Max found work as a news cameraman at a TV station, Manu went to work in a wine shop, and they saved every centime toward an early escape.
Their next grand plan was to become surf photojournalists, but the only magazine prepared to pay for their work was devoted to the new derivative of windsurfing. They took the gig and soon found themselves back on the coast, twisting their windsurfing articles into heartfelt manifestos of the sea-sex-surf genre. The job also led to them test-sailing the new Hobie 18. They liked it so much it reignited a long-simmering dream to sail the Atlantic, and they put a bold proposal to Hobie Alter that the company sponsor them in this endeavor. It is not difficult to imagine the reaction in the Hobie boardroom half a world away. The twins were rejected and it fell to another Frenchman, Laurent Bourgnon, to make the first Hobie Cat Atlantic crossing eight years later.
Rejection only fueled the fire, but first there was the issue of money. Unable to make enough from writing about windsurfing, the twins turned to shaping windsurfing boards for Barland, the leading French manufacturer. Again, their uncompromising individuality worked against them. They created prototypes for nine-foot boards that would surf and jump at speed, just as the Hawaiian-led sport turned to 12-foot step-decks. Barland told them to get on the program, they told Barland to shove his 12-footers where the sun don't shine, and they were down to seeds and stems again.
A friend loaned them an old U.S. Army tent, which they pitched below the dune at Contis and lived there for six months, surfing and fishing. But the constant cycles of poverty were starting to get to the Berques. Max: "We are now 33 years old, very free, but being poor also destroys our freedom. Our brains start to run; we are depressed. It could not be enough to live like this, taking dirty jobs just to survive, paid peanuts." Manu: "So we decided to make a movie, and since the sea was our specialty, it would be a super ocean adventure…a sea crossing in a canoe like no one had done before!"
Moving their tools into the loft of the family home in nearby St. Julien, they started to build a 16-foot trimaran, tracing the design freehand onto plywood. It was the simplest boat imaginable, and in it they planned to cross the Atlantic with no instruments, the stars their guide. They named the boat Micromegas in homage to Voltaire's theories on relativity, metaphysics, love, and sex, which closely paralleled their own. After just a month of feverish activity, the boat was ready. They knocked a hole in the loft wall, lowered it onto a trailer, and launched it off the beach at Contis. After spending the summer sailing the north coast of Spain with a dog and four surfboards, they decided to sail it to the Canaries, but just two days out in the Bay of Biscay they ran into a huge storm, lost the tiller, and had to paddle for their lives for four days. Badly burnt by sun and saltwater, exhausted and sleep-deprived, they headed back to Contis-Plage to lick their wounds.
But the near disaster had its upside. Manu: "Completely lost at sea, sitting right on the water…we never had such a big feeling!" Max: "We felt invulnerable, like after a primitive initiation."
Two years later the Berques and a German girlfriend succeeded in sailing the Micromegas to the Canaries, then spent a full year cruising the islands. At the end of it they were spent, and the sailing monkey was off their backs, at least temporarily. Their eight-millimeter camera was trashed; there was no movie, and no money. They hitchhiked to Berlin and took jobs for the winter.
In the summer of '87, the twins were back in Contis, where their Aussie and English buddies had become a permanent fixture, with Dan having the decency to invest his forestry wages in buying a bar where they could all party. Max: "It was a fantastic summer, good surf and always offshore in the bar. We went completely crazy, no sleep and too much surf and booze." Manu: "Max had a heart attack while surfing on a perfect day and almost died. The docs said that now he had to live like an old man, nice and slow. But, of course, it was impossible. Eight days later he was back in the surf, but moving very slowly. It was a terrible winter. We couldn't sleep, both feeling our hearts hitting our chests, with horrible nightmares of death."
The following spring, the twins put away their six-foot Thrusters and made an 8'6″ for Max and a 9'0″ for Manu, single-fin all-rounders on which they could get back to surfing "their way." Manu: "We were soon surfing solid waves again, but it took five years to truly get our confidence back."
Finally, they felt ready for another adventure. Francois Mitterand had come to power and opened the strings of the public purse enough for a few centimes to flow the way of the Berques, so they bought some timber and started building Micromegas II in Barry McGrath's garage. This time they had moved into the computer age and developed a design program on which they massaged a wooden masterpiece—a 13'8″ dory with a yawl lug rig. Max: "It took two years from inception to completion, but it was perfect, shining like a marvelous wooden toy."
In 1995, the Berque twins crossed the Atlantic for the first time, in three stages, with no radio, GPS, distress beacon, life raft, or motor. They battled storms into North Africa, missing Madeira completely and doing a repair stop in Casablanca before finally reaching Lanzarote. French TV had picked up on the crazy twins, and camera crews covered their every move. Rolex gave them watches; Quiksilver gave them clothes. They sailed for the West Indies and made the crossing in 37 days. Back in Paris they cut a documentary, Twins of the Sea, then flew back to the Micromegas II and sailed it to Miami. Max and Manu came home to Contis not quite wealthy and not quite heroes, but deeply satisfied. Manu: "We had done what even the best pirates of the 17th century had failed to do. We had reached America like no one before us!"
*
Soon after I met them, I realized that the Berque boys were consummate crowd pleasers when I saw them in action at the Biarritz Surf Festival, the crazy jumeaux identically dressed, doing their identical walk along the promenade, showing off their extraordinary 17-foot paddleboard—2,500 copper nails on 25 frames! The visiting legends were mesmerized by them and by their work. Greg Noll advised them to put the board into a museum immediately. Billy Hamilton pleaded with them to let him ride it, without wax. They sat in the bar and exchanged work avoidance theories with Miki Dora. Midget Farrelly visited their home in Contis and marveled at their design wizardry. They were the jumeaux du jour, but soon they were back in Contis, struggling for a buck.
One of the funniest images I can recall of my 50th birthday party—held in Dan's Bar in Contis-Plage—is of the Berque twins, down on their knees in front of the stage, bowing in gratitude to the sexy and scantily-clad Texas blues-woman Tracy Conover, whom Dan had somehow liberated from a nearby blues festival to play a cheap gig with a bunch of Austin blues-pickers. Ms. Conover thought it so funny she could barely finish her set.
But the Berques' party antics were hiding the glowing beacon of an idea for a new adventure that had begun to consume them. Their father, the esteemed Islamic scholar Professor Jacques Berque, had passed on in 1998 and left them with a small inheritance, enough to finance the construction of Micromegas III. The twins were immensely proud of their work in progress. I remember visiting them at the family home in St. Julien and being astounded by the disparity between the futuristic technology of their boatbuilding and the third world nature of their personal existence downstairs, where they seemed to delight in sensory deprivation, sleeping side by side on the floor of a shell of a room. It seemed that even as their craftsmanship moved ahead, they themselves sought to move backward in emulation of their seafaring heroes: the Phoenicians, the Greeks, and most particularly, the Maoris of the Pacific.
Not surprisingly, the third Micromegas was a 21-foot proa, or outrigger, combining the displacement hull theory of the Pacific seamen with the lugger schooner rig of the sailors of Brittany. People may have scoffed at the seaworthiness of the Berques' creations, but no one could dispute their cultural integrity. It was a marine consciousness born of art. Of course they ran out of money, but help was at hand. Parisian publisher Robert Laffont advanced them funds for the saga of their 1990s crossing (published as Les mutins de la mer—Mutineers of the Sea—in 2001), and their superb sea craft was lowered from the loft and launched in the summer of 2002.
Again they first staged it to the Canaries and again they encountered dreadful seas, at one stage broaching a rogue wave and almost losing all. During the stage from Contis to Lanzarote, the twins went 17 days without seeing the sun, getting a taste of what was to come. But their resolve was unbroken. This time they would cross the ocean direct without instruments or assistance.
Stocked with 90 liters of water, 16 kilos of gofio, 90 tins of sardines, 30 bottles of Tabasco, and no cooking equipment, they set sail from Arrecife on the last day of March 2003, with 30 tough days ahead before their prayed for landfall at La Desirade, a small island near Guadeloupe. A theoretical distance of 3,000 miles, but with only the stars to go by, who really knew?
I was living in France at the time and sporadically followed the voyage of my friends via a fairly basic website, but I don't think any of us who knew them a little or even a lot really understood the physical endurance and emotional complexity of this voyage of two identical twins, a single egg split in the womb, now cocooned again on a raging sea, their spirits so enmeshed by physical and emotional proximity as to threaten their capacity to breathe.
Long story short, the Berques survived weeks of leaden skies, huge swells, massive self-doubt, encroaching madness, and the black dog of depression to reach landfall, precisely as planned, on La Desirade. An amazing accomplishment in itself, but I was not to know the half of it for several years.
*
Time passes. I move from France to California, and finally, home to Australia. I lose touch with the twins, along with other French friends, caught up in the business of business, not paying attention to what really matters. Then, out of the blue, a DVD shows up, no covering letter, just a card in the old style, the greeting bien amicalement, les jumeaux. The titles on the disk are Huis clos sous les etoiles (Inside Outside), which is a suitably inexact translation. The boys are back in town. Duhde-duh-de…
I slip it into the player in fear and wonder…the Berque twins start their crossing so full of fun, and yet ten minutes in you know they are in serious trouble. But there is nothing the ocean can throw at them they have not already survived. This time it is the demons within, and the handheld camera reveals an unsettling view of what absolute proximity can do to two people whose entire lives have been organically designed to withstand such pressures. Engulfed by dark forces, they cannot comprehend, Max and Manu hold the camera aloft and keep shooting, as their fortunes ebb and flow with the tides.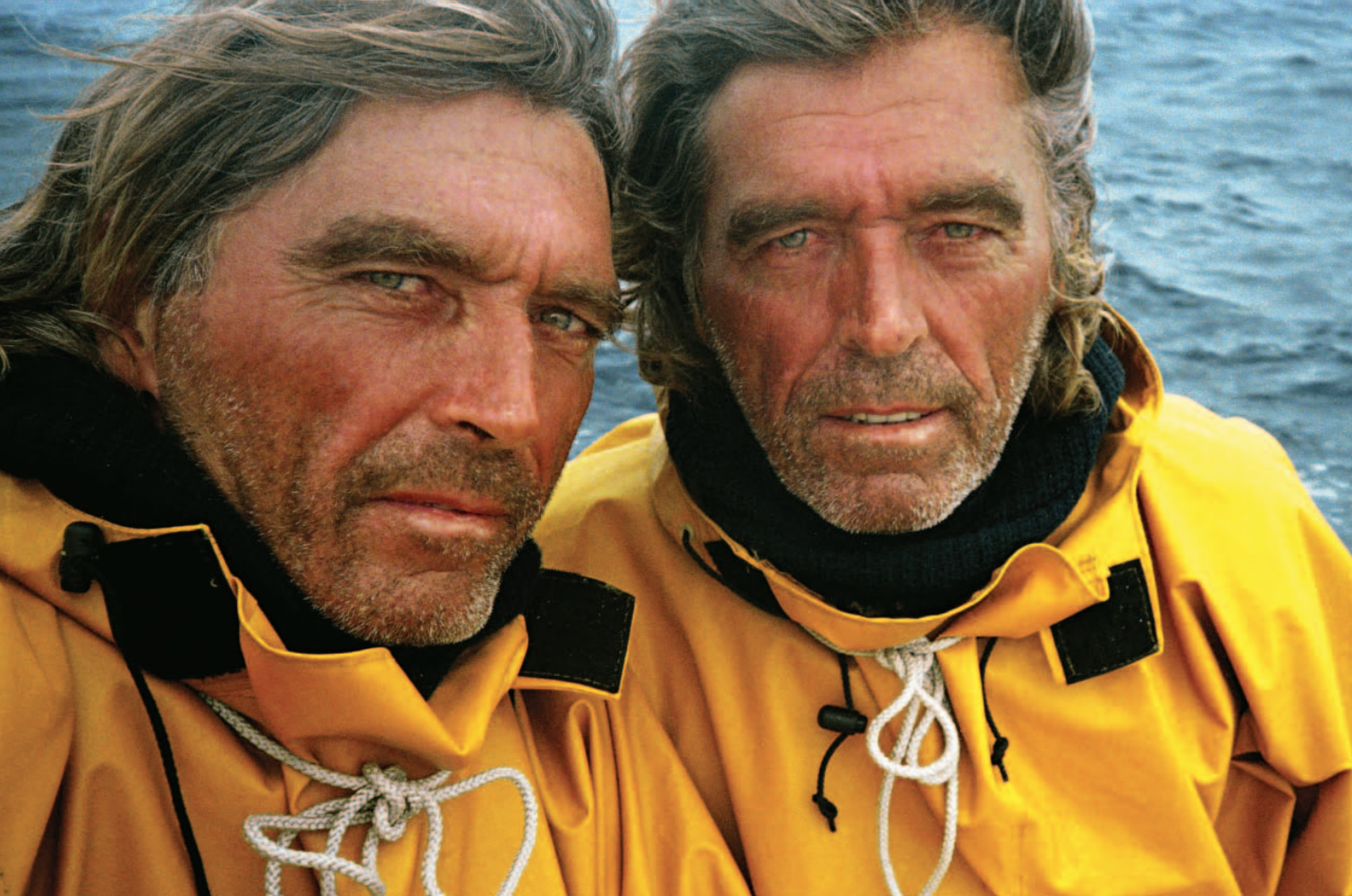 I don't know what to make of this extraordinary film that fills me with joy and reduces me to tears within an hour, but better judges do, and Inside Outside has subsequently been shown at major film festivals around the world, receiving awards at San Francisco and Moscow. For me, it is the ultimate filmic statement on twins, the ultimate brotherhood. This is close, scarily close, and this is what my friends, the crazy wonderful Berques, live with and love.
*
March 2007—A friend has a bar in Bidart, and we all meet there for drinks ahead of a workingman's dinner of steak, chips, and cheese. Wine is drunk; the twins are in fine form. Barry McGrath is fixing his boat; it's going to be a helluva summer. I have to fly in the morning, so at midnight Max and Manu pass me a folder of photos. Manu: "For the article. I hope this is what you want." I open the folder and find a wonderful collection of exotic nudes, misty to explicit. I look at the twins, not knowing how to respond.
Fifty-seven-year-old layabouts, already planning their next big adventure, they crack up and answer in unison: "Sea-sex-and-surf! You know the story."