Heading south from Byron Bay, the road winds past some of Australian surfing's most storied towns. The first stop is Broken Head, where Nat Young, Michael Peterson, and several others in the Morning of the Earth crew shredded picturesque sky-blue runners to bits. The next is Lennox Head, another iconic location featured in Morning of the Earth as well as in George Greenough's Crystal Voyager, where the enigmatic Californian captured the first-ever footage from inside the barrel. An hour farther and you hit Angourie, where the late, great Baddy Treloar etched himself into folklore with self-shaped single-fins and savage layback hacks in the pocket.
Continuing south from there, the population density declines markedly, replaced by thick native bushland and long stretches of mysto coastline. Eventually the landscape reveals the Nambucca Valley, the sparsely populated, densely forested, wave-rich region that's home to Asher Pacey. This forgotten slice of paradise is among the last of the surfable subtropical coastlines in eastern Oz to survive a modern onslaught of development and gentrification. In times gone by, the region was famous for dope-growing outlaws who straddled a blurry line between bohemian and badass. Many of these characters—and I've known a few—surfed. Most slept with at least one loaded gun under their beds.
After turning off the highway and heading for Pacey's place, I pass through Bowraville, a tiny town with a large Indigenous population, which sits inside an area ranked among the most socially disadvantaged in Australia. With its old-fashioned farming culture—and the essential workers who keep it going—it is subject to the kind of racial politics you'd more commonly associate with pre–Civil Rights Act America. The town is perhaps best recognized as the home of one of the greatest National Rugby League players of all time, Indigenous footballer Greg Inglis. Infamously, it's also known for the Bowraville Murders, in which three Indigenous teenagers were slain in the early 1990s by a suspected serial killer who escaped prosecution after a sloppy investigation that many, including those in the police force, claimed was tainted by racial politics.
After passing through the colonial architecture and shop fronts along Bowraville's main drag, I take a potholed road across a series of low-lying bridges, which are still covered in mud from the recent catastrophic flooding that struck this region along with the rest of the Northern Rivers of New South Wales. The cratered asphalt soon turns to dirt and begins climbing through the densely forested foothills. I pass fallen trees from the flooding and skirt ruts big enough to ruin a modest four-cylinder car like mine as the road continues to snake endlessly uphill in the darkness.
I'm deep in a part of the country I've never visited before, and I start losing faith that I'm headed in the right direction. My phone reception flickers between nothing and one bar. Somehow I manage to get through to Pacey. His cheery voice boosts my spirits. He asks me to describe my surroundings. I do my best. To my eyes, the landscape outside my windshield looks like a random stretch of nondescript bushland. I mention a few random objects and landmarks and Pacey discerns exactly where I am. "Ahhh, yep," he says. "You're on the right track. When you can't go any farther, hang a hard left and follow the track and you'll pop out at my place."
I almost laugh out loud at the vagueness of the directions and the ease with which I could take a wrong turn and find myself lost with no reception. As I press on, the dirt road becomes a goat track barely wide enough for a vehicle. When it ends, I hang a sharp left as instructed and gently roll down a haggard driveway, where I'm greeted by Pacey and his brother, Rhys. A full moon, bright orange in color and streaked with clouds, is also there to greet me. It's a view as majestic as any you're likely to find on this grand continent, taking in the majority of the Nambucca Valley—from Scotts Head in the south to Valla in the north.
I'm handed a cold beer and we stand on a veranda made from a fallen tree, taking it all in. The main house is, in reality, a shack, exactly the kind of abode this part of the world is famous for in Australian folklore. It's the sort of place you might have found Ned Kelly, Ben Hall, or some other such bushranger living in at the turn of the 19th and 20th centuries.
Inside, I find one main room with Pacey's bed in the corner, opposite a potbelly stove puffing away. There's a rocking chair, a dining table, and a small kitchen. That's about it. The structure has been made mostly from scavenged timber, tin, glass, and other materials. The doors are bulletproof, having come from an old bank, and the windows are installed upside down "because they work better that way," says Pacey.
West of here, the roads deteriorate further and the characters become more rugged. I can only imagine who might be living deeper in the forest—and in what conditions. Indeed, it was within this same terrain, just a few hours south, that the convicted murderer turned infamous fugitive Malcolm Naden spent seven years living on the run from police in the mid-2000s, surviving in shacks and other hideouts.
Pacey's living standards are what I would call rudimentary, almost identical to those preferred by the original Country Soul crew of Young, Treloar, Terry Fitzgerald, and their ilk of the late 1960s and early '70s—and for much the same reason. Like his forebears, Pacey wants nothing more than to live cheap, surf lots, leave no trace, and exist at cross-thread to the consumerist-capitalist war machine. Peace, love, pits, and mung beans was the formula back then and remains the case today.
This ramshackle hut, powered by solar and "cloud juice," has allowed Pacey to circumvent the debt bondage that has captured most Australians and Americans. And while he might not have a suburban McMansion with the latest mod-cons, he does have all the incredible infrastructure, healthcare, and social-welfare benefits that are characteristic of this here worker's paradise of Australia.
Adjacent to Pacey's shack sits his father's. Pacey's dad is Indigenous Australian and was orphaned at a young age and placed in the care of the state. Indigenous Australians top every category of social disadvantage in this country, with a life expectancy eight years lower and an incarceration rate seven times higher than the general population. Pacey's father also came of age alongside the Stolen Generations—children of Indigenous descent who were removed from their families by Australian federal and state agencies and churches in a despicable practice that spanned nearly a century. Official government estimates suggest that, in certain regions, between 1 in 10 and 1 in 3 Indigenous Australian children were forcibly taken from their families and communities between 1910 and 1970, generating a virulent strain of intergenerational trauma.
The fact that Pacey is only one generation removed gives you an idea of how fresh the damage is—and perhaps a sense of the childhood experiences that his father has spent much of his life grappling with. For a period, he lived in the wilderness and would pick Pacey and his brother up from a nearby river mouth in a tin motorboat to take them surfing. Rhys also recalls an entire year during which their father ate nothing but ice cream. "That was during his opioid phase," he says. Over the course of the night and morning I spend with Pacey, his father never emerges from his shack.
Pacey's mother, meanwhile, is the daughter of a dairy farmer from Dorrigo, a arming town west of the Great Dividing Range that separates the Nambucca Valley from the endless wheat fields and livestock pastures farther west. After his parents split, Pacey and his siblings spent time living in almost every town in this region and have family and friends dotted throughout the valley, giving them the best intel imaginable on the famously fickle, though world-class, sand deposits that accumulate inside the many nooks and crannies along the coastline.
While Pacey's Indigenous heritage is not a visible part of his "brand" or "identity" as a pro surfer, it does play a significant role in his day-to-day life. He and Rhys are custodians of the country in these parts and are as knowledgeable as anyone you'll find when it comes to the flora and fauna of their traditional lands. They have cultivated a thriving array of fruit trees and vegetable crops on their property, which allow them to live semi-self-sufficiently. Rhys has also been employed for two decades by the government as a National Parks and Wildlife Service officer to patrol and maintain their traditional lands.
For Pacey, the responsibility he feels toward Indigenous people finds its mark in the advice he passes onto groms and the work he does at the odd community workshop for at-risk Indigenous youth. He's not likely to talk much about his impact, and there's no evidence of this work on his social media channels, but his presence has been keenly felt among those he's helped over the years.
"I remember the first time I met him was during this Indigenous [workshop], making these alaia boards from local trees," recalls Lungi Slabb, the ultra-stylish Indigenous surfer from Fingal Head, just south of Coolangatta. "We all went surfing with him afterward and I watched him surf these crazy wooden boards, and from then on I loved his style and the way he surfs. I wanted to be like him. He's definitely one of my favorite surfers to watch on the points because of his style and all the different lines he takes. It all looks so effortless."
Eternally cheerful, equanimous, and supremely content, Pacey might be the most grounded person I've met in my 15 years working in the surf industry. One thing he is not, however, is verbose—at least about his own wave riding. Surfing is just something he does, and does really well, but he'd rather not talk about it. In conversation, I get the sense that his elite abilities in the brine have had the effect of distinguishing him from ordinary folk—and have led to a kind of preferential treatment that he detests. Pacey would rather be another face in the crowd than placed on a pedestal, but his surfing will always set him apart.
"It'd be hard to dispute that there are better tube riders around than Asher," says 2012 world champ Joel Parkinson. "He always seems to be on the best waves. His knowledge and positioning is amazing. When the waves get good, he's on the good ones. The standout on a twinny, tube riding. Dunno how many years straight he's been riding them, but he throws them around like most people wish they could throw a thruster around."
During the peak of his career, Pacey spent more than a decade living on the Gold Coast at a time when the local council's decision to start pumping sand from the mouth of the Tweed River had given birth to what is today known as the Superbank. This was before social media and webcams, when an onto-it surfer could still score relatively uncrowded waves of a mind-melting variety.
"There were windows," Pacey says, with typical understatement, and smiles. Five-, 10-, 15-second barrels were not uncommon during those years, and Pacey charged his crystals in more than his share. The most memorable sessions were under moonlight, he says. For three consecutive nights, he surfed six to eight hours under a full moon before "crumbling."
Back then, he was also among the most progressive surfers in the world, pushing his cutting-edge thrusters through all kinds of aerial rotations and fin ditches. As he's matured, however, so have his tastes in board design and line approach. These days, he rides a diverse array of twin-fins, asymmetrical designs, and whatever else tickles his fancy. The aerials are gone, replaced by classical lines, fluent carves, lightning speed, perfect positioning, and a propensity for getting really, really pitted.
He exists in the category of pointbreak specialist, right there with the all-time greats—Fanning, Parkinson, Peterson, Bartholomew, et cetera—and has a finger on the pulse of sand formations and swell lines from Forster to Noosa. When the data on the swell forecasting apps align with the whispers he's been getting from whatever stretch of coast he's plugged into through his human network, he'll pack his van, leave under the cover of darkness, and pick the eyes out of it until the east-coast onion runs its course. Then it's back to the shack for a cold beer and some fresh fruit from the tree.
"He's a good planner," says Parkinson. "That swell there, this tide here, that tide there. The swell will turn and they'll head right to it. He's everywhere where the waves are good, and he's got great knowledge of everywhere he turns up. He's always on the spot."
A couple of days after the aforementioned Kirra session with Parko, in fact, and a few hours south, Pacey was in the spot again, turning up at a hard-to-reach Pipeline-esque beachbreak where he drove a 5-foot twin-fin through a series of obscene, crystalline wormholes. "The shit he was doing was psycho," says Harry Triglone, the filmmaker behind the Fun Boys series, who on that day dropped the lens for a stick and a couple of pits. "He was doing these backside double hand drags in the pit, riding the shortest, flattest twins. It was nuts."
As hard as it is to get Pacey waxing lyrical about surfing, he's happy to harp on about some of his other passions. For as long as he and Rhys can remember, they've been collecting crystals around the country, beginning with the hillsides near their home. As they've gotten older, these crystal voyages have gotten more grandiose. Just before I arrived, they tell me, they'd undertaken a 3,100-mile round trip to the endless expanse of desert and dirt that is Western Queensland. Once there, they spent a week sifting earth in stifling heat and cooling off in a creek, hoping to find smoky quartz and topaz.
They're far less attached to finding the crystals, it seems, than they are to the adventure itself, which Pacey likens to his relationship to wave hunting. "It's a lot like surfing in that way," he says. "The in-between adventure with your mates and all the stuff that goes on around it are the best bits. The crystals are just the cherry on top."
Everyone who visits Pacey leaves with a handful of crystals, and I'm no different. When day breaks the next morning, he jams several into the soil of the pomegranate seedling he gives me.
I poke my head out of the swag on Pacey's veranda to find the orange moon replaced by a sublime orange sunrise. Pockets of mist sit in craters below us, and I realize I'm nowhere near as far from the coast as I'd thought. The road had been long and winding, but I can see now it had been coiling around a foothill. The length of the drive must have been exacerbated by the snail's pace I was making.
The vista is mind-blowing. Pacey says his father first spotted this land while hang gliding off the ridge behind it. He points out the small towns to the south and north and names a few of the seasonal waves in the region. While there are no Angouries or Lennox Heads here, there also kind of are, at least when the sand and swell direction align.
A home very literally among the gum trees has its challenges, too, Pacey tells me, particularly as Australia grapples with increasingly extreme weather events. The height of his plot above sea level means it was spared from the flooding that destroyed so much of the region weeks earlier, but he, his father, and his brother weren't so lucky during the "worst ever" bushfires that enveloped the east coast in the summer of 2021.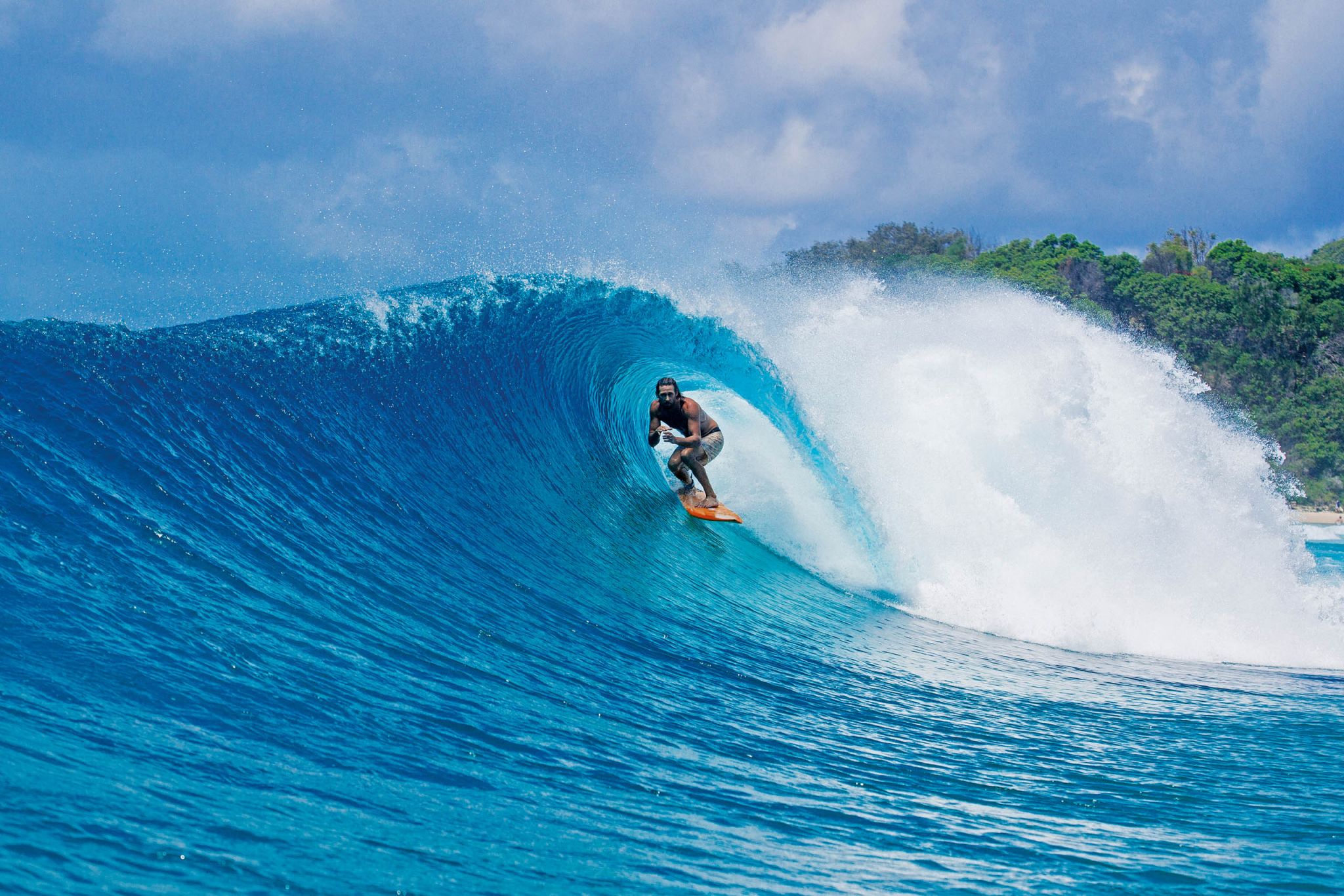 His dad woke from a nap one day to find the ridge behind their land ablaze. Pacey was in the United States at the time, so it was left to Rhys to rush to their father's rescue and save the property with his masterful handle on bush knowledge and back-burning techniques. "It was pretty wild, with embers flying around creating spot fires," recalls Rhys.
When he got a hold of Pacey in America mid-firefight and asked him what he wanted salvaged, the reply was, "Just Dad." Rhys still managed to jam a few of his brother's best boards into the car for the trip down the ridge. "It's not as scary now that we've lived through one," says Pacey of the threat of fires. Rhys looks like he's about to say something more, but stops.
We have a morning coffee and suck in the serenity. "The perfect spot for watching another day go by," says Pacey, cracking himself up at the literalness of what he's just said—for that is exactly how he will spend the following day, as he does most days: watching the sun rise and rise, then set and set. It's a simple existence for a guy who has been smart enough to see through the shiny trinkets and accompanying misery of the mainstream matrix.
"When you're up here, it's like none of it's even there," he says as he sips his coffee and scans the valley below. With that, I shake his hand, start my car, and begin my gradual descent down the goat track, onto the dirt road and finally the highway, back into the maelstrom.
[Feature image by Swilly]