It's the late 1980s in Seinäjoki, Finland, a small town in the woods 100 miles from the coast. A snowstorm is raging outside and everything is frozen. A young Arto Saari is inside his home, watching TV. Magnum P.I. is on and a mustached and aloha-shirted Tom Selleck is on the case, cruising paradise in a red Ferrari. This is Arto's first vision of Hawaii. He has no idea that the tropical island on the screen will one day be his home—only that it looks a hell of a lot different than what's outside his window.
Jump to the late 90s: Arto has become a skateboarding phenom. He goes pro at the age of 17, possessing a rare combination of technical skill and eye-pleasing style. Think Dane Reynolds, but on four wheels. He drops out of school and immigrates to Huntington Beach, where his skating isn't forced into hibernation nine months out of the year due to snow and ice. He's taken under the wing of Ed Templeton, who shuttles him and British transplant Geoff Rowley around Southern California to hunt big rails, gaps, and ledges. Arto doesn't know English yet, but he's quick with the slang. More importantly, his skating speaks for itself.
By 2002, Arto is fluent in English. He's a fast learner. His sponsors send him around the world. He's on magazine covers, has won Thrasher's esteemed Skater of the Year award, and has put out two face-melting video parts—the most notable being the closer for Flip Skateboards' Sorry, released that year, in which Sex Pistol Johnny Rotten introduces Arto with his patented sneer: "He almost died twice while making this film for you ingrates out there." One of Arto's near- death experiences is a head slam that leaves him lying at the foot of a rail in a pool of his own vomit, blinded for 30 minutes, a temporary amnesiac, and concussed in the hospital for two days.
He recovers, continues to go hard—and get hurt. During this time, he picks up photography to document the new places skateboarding is taking him. "I wanted a way to be a part of skateboarding, even if I couldn't ride for a few months while recovering," he says. "I still wanted to be in the van. So I started shooting friends and skate action for fun." When not hurt, Arto continues to skate progressively. Bigger rails. More covers. More groundbreaking video parts. More slams.
"Around 2013, I had to put down skateboarding because I couldn't do it the way I wanted to anymore," he says. "It was a struggle to let it go, but I had to, due to my injuries. I was like, 'What am I going to do?'" With a strong portfolio built on a decade of experience shooting skateboarding, commercial work starts to trickle in. Arto realizes he can turn his hobby into a career, possibly one that could provide for his partner and their new child. The Saaris just happen to be living in the dead center of Hollywood, right at the intersection of Hollywood Boulevard and Fairfax, a prime location to be a lifestyle, fashion, and skate photographer.
"I was still a professional skateboarder at that time, or at least pretending to be one to keep my sponsors happy," says Arto, "but I was enjoying making pictures more than trying to do a trick. I was getting more joy from watching someone else do a trick."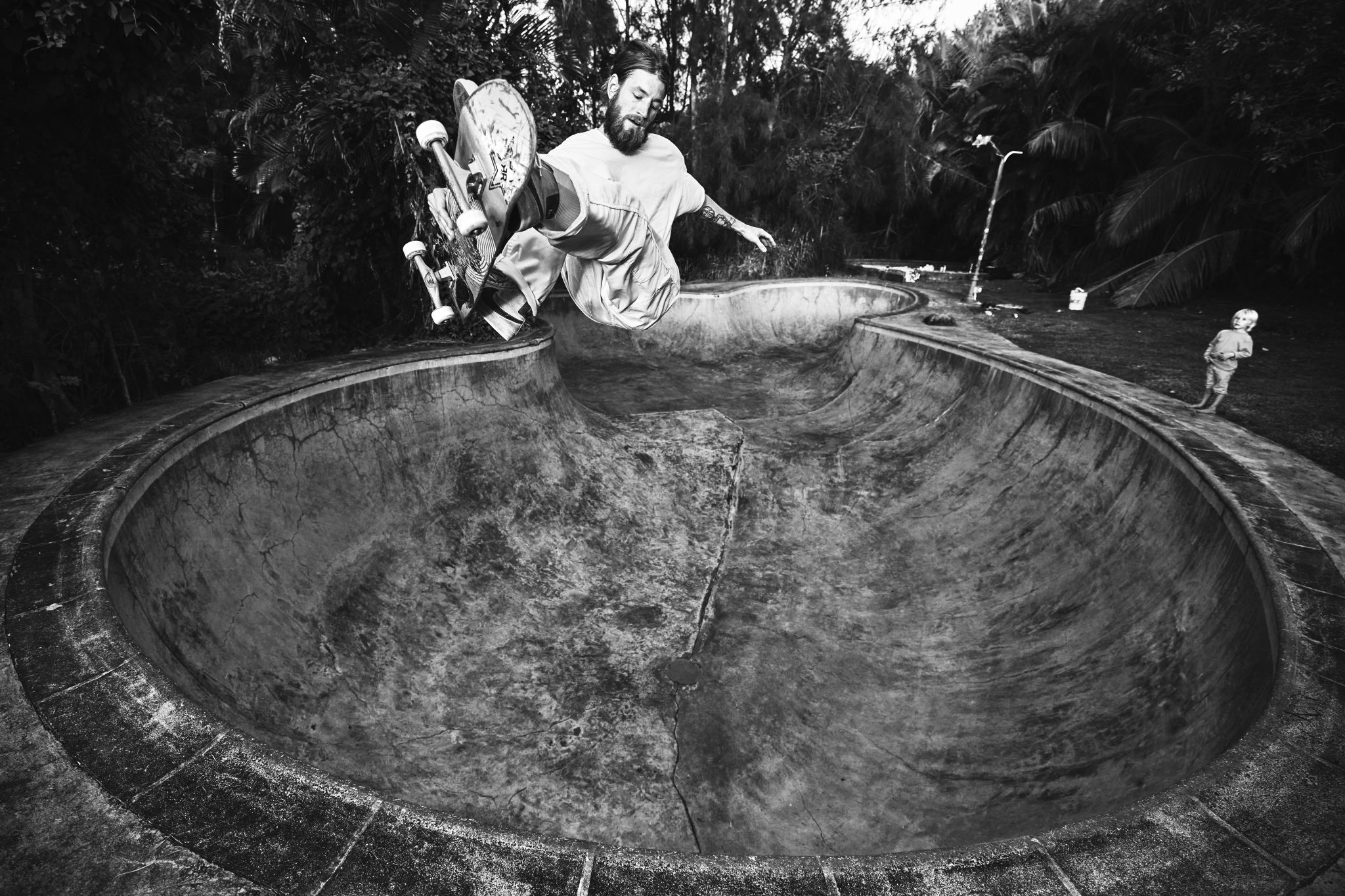 Slowly, Arto's schedule becomes booked with shoots. In 2016, he goes to Sayulita, Mexico, for a wedding. Mexican pro surfer Kalle Carranza convinces him to go for a surf, puts him on a longboard, and pushes him into a 1-foot wave. "I felt that little bit of power and I was like, 'Whoa, I'm gliding. What's this?'" Arto says. "At 35 years old the surf bug bit me hard, all because of that one tiny little peeler."
Arto returns home from Mexico and heads directly to the now-defunct Burton Snowboards/Channel Islands shop on Melrose Avenue, asks for the biggest board in stock, and walks out with a bright-blue Water Hog, CI's version of a mini-longboard, under his arm. Arto leaves for the beach at dawn every morning. It takes him an hour to reach the coast. He suits up and paddles out no matter how shitty the waves are. It takes him three hours to get home in traffic. Turns out Hollywood is not a prime location to be a surfer.
"It wasn't working. I didn't feel like I was progressing," says Arto. "I did that for about a year until I was like, 'Alright, we're moving to Hawaii.' At least there, surfing would be sink or swim. We didn't really have a plan. Didn't really know anybody. We just packed up, flew over, and figured it out. Our only plan was to raise our kids and surf."
On a whim, the Saaris settle in a house on the North Shore— obviously a prime location to be both a photographer and a surfer. "I had never shot a surf photo in my entire life," he says. "But one of my passions has always been landscape photography, and most of my experience comes from shooting skateboarding action, so surf photography is like those two combined. You're shooting beautiful landscapes with action going on."
It's 2022, and Arto has been a North Shore resident for five years. Words like "shoots" and "mahalo" have been added to his multilingual lexicon. He is also surfing. A lot. He's even paddled into a wave at Waimea. As if incepted by Selleck, his wardrobe consists of a variety of Hawaiian shirts. He's broken through to a community that's justly wary of outsiders due to its high resident turnover. The small-town feel reminds him of growing up in Finland.
"I started roaming around the bike path for hours," he says, "shooting Pipeline from the beach, not knowing anything about the wave or who anybody was. To me, all the characters at Pipe are interesting, especially how they toy with that incredible power that can kill you. So I'd take their portraits, right from my bicycle. I fell in love with the culture, the people, the community. Everything about surfing's history and present here became interesting to me, and I wanted to document it all."
[Feature image: The waves in the foreground during this big day at Sunset remind me of a staircase. Prior to moving to the North Shore, most of my shooting experience was in cityscapes, where architectural settings are constants, so being able to play with light reflecting off of dynamic surfscapes became an enjoyable challenge.]