[Editor's note: This portfolio was originally published in TSJ 27.4 in August 2020. We've republished this feature digitally to pay respect to Art Brewer, who died on November 10, 2022 at the age of 71. Please consider donating to Art's memorial fund by clicking here]
It was 1992. We were three days and 1,300 nautical miles out of Oakland, smoking a joint on the fantail of the SS Lurline, when it occurred to me I knew precious little about Art Brewer. Of course I knew of Art Brewer—had so since I'd picked up my first issue of Surfer in 1975 and started seeing his photo credit, plus the occasional location shot of him at work peppered throughout the mag.
To me, then, Art was surfing's equivalent of a frontline combat photographer: same graveyard swagger and aviator shades. Only he wore flip-flops and parked in front of some of the world's most exotic breaks with a Century 1000, alongside the equally exotic likes of Lopez, Reno, and Bunker Spreckels. Most of my surfer buds wanted to be Lopez. I wanted to be Brewer, the rakish god-maker who I assumed got paid in drugs, women, and gold Krugerrands for his services.
Fast forward to the summer of 1989, my freshman year as a Surfer editor, tasked with launching a spin-off mag called Beach Culture. I was introduced to Art as my photo wrangler. He literally blocked out the sun, all 300 pounds of him. On top of that, he seemed to be one aggrieved, foul-mouthed sumbitch, especially on deadline and when dealing with incompetent photo assistants and other photogs he felt were kicking his rice bowl. His special wrath of screaming hell was reserved for brilliant but flakey water-housing makers who didn't deliver by the date promised.
Over that summer we drove around Southern California and produced more than a dozen editorial shoots for Beach Culture, some award-winning, one of which had us on the film set of Red Surf in San Pedro shooting Vince Klyn—with Gene Simmons holding court and asking: "What's the difference between a rock star and a pig?" (Answer: a pig won't fuck a rock star.) As a writer, I was quickly press-ganged into becoming Art's grip and human light-stand. I found this helpful, since I was mostly ignored by the subjects until it was time to interview them, by which point Art had thoroughly softened them up.
The best part was driving between shoots, when I could ask Art about late '60s Surfer mag under Severson, all his trips, and the legendary surfers he'd worked with. His accounts were invariably understated, fascinating, and devastatingly disillusioning. It seemed most of my surf heroes were either prima donnas, scam artists, drug casualties, or under federal indictment on a reverse sting. Like a veteran cop, Art knew everybody and their dirty laundry. He was oldschool Laguna Beach, and lived by a code that deemed most legends suspect until proven otherwise. Obviously, the unprinted backstory—unembellished and riddled with ambiguity—was often the better tale.
Back to the ship. I had wrangled us one-way passage aboard Lurline for a ride-along from Oakland to Honolulu in the owners' stateroom on the pretext of doing a piece for Smithsonian magazine. The ship was an 826-foot "RoRo" (roll-on/roll-off ) container carrier, flagship of the Matson line, and the fifth Lurline in the company's 90-year history. The plan was to do a story on the last remnants of the once-mighty U.S. Merchant Marine, and Art had dutifully hauled aboard a short ton of photo gear to create a full-on feature. Most of it stayed in the cases, however. With his bad knees and tweaked back, he spent the better part of the trip parked in a Barcalounger, kacked out on prescription pain meds and red wine. As a preventative, he handed me a pair of firearms-grade earplugs for the snoring.
All up, it was an easy crossing…glassy swells, gentle trades, a process of slowing down. In the evenings, he and I would retire to the fantail of the ship, where they had chained down the heavy utility rigs—the Cat excavators and cherry pickers—bound for island infrastructure maintenance. There, we'd puff a spliff while zoning out on the prop-wash phosphorescence, 50 feet below. No barrier or lifelines, just a straight drop to oblivion.
I, prone to paranoia when high, had a shiver imagining Art, playing around like he was going to toss me overboard, accidentally slipping, then dropping me suddenly into the warm, dark Pacific, with the Lurline steaming along at 22 knots, all but two of the crew asleep. That's when I learned to butt-walk myself back from the gray, steel ledge.
Later, back in the room, Art chuckled to himself. "This trip is all a surfer scam, isn't it? Classic." I protested of course not, I was a pro, but deep down I knew he was right. He'd scammed with the best—Bunker in South Africa, Rory Russell and Bruce Valuzzi in Morocco, Buttons and Danny Mack in Costa Rica—and there was a long tradition of surfers stowing away on ships to postcard surf destinations. So I took the backhanded compliment and realized that I'd become yet another shell of a story on Art's puka string.
What follows is a sifted pick of Art's personal favorites, often one or two frames to the side of an iconic image that was previously published. The postscript I'm happy to report is that at age 67, Art is fit, cross-trains religiously, and is back riding his mat and paipo regularly.
[All captions by Art Brewer]
Mark Richards, inside Sunset, 1977
I think that was during a contest. It was after I came back from South Africa. I went back to Surfer and they hired me to work in the lab. I sort of helped out reorganizing and then, the following year, I went to Australia. I got Surfer to send me for three months. I had become friends with Terry Fitzgerald, Peter Crawford, and Wayne Lynch. I came back with this huge body of images and, in the end, they did one article and used maybe 12 images. Really underplayed.
Les Potts, Honolulu, 1972
That was the Crater Festival in Honolulu and Les Potts was doing his air-guitar routine. Diamond Head crater was a mass of people smoking weed and on LSD and Leslie was the full-on Maui guy who had hung out with Hendrix and was one of people featured in Rainbow Bridge.
Flippy Hoffman, North Shore, 1973
Flippy came marching down the beach at Pipeline with his big gun with red panels on it. I have shots of him and Gerry together, before they're going out. Flippy was one of the guys who, along with Jeff Johnson, pioneered surfing the outer reefs off Pupukea and Pipeline. Flippy was a super waterman, a fearless surfer and diver, and was surrounded by these great people, from his brother Walter to Wayne Schafer to Phil Edwards.
Gerry Lopez, North Shore, 1969
That's when Gerry was riding for Hansen. Spooky lookin' board. It's almost freakish…all belly nose-to-deck in the very front three quarters. And then the back end's all down rail. It's sort of a statement. Definitely a dangerous board.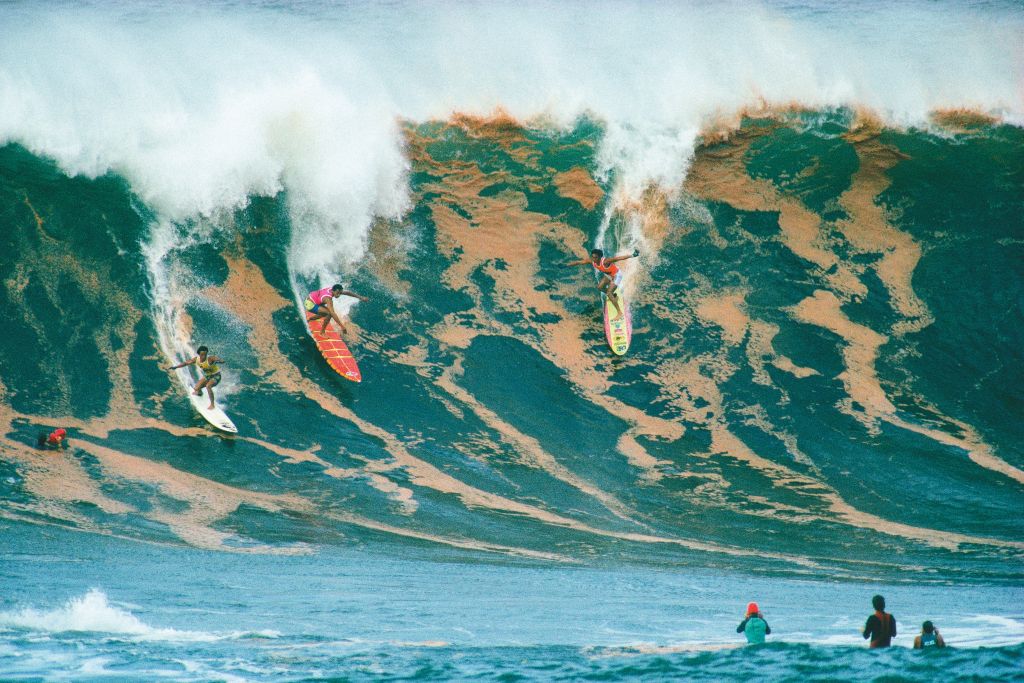 Dennis Pang, Marvin Foster, Mark Foo, Waimea, 1988
It was overcast and it had rained really hard the night before. Waimea River had broken through and the ocean was red from runoff. Don King and Erik Aeder were out swimming, getting water shots. I was on my way to Haleiwa to do something, but I ended up pulling up on the road and watching it for a few minutes. It wasn't ideal for shooting—it was dark and dirty. So the image wasn't optimum for publishing and I never bothered to show it to the magazine. But it was classic because there was Don King, in the face of the wave, and these other guys were sitting off in the channel with one of the first skis at that time. And then there's also Dennis Pang, Marvin Foster, and Mark Foo. Marvin and Mark, long gone.
Angie Reno, Sunset Beach, 1970
Angie was a Malibu kid, but he was doing some stunt work and was coming over and spending the winters in Hawaii. He was always out to prove himself…catch a bigger, better wave. The only thing anybody had seen like this was a 40-foot fade that [Jackie] Baxter had been known for in 1969, but it wasn't on as big of a wave. But this one of Angie, it was like big, big Sunset. And here he is fading as deep as you'd ever want to go.
Bill Hamilton, Cojo, 1976
This is between takes, during the filming of Big Wednesday, when Bill was the surfing double for Jan Michael Vincent, along with Ian Cairns. I went up to Cojo for a couple days. I knew MacGillivray and Jack McCoy, all the surfers. And it was like a bunch of guys hanging out at the beach and the rest of them were shooting different scenes, whether it was coming down through the Malibu Wall or surfing out there at Cojo. It was beautiful weather, great temperature, beautiful girls running around the beach—people getting shit done and making a movie.
Tom Curren, The Ranch, 1985
I went up there with Marty Gilchrist, who was one of the California Rip Curl guys. Marty had access to Governments through the Bixby, but he could only take one other person. Tom ended up going in the trunk to get in. [Tom] Servais was with me and we came up by boat. I packed up the 1,000 millimeter lens in a waterproof bag with my gear and tripod and jumped in the water, and swam to the beach through the "deep" channel there, which is spooky as fuck because that's where the whites like to hang out. I found a couple different angles from the beach and they ended up as some of the best shots of my life. I made out like a banshee on that trip.
CR Stecyk, California, 1989
That's at Secos in the tide pools. CR and I first met when he and Miki Dora came down to Brooks Street in 1967. CR says that I was part of the hecklers who were harassing them. I was 14 or 15, something like that. Later I was working with the Hobie surf team out here and, when they had the Santa Monica/ Malibu Hobie team, they'd come down with CR and he and I connected through Marty Sugarman with Skip Engblom. We became lifelong friends and collaborators.
Corky and Cheryl Carroll, North Shore, 1969
Corky and his first wife, Cheryl, came and lived in the house with Spider and I and John Severson and Louise and the girls—right there in front of Pupukea. Corky was there in October to surf Pipeline and I think he might have surfed in the Duke that year.
Bud Browne, North Shore, 1970
"The Barracuda." This was during the Duke contest at Sunset. Bud had been out swimming, shooting 16mm with his Bell & Howell, a little compact handwind, which he basically built into the bladder of a volleyball, then rigged with a goggle and a hose clamp. The lens went up against the goggle and you'd pull it back and stretch the backend of the bag and tie it off . Then he'd tie a rope to his waist with this little plastic belt and he'd swim out and shoot. Bud was an amazing waterman. Great person, great friend, great mentor.
Buffalo Keaulana, Makaha, 1990
Buffalo basically saved my ass in 1971 during the Smirnoff contest at Makaha, when it was getting big. It was about 18 to 20 feet. I went out and was shooting and got sucked into the bowl, took a set on the head, and lost my air mattress. But I continued to shoot and I ended up with a couple shots of Randy Rarick and Peter Drouyn from the inside, where it was all backlit. Terrible lighting but I got a couple shots. And Buffalo saw me struggling to get back in. He comes over in his Boston Whaler and picks me up. He's got one of the top suits from Smirnoff in the boat and he goes and lines up, out past the bowl, on this big-ass set, and he starts running down the wave in the Whaler. And then the wave starts to pitch out, and throw, and Buffalo lets off the gas. He lets the wave sort of come to us and it almost touches the transom of the boat. Then he gives it gas and just scoots out in front of it and goes around the bowl. And the guy shits himself. But Buffalo's cackling. We get right in, close to the beach, and I go, "Thank you," and jump off and that was it.
Bill Hamilton and Herbie Fletcher, Maui, 1970
Bill and Herbie were doing a "Super Session" and we had this big swell that was supposed to come for the event, which it did. But it was too big and too bumpy for Honolua, because it was coming extremely out of the north. Osterizers was closer to Lahaina and it was basically like a Backdoor/Pipeline type deal. There was this all-star cast, but everybody was in these old, beat-up cars, following each other around, looking at the surf spots, trying to decide where to have this contest.
Jock Sutherland, Waimea, 1969
It was just one of those evenings…the beginning of a swell and it wasn't really big. I went down to the Bay and saw Jocko out there taking off . He'd switched stance to regularfoot instead of goofyfoot, which was his natural stance. Jocko was always known for doing goofy shit like that. This was before he went into the army.
John Parlette, Laguna Canyon, 2007
John was an ex-Laguna lifeguard, master craftsman, and waterman. He traveled through the South Seas— just a great, all-around guy. What I really remember him for was all the paipo boarding that he used to do. He was 6'6″, a big, tall guy, and he was riding this 53-inch-long paipo board at Sunset Beach. And he was catching set waves with one fin and then standing up and surfing the paipo. When I was growing up in Laguna, instead of having a babysitter, my mom would take me down to Oak Street in the morning, give me 75 cents, which would buy me a bean and rice plate from the back door of the La Paz restaurant. Then she'd just leave me there and the lifeguards, like John, were our babysitters.
Tom Stone, Rocky Point, 1970
This is the year after Tom had his first cover, which I shot. He was out at Rocky Point and was riding his balsa Diffenderfer. He was taking off from the right. But I got a second cover of him in 1970 on the North Shore again, on that balsa board. It was a land shot this time instead of a water shot like I had gotten at Pipeline.
Mikala Jones, Andaman Islands, 2002
I put together a trip with Mikala Jones, Kasey Curtis, Brian Conley, and Holly Beck. It was a ten-day boat trip to the Andamans. We were trying to get permission to go into the Nicobars, which never actually happened. The Indian government doesn't want to save or rescue anybody down there. There's a tribe of people, the Jarawas, that are hostile to outsiders. There have been yachts that they've found floating at sea, which have been gutted and people have been murdered. So you have to be totally self sufficient if you go down in there. The surf never really materialized. We got a few waves at a couple different spots, but this was actually about a two-foot day in late evening. Everybody was tired of hanging out on the boat so we went out for a surf and Mikala just ripped the lip off. It became the shot—a two-foot wave that became the cover of Surfer. As they say, "Don't ask, don't tell."
Owl Chapman, Pipeline, 1971
Owl was one of the premiere players on that swell. It was pretty much Sam Hawk and Owl and James "Booby" Jones. All these guys were surfing without leashes, right, and it was breaking like we'd never really seen it. I'd seen it big but never with the same quality of waves, coming from the right direction out of the west. It was as good as it gets and as big as it gets—coming from Japan, special delivery.
Gerry Lopez and Grubby Clark, North Shore, 1990
That's on the back of Gerry's porch at Pipeline. Grubby always hated to be photographed but I pulled it off . I got three different shots: one where they're sitting straight, one where he's flipping me off with one hand, and then one where he's flipping me off with his other hand. Grubby has always been nice to me, but always gruff. He'd always challenge you in a mental sense. So he's not saying "fuck you" to me. He's saying "fuck you" to being photographed.
Michael and Mason Ho, North Shore, 1990
At the Lopez house. Michael took Mason everywhere with him. I have another shot where Mason's even younger and he's in a bicycle seat, no helmet or anything, and Michael had ridden him down from Sunset to check the surf with him. Michael and I have known each other and been friends forever. He never liked to be photographed but he was easy to loosen up in a positive way.
Dick Brewer, Buddy Boy Keohi, Terry Fitzgerald, Rocky Point, 1972
This was a really quick-grab shot. I saw them coming up the beach and I didn't have my tripod and lens all hooked up so I just whipped around and I shot it. That's why it's so poorly composed. Buddy Boy was a full badass Hawaiian stylist who did it all. He and [Jeff ] Hakman were the ones who brought back the first Golden Voice, the Thai weed. It's in Hakman's book. Years later, Buddy Boy was found dead. But, you know, Buddy Boy could be the nicest guy. Big heart, always a laugh. An amazing surfer, just beautiful the way he surfed. He surfed really close-stance, almost parallel at times. A very dainty type of style.
The Storm of the Century, North Shore, 1969
The Swell of '69. Th ese are the remnants aft er that night of huge surf. It had sort of receded a litt le bit, and I was wandering around taking pictures of the houses that had been pushed into the middle of Ke Nui Road and onto Kam Highway. I mean, there was a lot of destruction. Th is is just one of probably 20 different images that I kept over the years. Our house was right in front of Pupukea. We lived right next to Herbie and Dibi Fletcher, Curt Mastalka, and Fred Van Dyke. We slept in hammocks that night, where Sunset School is now, and we could hear all the shit going down, and all the fi re department and the civil defense vehicles going back and forth. The whole ocean was rumbling.
Col Smith, Rocky Point, 1977
This is the "Newcastle" Col Smith. He came to Hawaii sort of out of the blue. Everybody had heard of the other Col Smith, from Sydney, but never this one. He had been befriended by Brian Surratt and some of the other local guys. And he went there and just tore it apart. That shot is part of a 36-shot sequence of him, all exposed at a slow shutter speed at Rocky Point. He was big into the channel bottoms before everybody else. He ended up dying from some sort of cancer at 31. Amazing, amazing surfer. Just beautiful to watch.
Rick Griffin, CR Stecyk, San Clemente, 1977
We were going down and seeing Rick from time to time and Craig would take the train down and we'd all get together. Rick was working on his series of artwork that were basically backgrounds for other pieces that he was putting together. It was cool because it was it wasn't like you were hanging out with anybody famous or anything. It was like you're just hanging out with some of your friends and that's what I liked about it.
David Lansley and Bunker Spreckels, Transkei, South Africa, 1975
That's David in the foreground. We were in the middle of the Transkei, after hitting the road in the afternoon, at about 3:00 p.m. We were told that it would take us eight hours to get to Jeffreys Bay, but a guy named Gary Purkiss, who was a narcotics officer out of Durban, had befriended Bunker and, being the wise guy that he was, Purkiss sent us down a wrong road that took us onto all these dirt tracks through the Transkei. David was a pipefitter from Australia who had gone to South Africa to work in the boatyards. He had just been released from prison. He was in for manslaughter because, at a party he was having at his house, some guy started hitting on his wife and got real forward with her. David had taken the guy and threw him out the window or off the balcony and the guy landed funny and died. Bunker found David on the flight from JoBurg to Durban and offered him a job. David was very mild mannered, but a badass. He just sort of absorbed everything and watched everybody's back.