It's a Saturday in mid-January. The north Maui buoy is reading 17 feet at 22 seconds. Jaws is 50-foot on its face and, due to the accompanying 20 to 25 mph winds, can only be towed into. And those relentless trades have clouded the air with a spray-filled haze.
Andrea Moller, long brown hair tied into a ponytail that falls over a black visor, is wearing a black impact suit over her muscular frame with a radio attached to the chest. Her paramedic kit is stowed on a nearby boat, and her tow board rests in the gunnel of her jet ski. She begins her morning by towing Keala Kennelly into a few sets. Then she grabs the rope herself, and her longtime tow partner, Yuri Soledade, pulls her into one of the bigger waves of the day. She then tows Soledade into a heaving left before she takes a break to drive photographer Fred Pompermayer to get some up-close shots. Finally, Moller tows for Soledade again until nearly dark.
The next morning, the swell and wind drop. Surfers swap tow boards for guns. Moller is working water safety, looking after seven women who are each hoping to catch a bomb that might win them the Red Bull Magnitude video submission contest.
Suddenly, Moller jumps on the boat where she's stashed her medical kit to attend to Albee Layer, who is bleeding from the nose after the lip of a wave drove him into his board. She then motors over to 18-year-old Annie Reickert's ski to share some words of encouragement before responding to another medical call: a semi-unresponsive surfer has been picked up on the inside.
It's a long, inconsistent day. In the afternoon, a cold rain starts to fall. Seven hours after first paddling out, Raquel Heckert and Izzi Gomez are still in the lineup. So long as there's a woman out there who could need rescue, Moller remains on the ski.
As sundown approaches and the last surfers come in for the evening, Moller asks Mark Pokini, who's been running safety with her, to surf on the way home. On the 12-mile ski ride back to Kahului Harbor, he tows her into a few at another deep-water reef, Outer Sprecks. Moller arrives at the harbor at dark, exhausted but satisfied.
In those two days at Peahi, Moller gave much more than she took. On the biggest swell in years, she rode only a few waves, spending most of her time acting as mentor, facilitator, tow partner, water rescue, medic, and morale lifter. Many of the newer faces in the lineup might not know who Moller is, or that the path to much of what happened that weekend at Peahi—including Justine Dupont packing a historic tube, the presence of a designated safety and film crew for a women-only big-wave contest, and a 13-year-old becoming the youngest female ever to tow out there—was paved largely by her decades of contributions.
Moller wasn't the first woman to ride a wave at Jaws. That distinction belongs to Maria Souza, a bodyboarder from Brazil who was once married to Laird Hamilton. In the mid 1990s, when Hamilton and the Strapped Crew were pioneering tow-in surfing at Peahi, Souza towed into waves with them. After she and Hamilton separated, a defiant Souza approached a young woman she'd noticed charging big Hookipa. That was 2004, and Moller was only 23 at the time.
"Maria was like, 'Fuck that, I can surf Jaws,'" says Moller. "So when she saw me at the beach on the big days, she said, 'Hey, let's go out there.'"
Moller didn't even start surfing until she arrived on Maui at 18. But growing up on the small island of Ihlabela, 4 miles off the coast of São Paulo, Brazil, she spent her childhood exploring her capabilities in the outdoors. The vacation island was desolate on weekdays, and when she wasn't helping her dad at the boat marina he operated, she'd mountain bike, swim, and windsurf with her friends. Once, she called her dad from a pay phone and asked if he could pick her up on the other side of the channel. On a whim, she'd swum across to the mainland.
Moller and Souza knew that owning their own jet ski was their only chance to get out to Jaws. "The only opportunity for us was me and Maria uniting," recalls Moller, who was then married with a newborn and working as a dive instructor. An immigrant from Brazil, she was still unable to legally work in the United States, so her wages were paid to her husband. Knowing that he wouldn't approve of the expense, Moller didn't tell him when she used cash she'd saved from her tips to go in on a used ski with Souza.
When the two women bought the barely functioning ski, neither of them knew how to launch or drive it. They spent a year at Outer Sprecks, learning how to tow each other in. The ski would sometimes fail in the lineup, and the pair often found themselves swimming it back to the beach.
But they were meticulous in their training. "Because we were girls," says Moller, "we couldn't screw up, because then we [would be] evicted. So we never lost the ski, never dropped in on people. We knew that if we screwed up, we screwed up for all the girls. Even though it was just us out there, we represented [all] women."
One day, in 2005, after a year of practicing at Sprecks, Souza and Moller's ski was on the fritz again and too unreliable to tow. So they decided to take a drive out to Peahi to watch as Dave Kalama, Buzzy Kerbox, Hamilton, and others traded waves.
"I remember sitting in the channel and being like, 'I can do that,'" recalls Moller.
Finally, Eraldo Gueiros put each of them on a wave, and Souza and Moller broke a barrier that many thought impassable. But Soledade, who was part of the second generation of tow surfers following the Strapped Crew, remembers observing Souza and Moller's struggle to claim their place in the lineup.
"I don't think the guys were as much against the girls as they were afraid of them getting hurt," he says. "Back then, it was almost like going to the moon. There were no vests, we had the wrong boards, there weren't even full surf reports. We didn't know when the swell was peaking, we didn't know if we were coming back. It was a complete unknown."
Gueiros' help had been essential to their first session, but to have the men tow them in would create a dependency that Moller and Souza didn't want to establish. If they wanted to be at Peahi, they needed to tow one another. They took a loan out for a brand-new ski, Moller again using her tip money and signing the paperwork in secret.
They soon earned the respect of Peahi mainstays like Archie Kalepa, who began to watch out for them in the lineup. Other tow teams would run circles around Moller and Souza, catching a wave and driving straight out for another, until Kalepa told them to stop.
"He established that if we were in the right spot, it was our wave," says Moller. "He made them respect us as regular surfers."
Around 2006, Souza's interest in risky ocean endeavors began to wane. She and Moller had reached frontiers they couldn't have imagined had it not been for their partnership, including being the first women to cross the 26-mile Kaiwi channel on a standup paddleboard. But Souza was 10 years older than Moller and wanted to focus on other things.
"I think Andrea felt very lonely," Soledade says. "After Maria stopped, it was just her. I felt it was my duty to help her."
On a large swell in 2007, Moller's new tow partner didn't want to go out, so she called Soledade. He'd begun paddling into Jaws—one of the first to do so alongside Marcio Freire, Rodrigo Resende, and Danilo Couto—and invited her to paddle with them. Moller went to his house with the biggest board she had, a 9'0″ Brewer. It was too small. Soledade lent her a bigger board and and they went to the cliff.
"I remember being so nervous that my hands were sore from gripping the board," she says.
Moller caught a couple of waves and had one heavy wipeout.
"She took so long to come up," says Soledade. "Her board was tombstoning. I was getting desperate." When Moller surfaced, she was laughing, her bikini top around her neck and her bottoms down to her knees. "She was butt naked, and I thought, 'Oh, my God, Andrea is insane,'" laughs Soledade. Moller returned to the lineup ready for more. "I knew that day, this girl is something else."
Moller had established herself not only as the first woman to paddle Peahi, but one of the few surfers doing it at all. There was no social media, no sponsors, no contests to validate her accomplishments or amplify her fame.
"It was 100 percent for the adrenaline," she says.
Technically, surfing wasn't even Moller's main sport. She was by then a top-ranked outrigger canoer and standup paddler. She's competed in the Molokai 2 Oahu paddling race more than 40 times—in a one-man outrigger canoe, on a standup board, and as part of the formidable Team Bradley six-man outrigger canoe—winning 22 times.
Her gravitation toward other sports was partially circumstantial: In the early 2000s, there were abundant opportunities for competition, sponsorship, and community in paddling. In surfing, her ocean knowledge could not be questioned, her physical readiness supreme. But the opportunities to progress as a female big-wave surfer? Sparse.
Hitting those walls pointed Moller in the direction of a career that now defines her as much as her accomplishments in other ocean endeavors. Around 2010, Moller enrolled in paramedic school. It would offer her a steady career and, as she had recently divorced, the ability to support herself and her daughter. And as she focused on becoming a paramedic, she faded from the big-wave scene for close to four years.
When she returned to Peahi in 2014, she arrived without expectations. The lineup, too, had changed: Big-wave paddle-in surfing had taken off, and Jaws was filled with the next generation of up-and-coming surfers, including rising star Paige Alms. Moller was energized by the presence of other women in the water.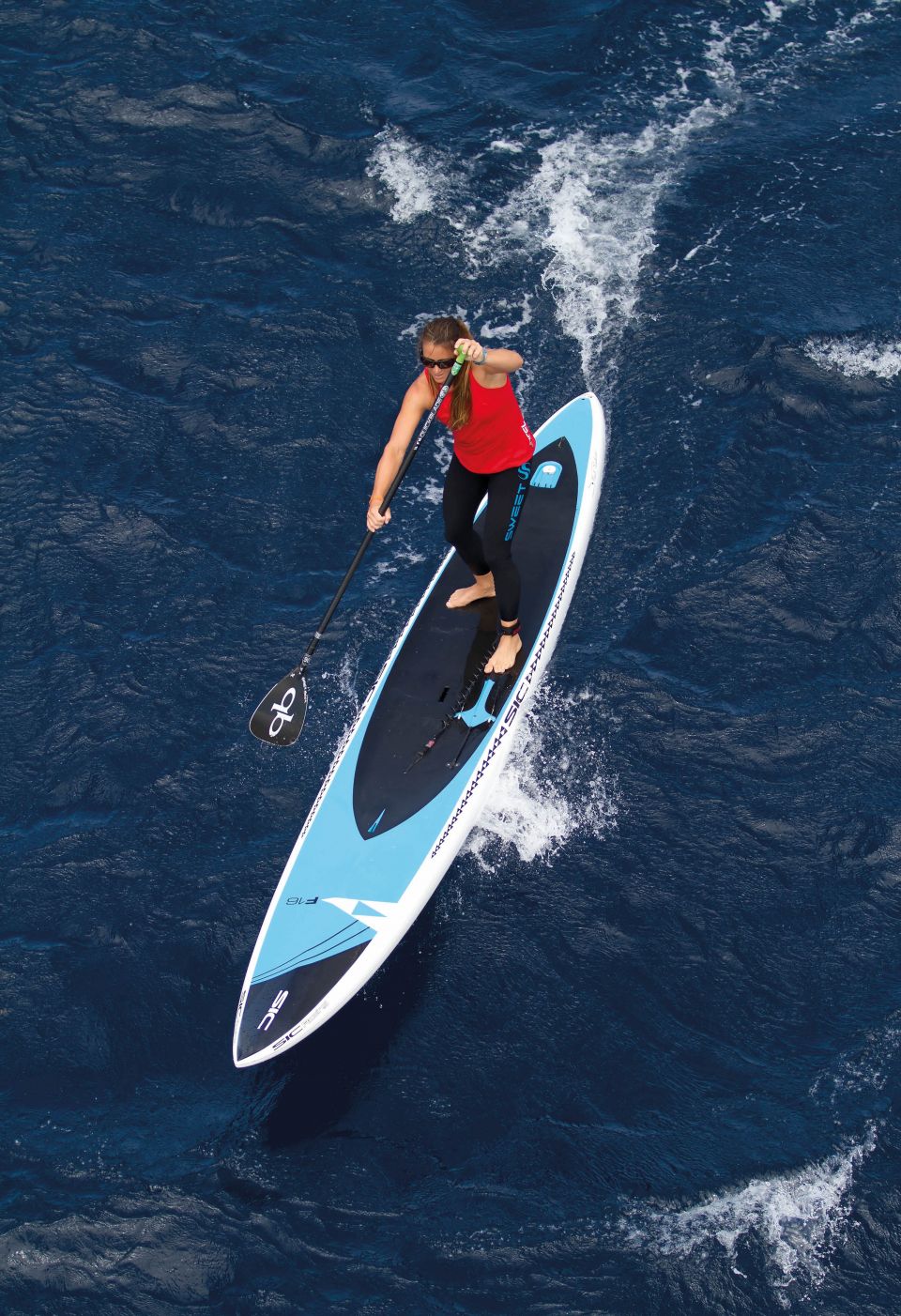 "I believed that I had made a difference for them to be there," she says, "and they brought talent to the water. I thought, 'Now we're all here, and we're going to push it to the next level.'"
That season, she surfed the women's invitational heats of the Nelscott Reef Big Wave Classic in Oregon, followed by the Maverick's Super Sessions, growing closer with Alms, Kennelly, and Bianca Valenti. They would eventually form the Committee for Equity in Women's Surfing, which fought for a women's contest at Maverick's and for equal pay for female and male competitors in surf competitions, achieving both.
In the winter of 2015/16, Moller caught a 42-foot wave that earned her Guinness Book of World Records recognition for the largest wave ever paddled into by a woman. It was one of the many waves at Peahi, Waimea, and Maverick's that winter that won her the WSL Big Wave Awards Women's Performance of the Year.
Since her return to big waves, she'd been surfing with a relentless drive, often coming off 48-hour paramedic shifts and going straight to Maliko to launch, sometimes picking up her daughter at school in the afternoon with her jet ski still hitched to the truck. The opportunities that had once been lacking were beginning to crop up, and Moller felt as though she was surfing not just for herself, but for the other women she was competing against and the ones who would follow.
Moller's surf career reached a level she had never thought possible, but surfing never became her actual job. Whether it was being a paramedic, a mother, or a paddler, she always had other priorities, helping her maintain perspective throughout the frustrations and changes in surfing and maintaining a purity in her relationship with it.
"There have been many moments when I asked myself, 'Why are you chasing this?' And if it wasn't for the right reasons, I'd turn to my parallel lives," she says.
From the lineup at Peahi, Moller can see a spot along the cliffs where she recently responded to a 911 call. A group of freedivers were at the bottom of a 130-foot cliff, getting ready to swim out in 10-foot surf, when they were overcome by a wave and scattered against the rocks. Two of the divers, young men in their twenties, were pulled out of the water unresponsive, and Moller was the first paramedic to arrive on the scene. Neither of the men survived.
At Hookipa, Moller's backyard surf spot, she once responded to a call that a woman had been run over by a truck while sunbathing. When she arrived, she realized it was a friend of hers. Moller was unable to save her.
"Every bad call is a tattoo," she says. "I feel like I'm stamped. You have to learn how to live with it and turn it into a positive. You just don't fucking know, and you have to live like there is no tomorrow."
This outlook largely explains why Moller doesn't waste a single minute of the recent run of swell at Peahi. The day before the XXL swell, Jaws was 10 to 15 feet. She picked up 13-year-old Chrislyn
Simpson-Kane, aka "Sissie," drove her to Maliko Gulch to teach her how to launch the jet ski, and then motored out to the Peahi lineup. It was a large step in a mentoring process that had begun a year prior. She'd approached Sissie at Hookipa when the girl was only 12 and got her phone number to surf together. A few months later, she called Sissie and asked if she wanted to learn how to tow. She made her wear an inflation vest in small surf to get used to paddling in it. Then she took her freediving to practice inflating. Just as she and Souza had done, she spent a year at Sprecks with Sissie, teaching her how to tow in and, equally important, how to drive the ski. When they reached Jaws, Moller told Sissie to breathe and to get in the right mindset. She then dropped Sissie into her first wave at Peahi, making her the youngest girl ever to tow it.
Sissie is one of a few girls Moller mentors, but she doesn't credit herself for their success, noting that all the girls she helps are self-motivated. "What I'm really giving them is the feeling that someone believes in them," she says. "Yuri believed in me like no one else, and when people believe in your potential, the chance of success triples."
A week before the 2019 Jaws Big Wave Championships, Moller called contest director Gary Linden and gave up her spot. She couldn't designate her replacement, but asked Linden to consider up-and-coming Maui local Annie Reickert, 17 years old at the time, who wound up getting third place. This decision marked Moller's retirement from competition, but not from surfing.
"I'm still dreaming of catching the bomb," she says. "But I have a new drive, to give that chance to a girl 20 years younger."
When Moller speaks of her accomplishments, it's without ego. She can matter-of-factly tell you that she's won 22 Molokai 2 Oahu races, that she's a Guinness World Record holder, that she's earned a purple belt in jiu jitsu, or that once on a 911 call, she delivered the child that you're now watching play in the parking lot of Kahului Harbor. And while she's proud of what she's achieved, she's more interested in how that accomplishment might create a new opportunity for someone else.
Still, Moller's focus on the next generation doesn't mean that she has stopped making history. In the tow session on that Saturday in January, Soledade caught his biggest waves with Moller driving the ski.
"That's a breakthrough in itself," says Soledade. "To tow in and to be able to rescue someone is just as gnarly. I'm probably more confident in her to tow me than the other guys."
Moller has also found herself assuming a role within the small crew who can competently perform water rescue at Peahi, offering a unique combination of ocean and medical expertise.
"She's the main one we're bringing the victim to, if she's not the one pulling them out herself," says Kurtis Chong Kee, one of the most respected water-rescue professionals at Jaws.
"Any lineup is safer with Andrea there," says Soledade. "Big-wave surfing, even for the men, wouldn't be where it is if not for her."
[Feature image: Wrangling an under-her-own-power world record, Jaws, 2016. Photograph by Fred Pompermayer.]