At Europe's most southerly point, Tarifa, Spain, Atlantic swell and Old World ruins create an inviting crossroads of offshore diversions and ambient culture.
Early in the year, a few days into a northwest blow, my eldest son's school emailed about a contact case during one of COVID's latest stands, shutting down classes from midday forward. I packed the van with provisions, four surf craft, and the Collins Bird Guide. My son, Zac, asked where we were going.
"South," I said.
"How far?"
"Until we see Africa."
They say France is the world's most visited nation. This is partly due to the richness of her cultural attractions and physical beauty, and partly due to logistics. Land borders with eight countries make it easy to arrive and easy to leave. If begun at breakfast, a ten-hour drive from my home in Capbreton can afford you dinner options in a wide array of European settings. Ten hours driving north, poleward, brings me back to my native island, Britain. Heading east, I can be in the snowfields of the Alps or, if I opt to duck under them, in Turin, Italy. Heading west, the fair shores of Portugal beckon. In this instance, seeking to escape a uniquely determined winter gray—a particularly damp cold that seeps into the marrow and makes me least want to go surfing—we pointed toward Spain.
At Salamanca, after several hours atop a generally bleak and windy high plateau, the road turned due south onto the Via de la Plata, a north-south route of travel that has been in use for thousands of years. Immediately I noticed the vegetation change, the bare branches of the northern winter suddenly becoming greener.
Writer and naturalist Tim Dee reckons that spring—taken as the 10°C isotherm, the temperature at which flying insects appear—moves between the Mediterranean Sea and Arctic Ocean at around 30 miles per day, or roughly the distance a person would cover if they walked continuously for 12 hours. Spring, therefore, moves at a stroll. Our 2009 VW Transporter, on a modern European toll road, fared slightly better, averaging some precious 1.2 degrees of latitude equatorward, or about 70 miles per hour.
*
The morning's swell was lively, maybe 3 feet at the hollow beachbreak of El Palmar, the epicenter of the Andalusian surf scene. The early crew rushed headlong into peaks of serviceable, if not fun, surf. An equipment salad of big fishes, wooden shell constructions with tail pads, and tiny blades brandished by serious-looking men performing vigorous beach warmups made for an eclectic crew.
The scene felt more cordial than I'd anticipated, however, especially since, in last night's darkness, we'd parked in a slim lay-by across from three precious spots. Palmar surfing was busy, I noticed—maybe not quite Hossegor or Huntington busy, but not far off, albeit with peaks spread out over miles of beach, accommodating to all comers. Surf-themed restaurants and shops, almost all shuttered for winter, lined the small coastal lane, backed by low-lying fields where warblers, finches, and chats squabbled and preened in the golden morning light.
As expected, our first session revealed considerably warmer waters than at home. We'd shed our hooded 5 mm suits for light 3/2s, which felt like a particularly significant delineation—something akin to Dee's 10 degrees calling insects to wing. As pleasant as the session was, however, we hadn't driven a thousand clicks to surf a busy, semi-closeout beachbreak.
Cádiz, which sits midway along the Costa de la Luz, or the Coast of Light, was ahead of us, out where the shore bends south, away from the shadow of Portugal's Algarve, to pick up favorable Atlantic swells from the west. One of the oldest cities in the world, it has seen its fair share of empires: Phoenician, Greek, Carthaginian, Roman, Visigothic, Moorish, and, most recently, Spanish.
Even farther south, the coast curves again to Tarifa. Just beyond it is the Strait of Gibraltar, where the Pillars of Hercules separate Europe and Africa by just 7 nautical miles. Place names in this region are often suffixed with de la Frontera ("of the frontier"). Conil de la Frontera, on its day, is a punchy beachbreak just outside of Cádiz. Vejer de la Frontera is a stunning walled hilltop city, hailed as the most beautiful pueblo blanco in all of Spain. Palos de la Frontera contains the monastery where Columbus enlisted the Franciscans to help crowdfund his trip to the Americas.
Ironically, all these frontiers refer not to the strip of sea offshore, formed when the ice retreated 20,000 years ago and separated Europe from Africa, nor to the Portuguese border some 150 miles west, but to the Christian reconquest of Spain over the Moors after nine centuries of Islamic rule. Following the fifteenth century, an unclaimed gap between a reconquered Christian west and the caliphate of Granada in the east remained for 200 years. In these lawless borderlands, traders, mercenaries, smugglers, slavers, jihadists, and crusaders got away with whatever they pleased.
As Europe's most southerly Atlantic-facing coast, this is also the literal end of the line on the continent for ocean enthusiasts escaping the winter chill. Any farther south and you're in Morocco, an impossibility for my son and me, as the borders had been suddenly closed again. The swell window in the area consists of direct hits from relatively rare southerly lows and, more likely, big wests and giant north swells wrapping in. With a midwinter northern pulse in the water, we followed our noses from El Palmar to nearby Los Caños de Meca, a town featuring one main drag, a few residential side streets, and not much else, aside from being, on occasion, surf blessed, but hardly surfed out.
We immediately succumbed to its low-key charms and its out-of-season guise: sun drenched, light and airy, with an array of breaks. We noted that it had become something of a hippie and artist escape in the 1960s and today remains unspoiled, almost a touch forgotten, retaining just enough genuine boho charm without going self-aware.
At the town's western end lies Cabo Trafalgar, where, in 1805, amid the Napoleonic hostilities, the Spanish and French teamed up to take on Brits in broadside cannon battles from tall ships just offshore—the decisive victory for the Royal Navy giving name to one of London's most famous landmarks. Inshore, we found a string of fun reefbreak peaks, a wobbly beachie, and, on the backside of the cape, a long right-hand point.
Soft and forgiving, yet zippy in sections, the latter is a logger's delight. Zac, only 9, relished the dry paddles back out, without the customary whitewash-steamrolling of our home beaches. We trimmed running thigh-burners for days, reveling in glorious blue refraction as the swell jumped and mellowed, from solid on the outside reef to perfect waist-high runners and everything between.
Multiple shelves with gaps and holes in the reef gathered the swell into a series of lineups, providing options that spread out the pack. Sheltered by the rocky cape and the dunes that link it to the beach from pretty much any wind—save the dreaded levante—the water was crystal clear, a kind of deep blue rare for the tide-chewed, estuary-muddied Atlantic.
We'd found our spring under a famous cape at a wave we never knew existed. A strong local logging microcosm thrives here, presumably anytime this wave is on, complete with skilled exponents of hang-heels and chic, bowlegged Charlie Chaplin fades to link up the sections. Of course, it being 2022, a bald local on a foil also zagged when all hoped he'd zig, scything through the lineup in creative tension, drawing a fine line for us all between leisure and potential cranial trauma.
After one session, we sat and watched as the coast shimmered away to the southeast toward Tarifa, famously the windiest place in Europe. Behind it, the peaks of Morocco's Rif Mountains appeared as if they were a continuation of the same landmass, a mirage.
Tarifa has long been a stronghold for windsurfers. Once an endangered species, they are now perhaps undergoing a cautious reintroduction program alongside their evolutionary cousins with kites. Apparently, the town was a scene long before surf hubs like Hossegor or Ericeira.
Today, it retains its original grit and unmistakably sinister vibe—in no small part due to the relentless wrath of the breath of the gods. In addition to being Europe's wind capital, Tarifa also has the highest suicide rate in Spain. Any schoolteacher or keeper of animals will testify that windy days spell trouble. The mental-health trauma attributed to the ill effects of a howling levante has led the government to pay residents who apply and qualify a yearly compensation of 6,000 euros.
Migrations of all forms feature heavily along the Costa de la Luz. Travelers, generally from Europe's north, head here to feel the sun on their face and eat inexpensive meals under bougainvillea. Others, from the north as well as much closer, lead even more-transient lifestyles, deliberately opting out of societal norms in loose car-park communities. Meanwhile, humans from the south strive to opt in, often paying for their passage first with their life savings, then with their lives. Drowned bodies of those seeking to make Europe home regularly wash up on these beaches after overloaded vessels capsize in rough waters.
And while the strait is the most significant obstacle, it's little deterrent for those who've already crossed the Sahara on treacherous journeys to get to Europe. Three main land bridges separate these two worlds, the global north and south: the eastern route, via the Red Sea, the Middle East, and the Bosphorus; the central route, hopping from Tunisia to Malta to Sicily to mainland Italy; and the much shorter western route, right here.
Birds, especially bigger species that can't cross large expanses of sea due to a lack of thermals—including large raptors and white storks, Ciconia ciconia—use these land bridges twice yearly. Stork folklore, particularly in Nordic traditions, associates the bird with spring renewal and maternal care, its whiteness considered a symbol of purity. Man-made nesting platforms are built all across Northern Europe to encourage them. To our great collective shame it must then be that members of our own species, having made the identical journey, are often greeted with considerably less relish.
On the biggest day, with sets steaming through in the 6-foot range on the outer point, we spotted our first barn swallow of the year, Hirundo rustica, flapping in an exhausted wing-beat, low over Cabo Trafalgar, close-hauled into the puffing headwind. White storks were persecuted to extinction in Britain in 1414, so, for the last 600 years, it's been the arrival of the swallows that has traditionally heralded the conclusion of winter, usually sometime in late April, much to the thrill of those who like to gaze skyward in anticipation of them. Some swallows overwinter as far away as Cape Town, following their winged-insect food, before retracing the epic journey back to where they were born, going as far north as Scandinavia.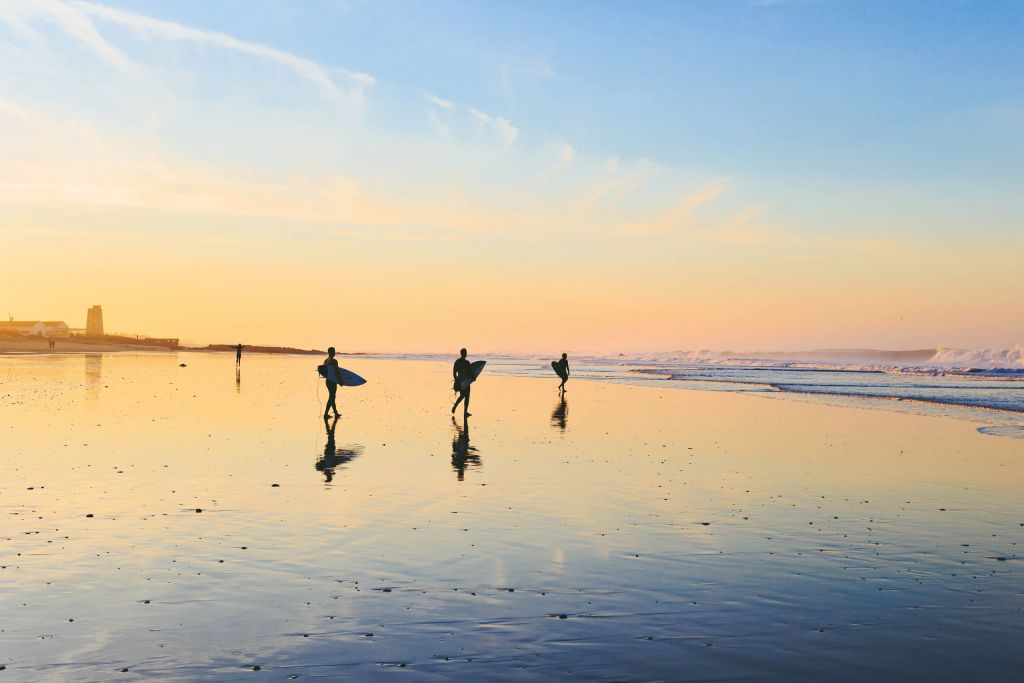 We pondered whether this swallow could be one of those we'd watched diving under a little wooden bridge at the Boudigau creek in Capbreton each summer behind the surf spot known as VVF. Zac wondered if this could be the same bird he'd stroked in its nest as a chick at his grandad's farm in the Fenlands of eastern England when he was a toddler.
I knew it wasn't either; a swallow's life of perpetual motion is a short one, two to three years at best. All swallows are young. So, too, is the Palaearctic-African migration, at fewer than 10,000 years since the last ice age.
*
At a stretch of forest preserve, La Breña y Marismas del Barbate Natural Park runs along handsome sandstone cliffs, bordering the beat-up, moody fishing town of Barbate. The aroma on the day we arrived was one of fresh, clean pine sap, bittersweet aromatics of the Mediterranean. Aleppo pines, junipers, figs, and a scrubby maquis were growing in the open gorges, which provide overwinter refuge for northern songbirds—those species that don't need to jump across to Africa, much less cross the deadly Sahara beyond those mountains.
Could this verdant idyll be the remnants of the fabled Garden of Hesperides, I wondered, where Heracles stole the golden apple before stamping his foot to create the strait between the Mediterranean and Atlantic? European goldfinches, Carduelis carduelis, flittered between cork oak and prickly pear as we hiked down to investigate swell lines we'd spied from the road.
Under La Breña's golden sandstone bluffs and emerald canopy lay the jewel in the crown of Costa de la Luz surfing: a right-hand point known as Yerbabuena, which has a regal sweep that angles the incoming swell acutely rather than extending out to a promontory.
A 600-year-old watchtower stood on the bluff above the peak, built to keep an eye out for marauding Berber pirates, while swells stood up on a sharp, shallow reef below, with a hollow outside section and sweeping inside walls. Alas, with no obvious route down the vertical cliffs to the wavy riches, we had to hike back up through the forest, drive down into town, and tramp in along the beach, almost a full hour of pre-surf anxiety.
Thankfully, Yerbabuena didn't disappoint. With only a dozen or so locals and visitors spread out along the reef, our first session felt like a significant score. As the wind roared up from the west late in the afternoon, we were reminded of how lucky we'd been to revel in overhead midday glass. That night, we slept under the pines.
We were woken early by a hearty, if not riotous, dawn chorus. Tim Dee points out that by mid-latitude spring, the dawn chorus will move around the northern hemisphere at around 800 miles per hour. Every minute, 12 more miles of earth's surface are lit up, prompting a continual sweep of birdsong that begins on the far reaches of the Eurasian landmass in the Asian Pacific and ends more or less here, on its most western edge at the Atlantic. "If there is such a thing as Godspeed," Dee observes, "that is it."
Back at Trafalgar, the poniente—a fresh yet much more reasonable northwest wind that duels with the levante for dominion in these waters—groomed the clean, soft walls. No doubt due to the prevailing sprinting airs, and the violent coastal eddies they create, we found the beachcombing off the scale. We made our day camp at the point, inside the smashed skeleton of a small wooden boat scuttled above the high-water mark. Between sessions, we gathered bits of pottery and glass, sea sponges, woven jewelry, a fish jaw complete with a set of curved teeth, and numerous bones, including a large animal's pelvis. Everything was bleached by the relentless sun, blasted smooth by the aeolian governor.
On the rocky bluff at the end of the cape, above the takeoff of the outside reef, a team of archeologists from the University of Cádiz focused its combing efforts on the remains of a complex of Roman baths, discovered only last year and built above a 4,000-year-old Neolithic tomb, which was discovered the same summer. Months earlier, the dunes had blown back, revealing a previously unknown medieval settlement.
On the Costa de la Luz, the right gust can reveal a few thousand years of history, previously interred under ever-shifting sands. Meanwhile, in the present—outside quiet wooden beach bars serving sundown cañas of ice-cold beer and batatas bravas—a week had passed in a flash.
My son's school had apparently reopened, but we weren't too concerned about it. There was no way we were turning away from these points, at least while they were clean. Inevitably, however, the levante had something to say about that, whipping across the strait and churning our perfect blue bay at Caños to a chaotic, worried sea.
Usually, the optimistic surfer regards a particularly windy episode as an interruption, after which a certain stillness is expected to be restored. Here, it felt the other way around. There was still groundswell on the forecast, but the winds were sending us reluctantly home.
Less than an hour from our house, as we slowed toward the toll gate on the France-Spain border in Basque Country, we came across the bizarre sight of four men walking beside the highway. They could have easily crossed the Sahara, taking months, even years, to get this far. If France was their intended destination, they were literally yards away.
We watched as the border patrol from the French side suddenly screeched into action, speeding back past us, their sirens blaring in pursuit. The men vaulted the metal barrier, fled down a steep embankment toward the undergrowth alongside the Bidasoa river, which separates France and Spain, and scattered like swallows.