It's double overhead in the middle of nowhere, two hours north of Kona. Not a sip of wind. Sarah Lee pauses with gear in hand and looks out to the horizon where massive A-frames break 200 yards out. Observing the sets, she looks back and flashes a quick smile.
It's big. We feel the surf breaking from the cliff.
She is relaxed and subdued as she calculates her most gracious point of entry. "I can't believe there's only a few people out," she says with a grin. It can take a lot to draw visible excitement from the normally composed Lee. Not today. And she's masked any sign of nerves that may be flooding in.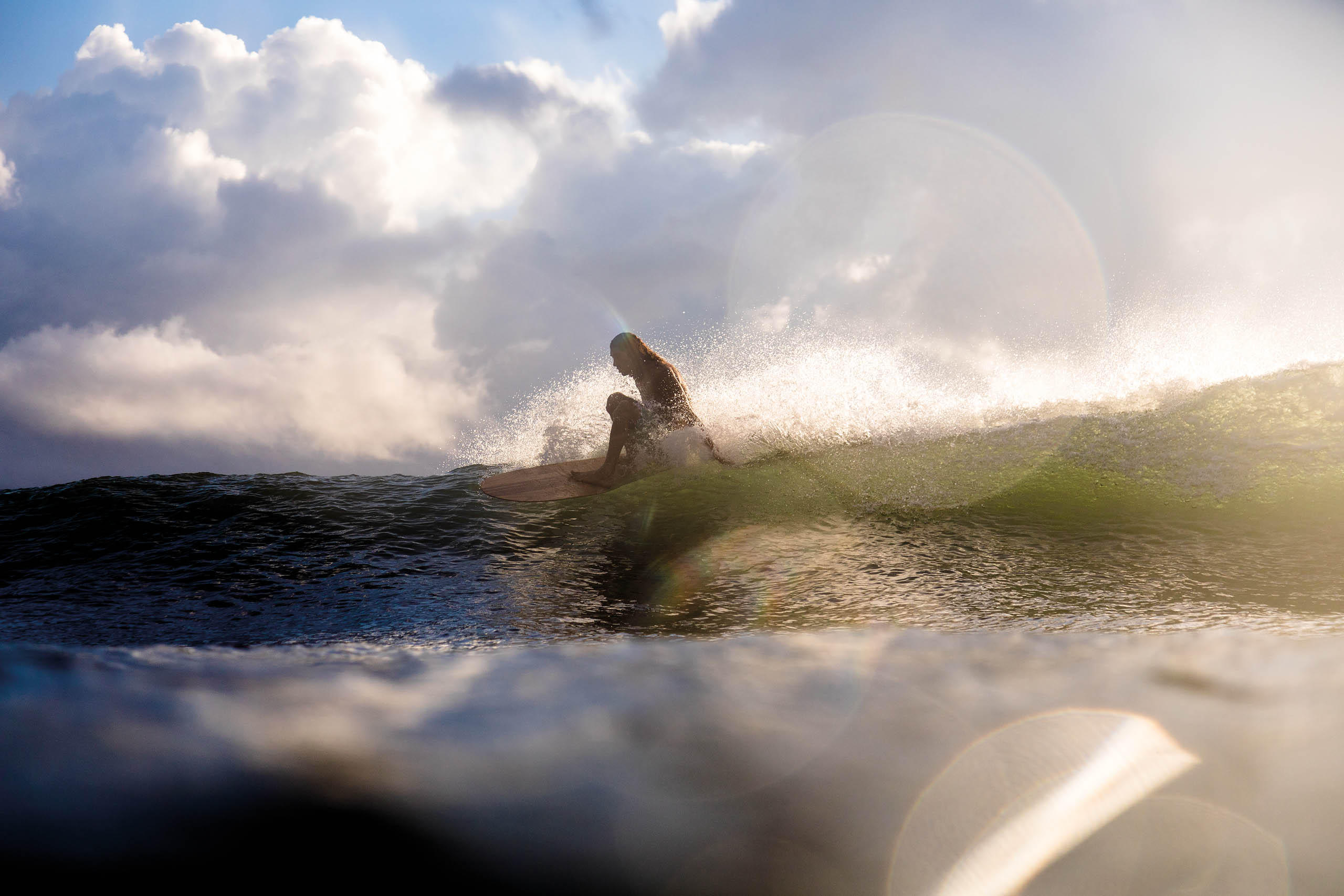 In the lineup, Lee dissolves into her surroundings. Shoulders submerged, only her eyes poke above the surface. A fisheye lens masks her face. She's just another ambiguous detail in the sweeping backdrop. A set rolls in. Days of tracking and planning vanish as instinct takes over.
Hawaiian surfer/scientist Cliff Kapono drops in deep on a bomb. Lee's poise shifts immediately to intense focus. Her torso emerges as she aims and fires, a rhythmic and unspoken choreography with her subject that is intuitive and fleeting. In a matter of seconds, it's all over. Underwater, her fins flutter against the current. She is dancing. Over the course of the day, her fingers shrivel and cheeks blaze. Hundreds of frames. Hours of work. And hopefully, at the end, something special.
This is Sarah Lee. Tenacious, driven, and relentlessly dedicated to the present moment. Her goal is simple: to visually communicate the vast, emotive spectrum of her salty sanctuary.
Lee grew up in a family of coffee farmers, artists, and entrepreneurs in the Big Island town of Kona. When she wasn't snorkeling with her dad, she was at her grandmother's side. "Tutu" was the family's matriarch. She inspired Lee as both an artist and a business owner, encouraging experimentation in an array of fine-art mediums including pottery, printmaking, and batik textiles.
Lee remembers shocking her dad with how deep she could dive at age 5. Not long after, she joined the local swim team. At 14, she picked up a camera. A year later, she combined the two. As a competitive swimmer for over a decade, she devoted her life to countless hours of physical and mental endurance, mastering the grueling cadence of long-distance racing. She also spent her high school career documenting her swim meets and immersed in broadcasting, video, and graphic design classes. Lee eventually graduated with more academic credits than any student in the history of her high school.
"I feel like when I'm in the water with my camera, my brain shuts down and I can get into this sort of meditative state where I am able to be present with what's in front of me," she says. "I'm feeling instead of thinking."
Fast forward a decade that includes countless trips around the world and a slew of career highlights, and Lee has landed herself in the gray-skied, industrial outskirts of Ventura County. Surfer and fellow photographer Anna Ehrgott occupies the upstairs loft of their shared warehouse studio, inherited from filmmaker and photographer Dylan Gordon. One of his old motorcycles remains parked against a wall. The smells of fresh coffee and homemade nut milk pour from the kitchen. The shelves are covered with books and vintage toy cameras. Houseplants drape over one-of-a-kind lithographs. Fabric scraps and shot lists adorn their work space, weaving the story of these two women's cohesive, collaborative flow.
On the day I visit, the women talk mid-lengths and design revelations. They ogle at fin options in a comical debate over almost identical shapes. Boards are sprawled across the warehouse floor. In the end, it comes down to color coordination.
Lee is packing her bag. We're headed to the Surf Ranch. When I first received my invite, my only hesitation was in choosing a plus-one, but the choice became obvious after just a little thought. It had to be Lee.
We enter the gate and my heart skips a beat. The pressure is palpable. There's no way around it. Lee cracks a joke, her dry sense of humor providing a refreshing state of equilibrium. From the tension of unknown territory to the rush of the limited chances, Lee is the anchor. When it's all over, we pile into her truck. She turns the key and lets out a sigh. "Let's get back to the ocean, shall we?"
Lee's natural approach of observation over expectation creates a relaxed blend of purpose and play. She invites her subjects to feel a part of something bigger than themselves, a calming quality that attracts beautiful, powerful females to her lens. Years of documenting fierce women like Ehrgott, Alison Teal, Cher Pendarvis, and Mele Saili have opened doors to recent mainstream success. Last year, Lee was asked to photograph Lakey Peterson surfing nude for ESPN The Magazine's annual "Body Issue."
"I was kind of in disbelief," she says. "I was excited and honored, but more worried about finding the right location than anything else."
After weeks of scouting and meticulous preparation, she nailed the shot on a June Gloom afternoon in less than 30 minutes. Just don't ask her where. Lee is notably tight-lipped. A secret-spot keeper, a guardian of good waves, the queen of "don't expose."
Lee's proficiency as a surfer is a lesser-known fact often overshadowed by her artistic accolades, but a quality that informs her unique ability to capture pristine moments beneath the surface. Her work conveys a quiet intimacy, extracting serenity and joy from chaotic, even disruptive sea states.
"I thrive off of the spontaneity of the ocean," she says, "so I don't often find shooting to be frustrating. When conditions aren't ideal, that's out of my control. So I make the most with what it gives me."
Back in the middle of nowhere, two hours north of Kona, the wind begins to turn. Heaving currents keep Lee in constant motion. Her legs begin to throb. Four hours clocked, memory cards loaded, and both her physical and camera batteries nearly drained. She navigates her journey to shore over exposed lava rock between the surges of the tide, right up to the swift removal of her fins before the next set rattles the reef. Feet touch land. She strolls back up the path, head down, hair dripping. Her whole body is smiling.